How to Manage Payments From Your Email Client?
Yes, you read that right. You can view, charge, refund, and cancel customer's payments from your email!
If you process online payments, whether it is for an e-commerce, SaaS, or something else, you will inevitably need to manage billing requests. Anything from charging customers, adding coupons, refunding orders, sending invoices, etc.
And what do customers use most when they want to communicate with a company? Email. So why has there been a disconnection between payment processors and customer service tools? It beats me. But, here's where Missive enters the game and bridges the gap with the help of ChargeDesk.
ChargeDesk is a billing toolkit that connects to Missive as an integration. It's the perfect way to match billing and customer support.
With the ChargeDesk integration, you can:
See a customer's payments next to their support tickets
Refund charges
Cancel subscriptions
Create new charges (either by invoicing the customer or charging a card on file)
Create new subscriptions
Authorize and capture payments
Manage coupons
Send payment reminders
Edit customer details, including adding tax numbers
Securely update a customer's credit card on file
Receive notifications and manage your customers on the go with their mobile apps
When you connect ChargeDesk to Missive, you will be able to manage payments from:
Stripe
WooCommerce
PayPal
Braintree
Recurly
Authorize.Net
Zuora
Chargify
NMI
Payments MB
Your custom system
How do you set up ChargeDesk in Missive?
Step 1
Create a ChargeDesk account. You can take advantage of their 14-day free trial.
Once that's done, you will need to select a payment processor (Stripe, WooCommerce, etc) and the select Missive from the helpdesks list.
Continue the account creation process.
Step 2
Open Missive and go to Settings > Integrations > Add integration > ChargeDesk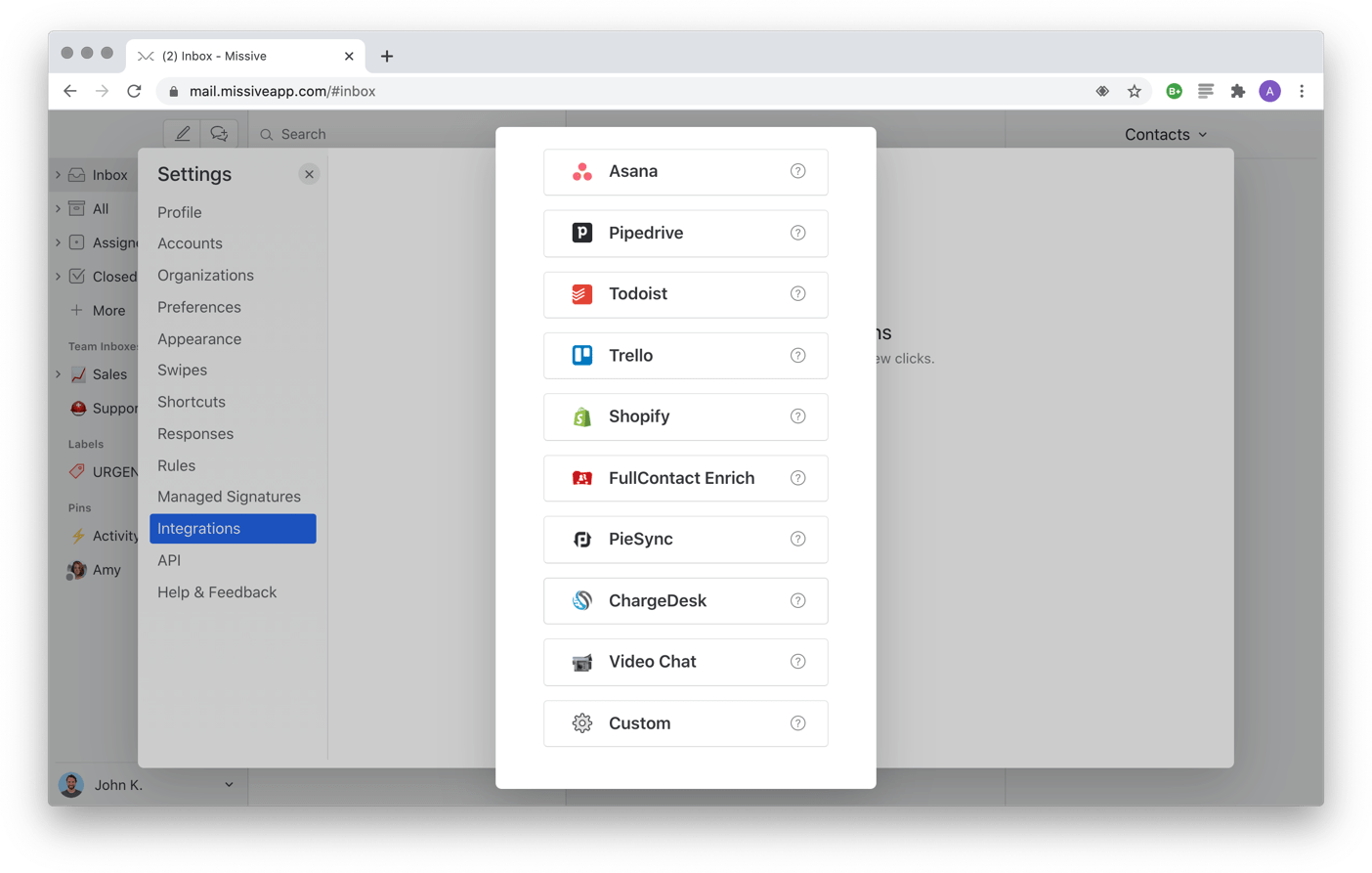 Share the integration with your team if needed.
Step 3
Open the fourth column and select the integration. Enter your ChargeDesk email and password.
Step 4
From this point on, whenever an email address matches a record in your payment gateway, you will see the information displayed in the ChargeDesk integration inside Missive.