Delegation, Send Later and More!
We're pretty excited to launch our own take on email delegation and an improved way to share emails from shared inboxes! 🎉
If you work with trusted partners you will be amazed by the new possibilities this brings to your communication workflow.
Shared inboxes
We started working on this new feature because we wanted a simpler and more robust way to let teams collaborate on shared inboxes. Before, to collaborate on a shared inbox in Missive, you had two options: either everyone had to import the help@acme.com account or the team admin had to setup a Google Group to forward emails to each team member's personal inbox.
The first option had two major drawbacks:
Google allows a fixed number of connections per IMAP account (15).
Every time someone archived an email from that shared inbox, it also archived it for other team members. This is a behavior some teams are looking for, but for some it was a deal breaker.
The second option (Google Groups) was a pain to explain and setup for people not too familiar with Google Workspace (formerly known as G Suite).
The new way of sharing emails is now as simple as importing an email account once and selecting who should have access to it. Bingo. 💪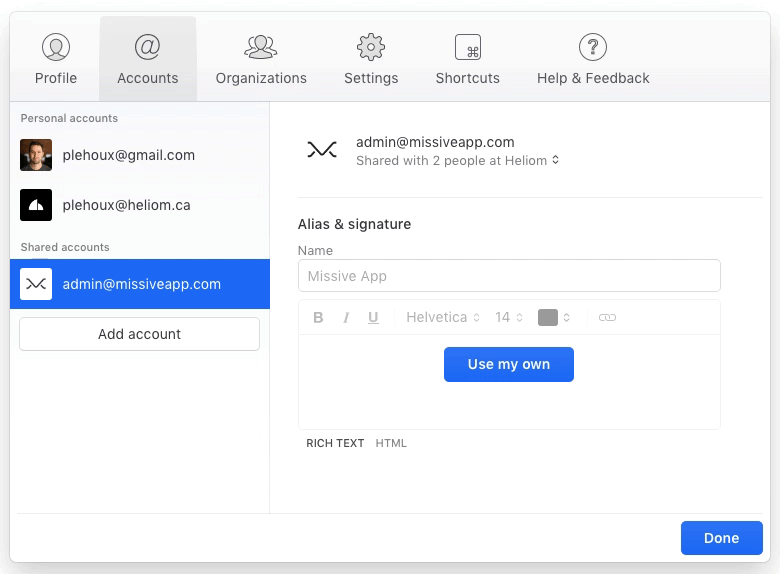 Each team member can use the account's default signature or design their own.
There is another really cool use case that we first realized talking to one of our customers:
If you work with trusted partners/co-founders/employees you might want to go the real transparent way and share all your emails like our customer above.
You can read more on email sharing configuration in this comprehensive guide.
Send later
One core precept of Missive is that the email part of the application needs to be so good that users want to consume all their emails in it. That's why we are working hard to make the email client part better every single day. Thus, you can now schedule emails for future delivery!
This is really handy if you're working a night shift and want to make sure not to annoy any of your customers by sending them emails in the middle of the night.
Or you might have written a really important email and want to make sure a teammate reviews it. Just schedule it to be sent in an hour and mention a couple of teammates in the conversation so they can have a look before it's sent.
More…
We worked on many more improvements and bug fixes over the past month. Head over to our changelog to see the progress! And make sure to visit our Product Pains page to suggest improvements!
p.s. We are hard at work on the iOS app… more to come real soon! 😍