Watch, Rooms and More
Here's a recap of the awesome new features we've shipped this month: Watch, Rooms and more.
Watch conversations
Sometimes you want to archive a conversation to get it out of the way, but you're still interested to see when teammates post new comments… the new watch feature to the rescue! It lets you watch a conversation so every time something new is posted (comment or email), the conversation is moved back to your inbox. No more fear of missing out.
By default you will always be watching conversations where you have commented or created a draft. And you can manually watch or stop watching any conversation by clicking the eye icon at the top right.
Rooms
We are big fans of asynchronous chat conversations. Our CTO Rafael wrote an interesting blog post about this:
Missive's chat conversations allow for a truly asynchronous workflow. You process each thread along the rest of your inbox, at your own pace. You could remain offline all day and when you open Missive, act on emails and share your thoughts in chats all at once. When you are no longer interested or feel you have contributed your fair share to a chat, just archive it like you do with emails.
Still, the need for long-lived conversations to hang out casually was felt by a lot of our beta users. It's now live in Missive: we call them Rooms. Each organization has a general room and each member has a one-to-one room with each of their teammates.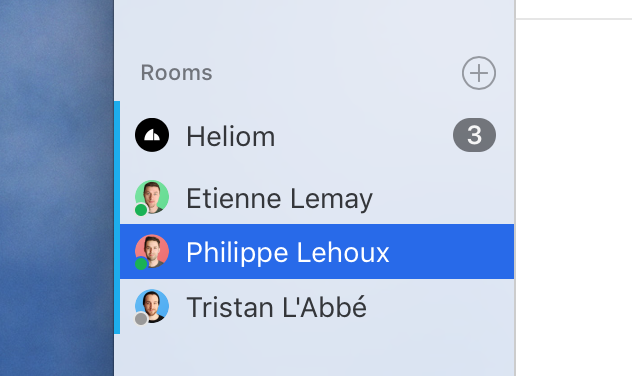 You can either use those conversations normally in your inbox flow with the new watch feature or pin them to the left bar for quicker access.
OS X app tip: Hit Cmd + Ctrl + [1, …] to quickly select one of the pinned rooms with your keyboard.
Improved search
You can now search in your comments and conversation titles. Previously the search was limited to emails.
Formatted comments
You can now add formatting to your comments. This will let you put some emphasize on words or expressions for more clarity.
To quote, prepend a greater-than sign (>) before the quoted text:
> This a quote.
To make text bold, wrap it with asterisks (*):
*Bold*
To make text italic, wrap it with underscores (_):
_Italic_
To strikeout text, wrap it with tildes (~):
~Strike~
To indicate code, wrap it with backticks (`):
`1 + 1 = 2`
Editable comments
No more shameful typos! You can now edit any previous comment.
More…
To help new users be instantly productive, we now automatically import email aliases.

You can now hide mailboxes not actively used from the left bar.

We now send offline notifications via email to users who've been mentioned in a conversation but are off Missive.

Users of the OS X app can now paste files directly from the clipboard. Of course you can also drag & drop.
Conclusion
Missive is a tool to get things done! You can communicate with your team and the rest of the world using both chat messages and emails from a single app. As foreign as you may think chat is to email, mixing them really unleashes unforeseen possibilities; Missive can become the one app you'll ever need to manage your business.