An Intro to Remote Work
Given the current world events, companies of all sizes and industries are rapidly looking for ways to keep on working. Remote work is an indisputable solution.
But remote work is not just opening a laptop on your dining table for 8 hours. It's a process that needs careful planning and adaptation.
The right way of working remotely
If someone has authority when it comes to giving advice on remote work, it would be Matt Mullenweg, founder of Auttomatic (who runs WordPress). With a 1000+ employee workforce working in dozens of countries around the world, Automattic is ahead of the curve when it comes to having a distributed team.
Note Matt prefers the term distributed because remote implies having a central workplace. Automattic doesn't have one.
A few weeks ago, Matt appeared on Sam Harris' Making Sense podcast and talked about the five levels of distributed work. He then published a blog post on his personal site.
Here are the five levels, according to him:
Level Zero: The job cannot be done unless you're physically there to perform it. Think of painters, police officers, or bakers.
Level One: The company has no policy in place to support remote work; you might need a VPN to access documents to perform your job. You might be able to do some basic things from home, but the bulk of the work needs to be done in situ. Most companies were here before the pandemic.
Level Two: Some digital transformation tools have been installed but not correctly. People are just mimicking what they did in the office, but now online. Synchronous communication reigns, large Zoom meetings still take place. There's a lot of "management" anxiety that leaves people attached to their laptop all day, to answer the chat tool quickly and "prove" their working. Most companies are here.
Level Three: You start investing in proper remote-first equipment. You begin to use collaborative tools like Google Docs and Missive. You stop the numerous video calls and move to more written communication.
Level Four: Real asynchronous work. You start evaluating the employee's work by the results, not the how or when they produce it. By giving employees a clear scope-of-work and time frame, they can build their own agenda. Trust emerges.
Level Five: Distributed teams work better than in a centralized physical office.
Pro tip If you have broken processes or unproductive ways to work offline, they will still be present when you move the work online. Try to find bottlenecks and correct them before deploying a full distributed work policy.
Take your company to Level 5 with Missive
Missive is an asynchronous team inbox and chat app that can help with the transition of becoming a distributed team. It lets you collaborate around emails and other communication channels.
Missive allows us to feel like we're working in the same room, even if we're 10,000 miles apart
James McGlade, Founder at Growth Alliance
You can leverage these Missive features to work asynchronously with your team:
Team Inboxes
A shared inbox is an inbox that can be accessed by multiple coworkers at the same time.
Team inboxes are shared inboxes made for collaboration and assignment between team members. It is useful for teams who want a "triage" step that will clean up messages for all coworkers at once. It offers two roles:
Active members receive notifications for new messages. They see conversations listed in the Team Inboxes mailbox in addition to the team inbox.
Observers do not receive notifications and see conversations listed in the team inbox only. This is perfect for managers who want to monitor the work being done but don't want to be flooded with notifications.
Internal Chat
From chatting inside an email (you read that right), to one-on-one conversations with a coworker or company-wide chat rooms; Missive's internal chat can help you reduce unnecessary meetings or calls.
A big part of rendering communication asynchronous is letting people pass the baton among them in a seamless manner. This cannot be achieved if essential pieces of information are discussed during video calls or phone calls.
By moving to written-based communication, everyone can stay informed with the latest decision or news, no matter the time zone.
Another benefit of chatting inside emails is that messages don't get lost in endless conversations or channels, unlike with chatting tools like Slack. You always work in a context-rich space, where each conversation is scoped.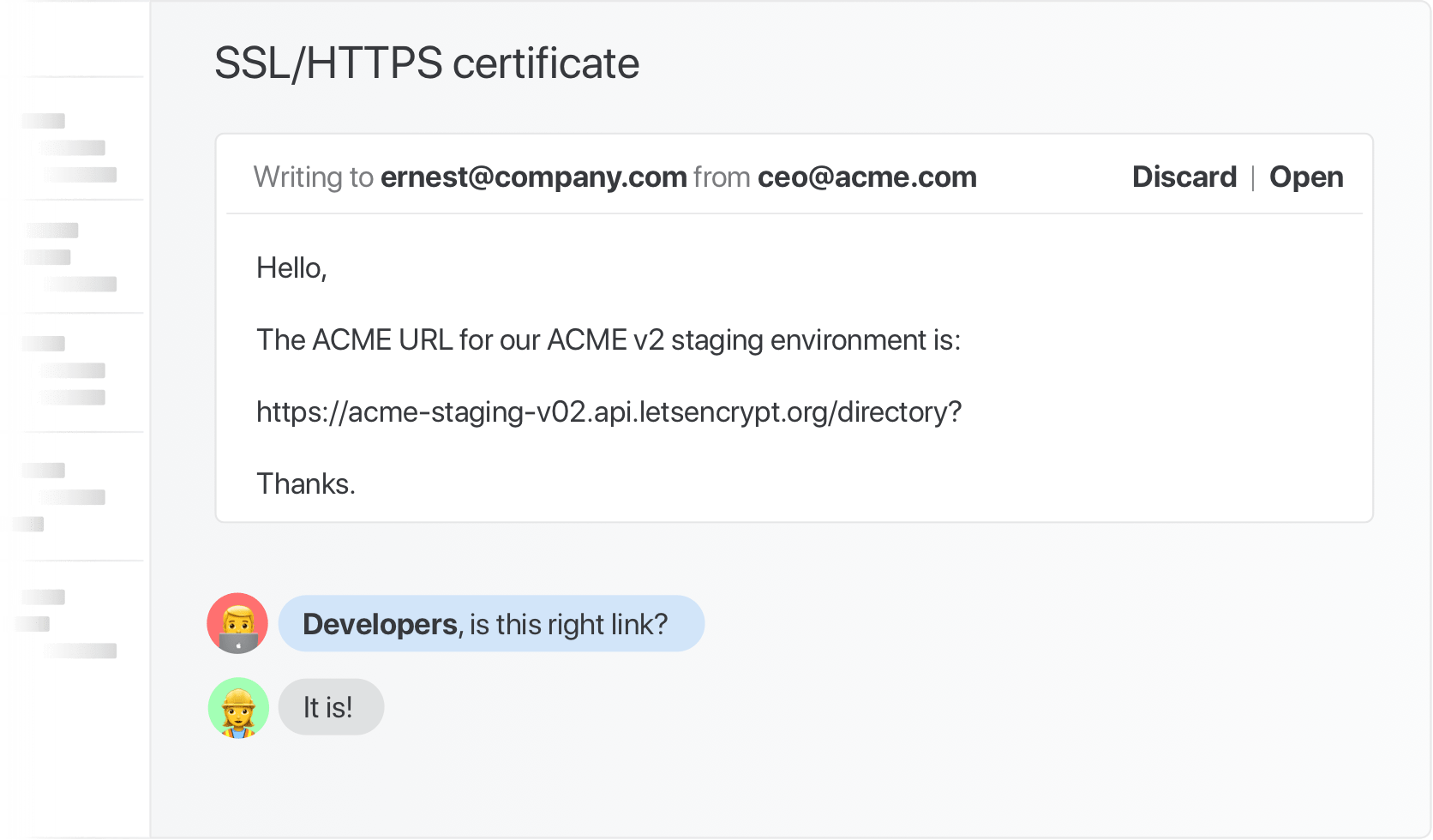 Shared Calendars
With Missive Calendar, you can quickly reply and schedule meetings, video calls, get reminders about upcoming activities and more. As with all Missive features, Calendar was conceived with teamwork in mind. Sharing events or entire calendar accounts is easy!
Missive Calendar currently supports Office 365 and Google Calendar accounts.
Assignment and tasks
Missive offers an intuitive assignment flow. Out of the box, any conversation can be assigned to individuals or teams (Sales, Support, etc.).
Some issues cannot be resolved immediately, so you can create tasks or to-do lists inside emails to keep track of what needs to be done. These tasks can also be assigned to other coworkers.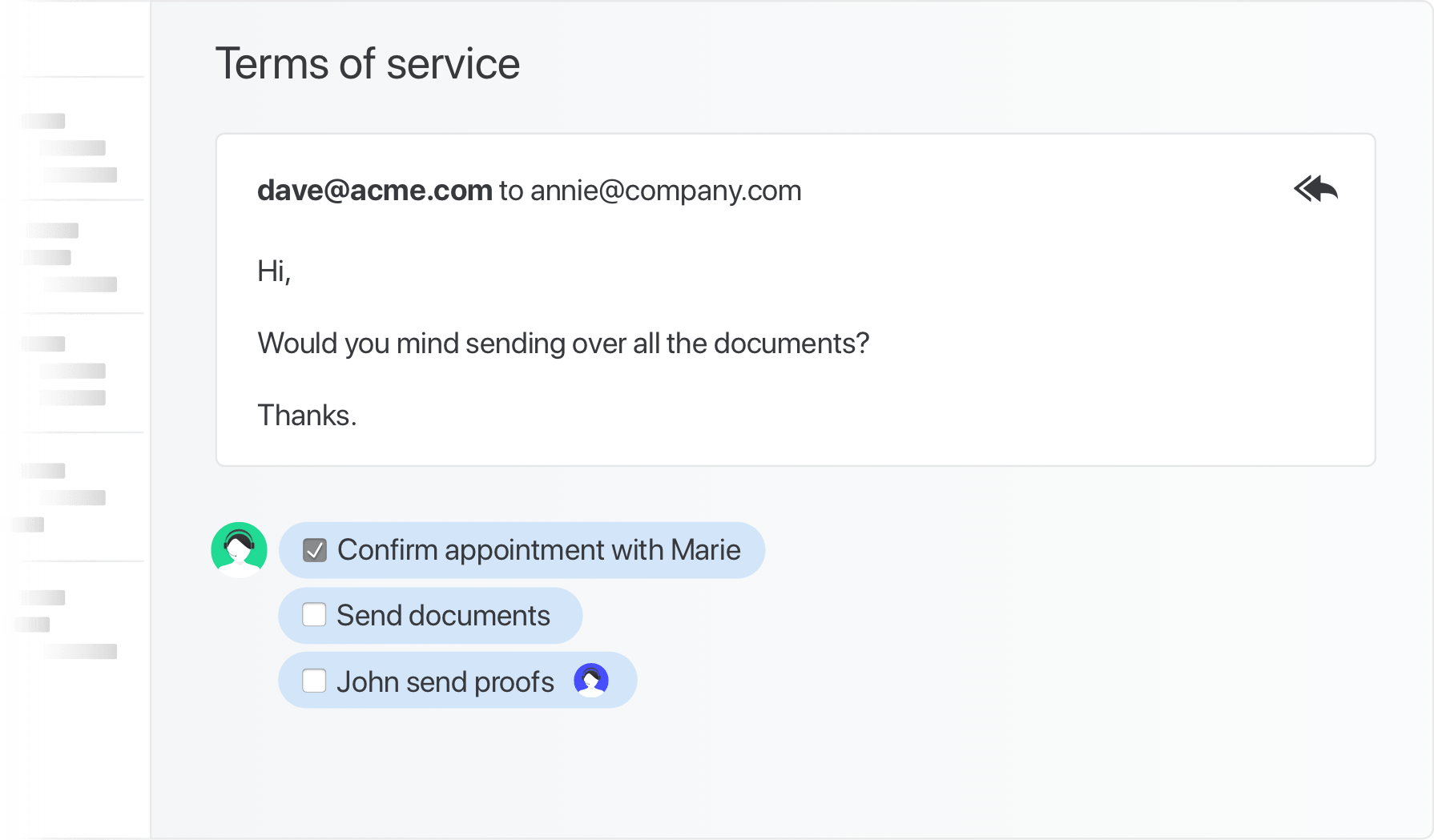 Integrations
Missive lets you enrich your workflow by integrating with essential apps like:
Asana for work management.
Pipedrive for sales management.
Full Contact for contact management.
And others too!
NoteTo help with our own remote work transition, we recently added a Video Chat integration that allows you to have video calls with coworkers inside Missive. These have come in handy for short kick-off meetings on Mondays, for example. We still keep 99% of our comms in written form.
Out of office
A remote working staple. Missive's Out of office status lets you set yourself or a coworker as unavailable for a period of time.
Replies received in conversations assigned to you will automatically move the conversations to Unassigned so that your coworkers can handle these while you're away.
There's also a simple Status functionality, where you can let others know what you're up to or to ask not to be disturbed during an intense work session.
Rules
With Missive, you can create sets of rules that automate actions. The possibilities are endless, but a simple one that helps you maintain a healthy work/life balance is to create a rule for notification-free periods of time. This is especially helpful for teams working in different time zones.
For example, by setting up the next rule, all incoming email that arrives outside of your work schedule will be snoozed until the next day.
It's a great way to disconnect and enjoy other activities. You're freed from the anxiety of constantly checking for new emails.
What about social interactions in remote work?
The biggest con of remote work is the impact it can have on social life in the physical office. But this can be partially addressed by having one or two company-wide reunions per year.
You can also create informal chat rooms. For example, in Missive, we keep a "Water cooler" shared label where everyone can talk about whatever they want, be it music suggestions, new tech, funny tweets, etc.
The future of work
Is remote work the new normal? Probably yes. It's got many benefits, from environmental ones to social ones.
But even though the pandemic accelerated things, remote work is still a privilege for most people. However, with the right tools and a slight change in company culture, things can change fast.