In Missive, Shared labels called organization labels, are the perfect way to arrange your team's conversations. An organization label can be applied to any conversation, whether it's an email conversation, an internal chat conversation or a conversation with both emails and chat messages. Make sure to read the use cases below to understand how useful they can be.
How to create an organization label?
Creating organization labels is simple, you can do so from your organization settings, selecting the Labels tab. Or you can create them when viewing a conversation, just click on the label icon at the top of the conversation, like this:
How to open organization labels?
To open and keep an organization label in Missive's left column you need to click on the More link then find and select your organization label. If you prefer to only navigate to an organization label without keeping it open in the left column, you can press the Option / Alt key while clicking on it.
You can also quickly find and open any labels using the search input at the top of the second column (Command + F to select the input), just type the first few characters of your labels… the same Option / Alt trick applies if you just want to navigate to the label.
Auto-access
By default, applying an organization label to a conversation will not automatically make the conversation visible to more coworkers, it will just label the conversation for teammates already having access to it. You can change that behavior and configure an organization label to automatically give some coworkers access to the conversations in that label.
Only admins can change who has auto access to an organization label. When an organization label is set with auto-access, only the people selected in the auto-access menu will see the label.
Use cases
Organization labels can be used in many creative ways to boost your team productivity, here two examples.
Feature requests tracking
At Missive we use the organization labels to track our user's feature requests. To do so, we use six organization labels: Bugs, Requested, Next, In progress, Pending release, Completed. These are all nested under the parent Features label.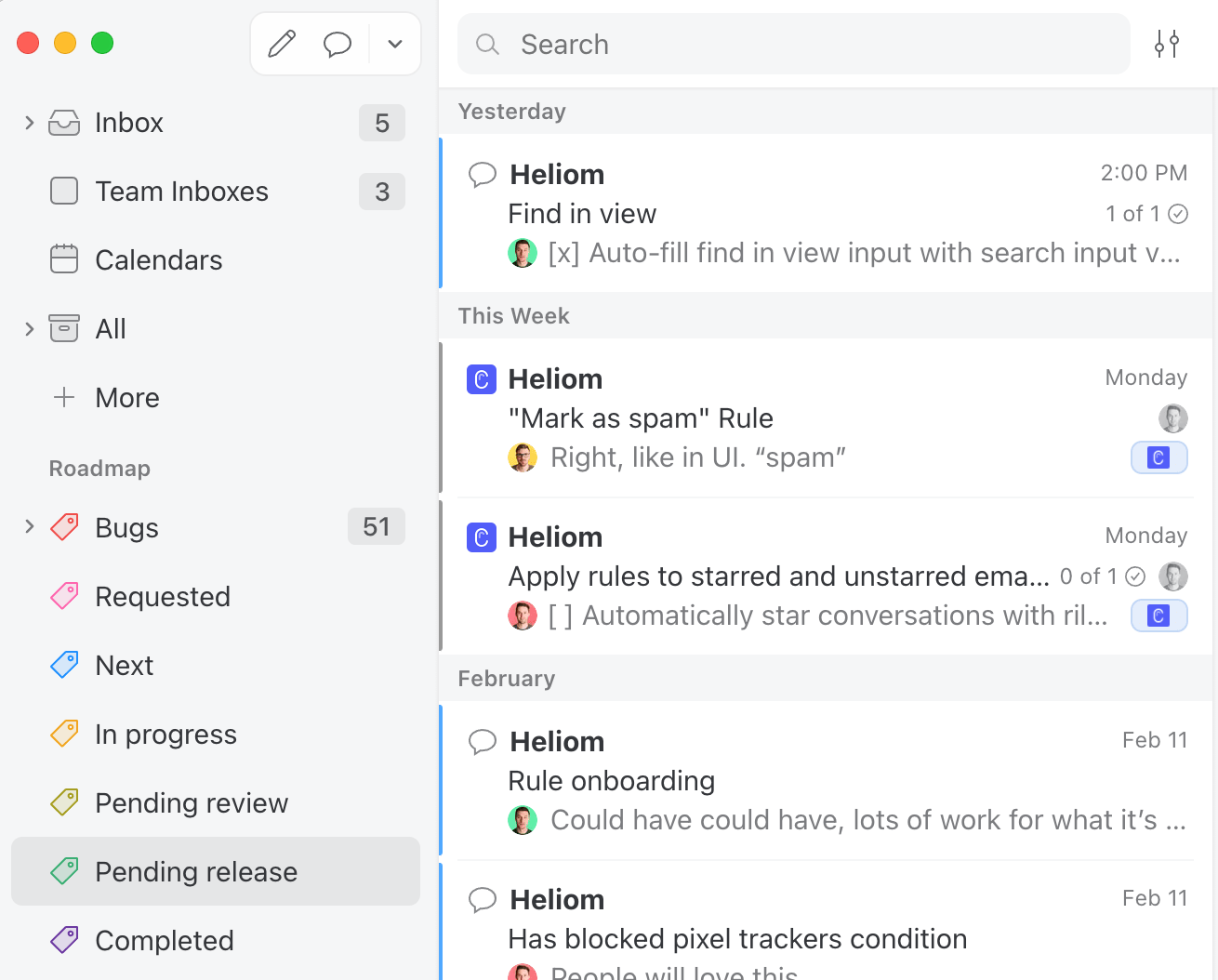 Every time one of our users asks for something new, we create and name a conversation to the feature being requested and label it with the Features/Requested label. We then create a task that links to the email conversation where the user asked for the feature. We do so for every users who asked for the feature.
When we start working on that new feature we move the conversation to Features/In progress. There we can discuss implementation details. We can also contact some of the users who asked for it to see if our proposed implementation works with them and gather some feedback.
When the feature is completed but not released we moved the conversation to Features/Pending release.
And finally, once a feature is released we move it to Features/Completed. We can then mark each task as completed after contacting everyone's who was interested in it.
The water cooler
No one likes to be interrupted, but as a team, we still need to share and communicate on many different topics some not urgent. Let's say I just found about a really interesting product that could befinit the company operations if adopted, this is not urgent but important. I don't want to @mention my teammates and move the conversation I just created in everyone's inbox. This would interrupt their flow even if it's not urgent.
A better way of sharing non-urgent conversations is to use an organization label. For example at Missive, we created one named Water cooler where we exchange about non-urgent but interesting stuff. Everyone can consume the conversations in it whenever they want.
Each team member decides if they want to keep the label open in their left column and show/hide the unread conversation count.
That's my preferred setup. That way, I can instantly see there is new content and go check it when I want.
Make sure your label is shared. That way, when you apply the label to a conversation, the conversation will be shared with the relevant people automatically.
Colors
You can customize the color of your labels by right-clicking on them or by opening your organization label settings:
Icons
To customize the look even further you can add an icon to your organization labels.
You can also customize what is shown in the label token from your Preferences:
Advantages over Gmail/IMAP labels
If your mail account is personal, your labels/folders/mailboxes are only accessible by you, you can keep using them in Missive and all your actions will be synced to your mail server.
If your mail account is shared, your labels/folders/mailboxes are accessible to your teammates and everyone's actions will be synced to the IMAP server.
The advantages of Missive's organization labels over the above are:
Capacity to use them on conversations with no email (internal chat conversations)
Capacity to manage auto-access to conversations by applying organization labels