Live chat is often the best way to solve time-sensitive technical issues or to answer sales related questions. In today's world, failing to give speedy answers to customers can result in leads lost to a competitor.
Missive Live Chat is the perfect way to interact with visitors and users from your website without creating additional silos of communication.
Whenever someone sends a message through the live chat on your website, it will instantly appear in your Missive app, and like all other channels (email, SMS, social media messages), you decide where these messages land. You may choose for them to arrive in a Team Inbox or in everyone's Inbox.
Missive Live Chat offers you these fantastic features:
Backed by Twilio Chat - Pay as you go
Missive Live Chat works on top of Twilio's Conversations API. To use Missive Live Chat, you first need to sign up for a Twilio account.
The significant advantage of using your own Twilio account is you only pay for your metered usage. With less than 200 active chats per month, it is free. For each additional one, you pay a low fee.
Identify visitors & authenticate users
You decide whether you want your visitors to identify themselves (name, email address) or use the chat anonymously.
Your signed-in users can be authenticated automatically so they don't have to enter their name and email address. Authenticated users will appear as verified in Missive. Authenticating users is easy, just follow these instructions.
One-to-many
One chat can be handled by one or many support employees, either simultaneously or at different times.
Let's say, for example, a customer wants to know why she hasn't received a product she ordered through your website.
A support employee takes the chat, but things turn sideways, and now the customer wants a refund. Instead of telling the customer that he will pass the request to the appropriate team, he @mentions the Finance team, they immediately get access to the chat and refund the customer. The customer leaves happy with the swift response.
Fits your branding
The chat widget is highly customizable. The chat's floating button will live in harmony with your website's look and feel.
Se habla español, or any other language
Is your website not in English? No problem, you can change (or translate) the text of the widget to anything you want.
Schedules
With Missive Live Chat, you can have an online / offline status based on your team's presence in Missive or via a pre-defined schedule. You will never let a customer guessing whether you're there to respond or not.
File exchange
Both you and the user can easily attach images, PDFs, and other files in the chat. A screenshot is worth a thousand words ;)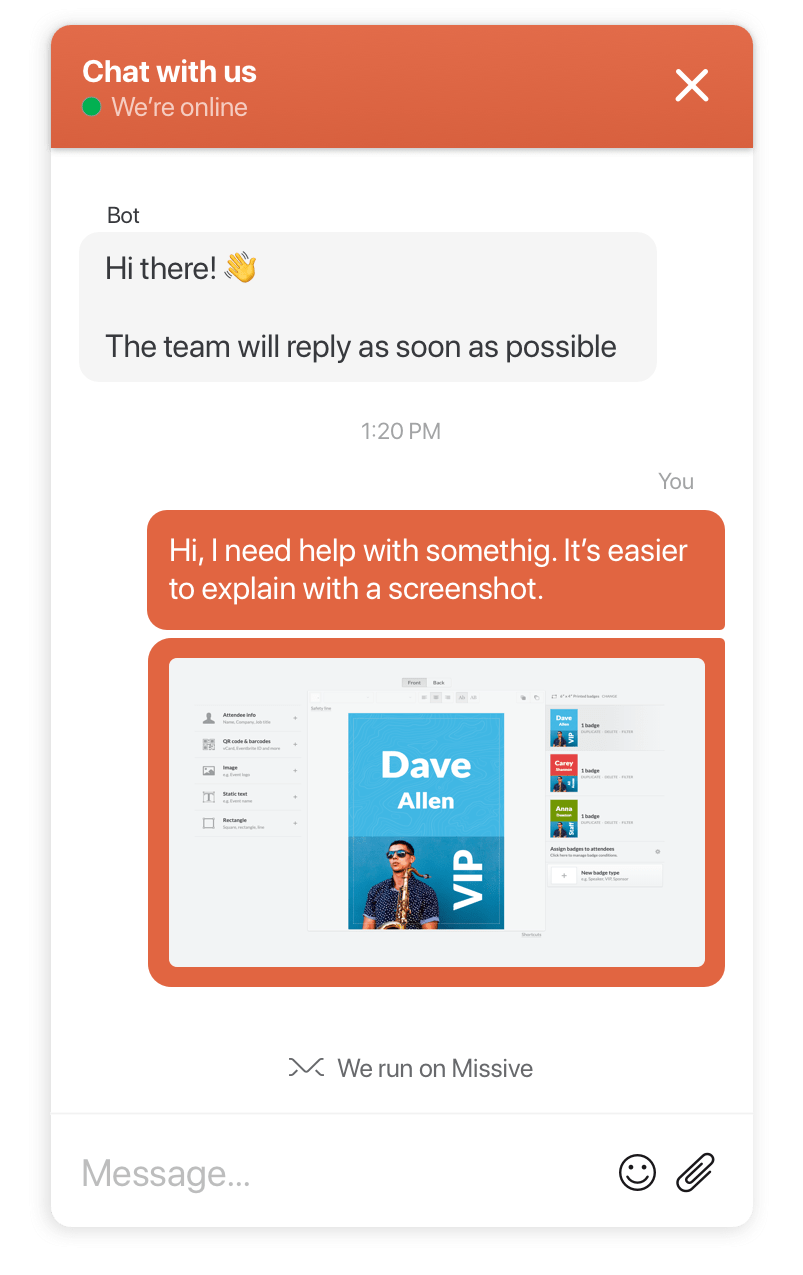 Automation
Harness the power of Missive and create automation rules to do actions or send messages when they match specific conditions. For example, when outside of business hours, let the system send a courtesy message to customers, letting them know you'll be back tomorrow.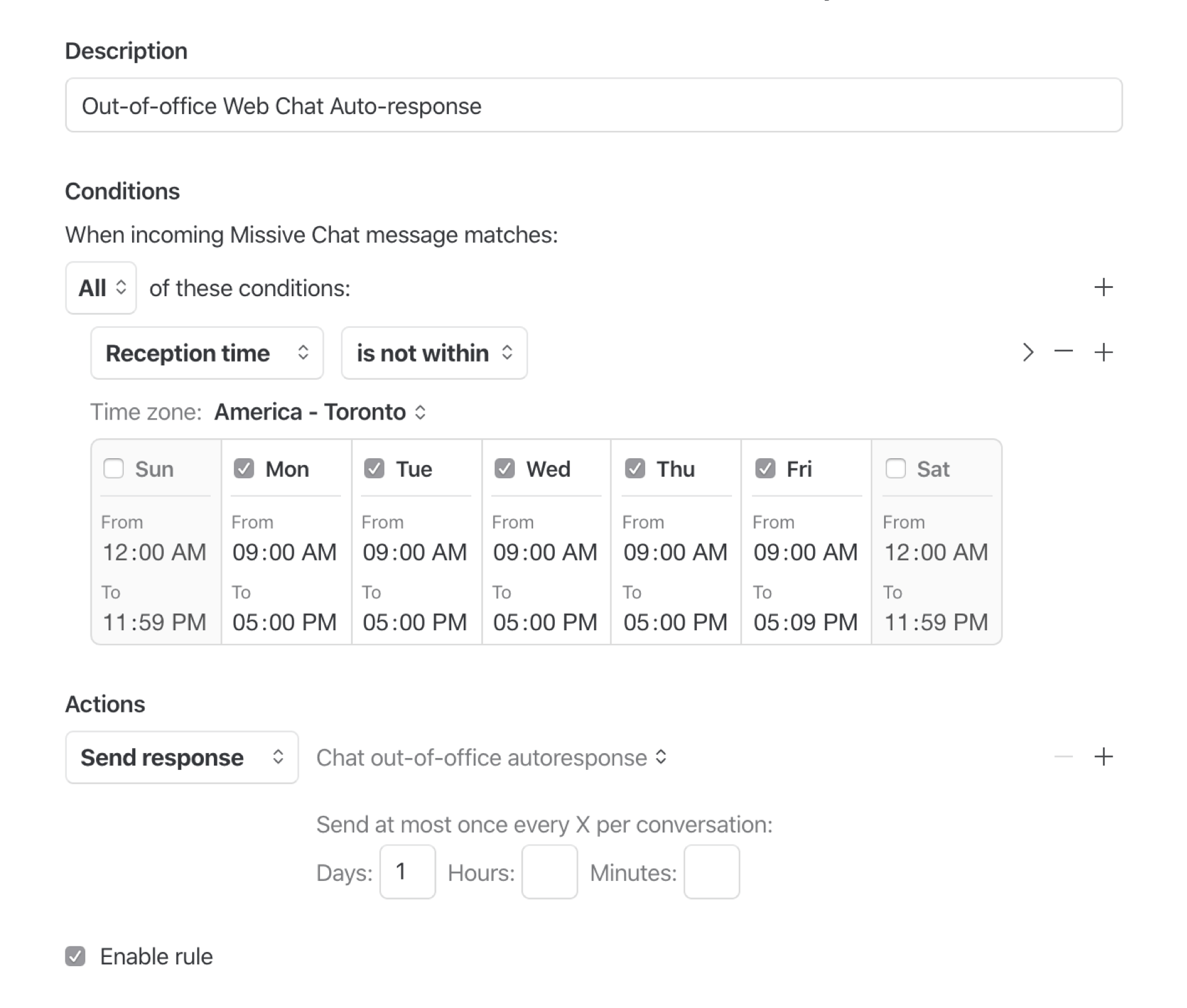 Read status
With read status, you always know if someone has read a message or not. This comes in handy when the customer no longer responds, but you want to see if they got the message.
Automatic email follow up
Make sure your customers always get their answers! When configured to do so, anytime an answer is unread after a configured amount of time, Missive will send a summary of the conversation to the visitor's email address to make sure they see it.
Attach and display meta data
Missive Live Chat messages can include data to provide information about the person currently chatting with you. This data is displayed in the Contacts sidebar and will use the last message data.
Emojis!
I mean, who doesn't enjoy Emojis in a virtual conversation.
Learn more
Make sure to read the documentation to learn how to get started with Missive Live Chat.