Front App alternatives: Learn why Missive is better
Looking for an affordable Front alternative?
You're at the right place.
Front app and Missive share many similarities. First and foremost, they both let you and your teammates comment in between emails.
One difference however is that Missive was built from the ground up to be a full featured email client; whereas Front was built exclusively to be a help desk fueled by emails. This does not mean Missive isn't suited for customer support use cases, it definitely is! But the different missions of the two apps do bring differences in functionality, user interface, roadmap and user expectations.
@sahin on Twitter
It's been about a week for us full time. I was super hesitant to make the switch. I can really see the value in what you have created and so much feature. When comparing to Front and what they are asking for their software you guys crush them. We are chatting all around emails too which is nice.

Steve Burdick

|

Galveston Computer Solutions LLC
Just moved across from Front - the price affordability, simplicity and UX is epic. Absolute raving fan.

Matthew Church
We have a growing business that desperately needed a shared inbox solution for all of our contact boxes for our customer base. We tried everything from Front, HelpWise, FreshDesk, ZenDesk, etc;. Absolutely NOTHING compares to Missive. We now have all of our emails, text lines and FB Messages coming in to one centralized location that ALL of our staff has access to. The Missive phone app has released me from the gauntlet of my multi-app nightmare. I am now in one app sitting by the pool. TY!

Tony Heinz on Google Play
After trying out other email providers, such as Super Human and Front, I was impressed with the comprehensive feature set that Missive was able to offer. In particular, it is a very speedy email service (shortcuts, excellent layout) with powerful team features (shared mailboxes, labels). Most recently we have been implementing its API features and these have been very helpful indeed. It is feature packed and highly reliable. For anyone in a service business that spends considerable time on email, get Missive!

Pravin Bansal

|

Premier Tutors
Just wanted to say that we have been LOVING the App, it's not just a game-changer, I really can't imagine working on a team without this again! The price is drastically more affordable compared to Front. Couldn't be happier that we switched and saved so much money. Also I'll say this, the search function is the fastest and most flawless I've ever used!

Tim Jack

|

rise.la
One core precept of Missive is that the email part of the application needs to be so good that users want to consume all their emails in it: shared addresses (help@acme.com), personal work inbox (philippe@acme.com) and personal inbox (phil@gmail.com).
This is important because the collaborative part of Missive becomes infinitely more useful when users live and breathe inside Missive. You not only want to collaborate around emails sent to your company help@ address, but also around the really important emails you most likely receive at your personal company address, like that email from a potential high profile partner.
People have really high expecations regarding what an email client needs to offer in terms of functionalities, behavior and look. To reach our objective we invested a lot of time nailing the small details that make Missive a great email client.
User interface (email client VS help desk)
Missive's user interface is designed to look and feel like an email client. You find the classical 3 column layout where the first column lists unified mailboxes (Inbox, Drafts, Sent, All, etc.) and labels. You can choose which mailboxes or labels stay opened; it's your way, independent of your teammates.
Front app is fairly opinionated in the way it displays and organizes your emails. Everything is geared towards assignment; it's mostly focused on the customer support use case of emails (help@, info@) where assignment is an important concept.
According to an analysis by Software Advice, Missive outrank Front in both usability and customer satisfaction.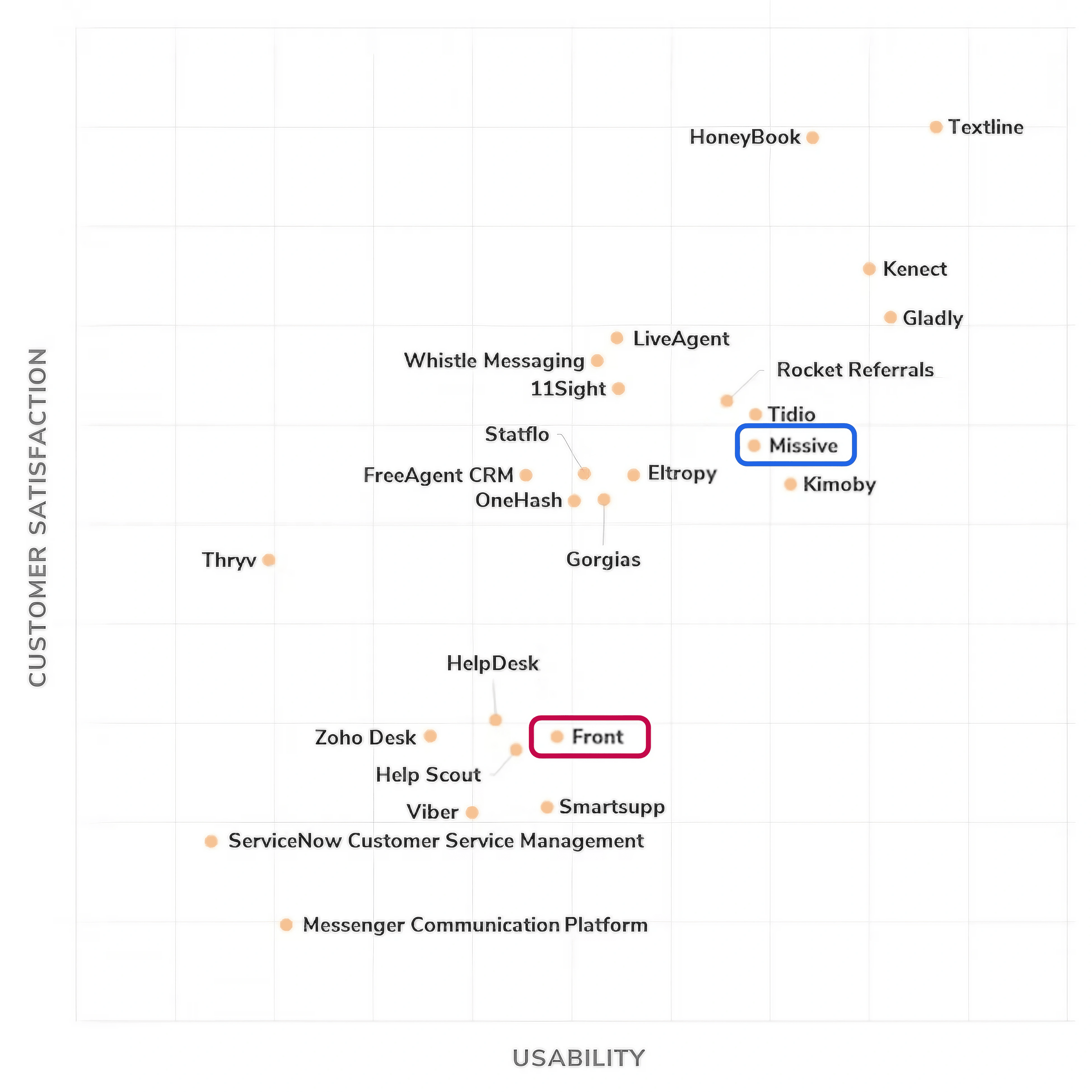 Front Email history
Missive imports 15 days of email history on the free plan. Upon subscribing to a paid plan, more history is imported (6 months on the Starter plan, unlimited on Productive). This applies no matter what email provider you are using (Gmail, Office 365, regular IMAP, etc).
Front app only imports your last 50,000 emails for Gmail and Microsoft accounts. If you need more history you are out of luck, you can't upgrade like in Missive.
When you connect a Gmail or Office 365 account as a shared inbox or individual inbox in Front, you can choose to import the most recent 50,000 messages.
Mailboxes / Labels
Missive fully supports Gmail labels on the free and paid plans. All your labels are synced from and to Gmail. Every conversation labeled in Missive will be labeled in Gmail. Every conversation starred in Gmail will be starred in Missive. Missive can be used side by side with Gmail or any other email client. It means you can keep your label nomenclature. When you switch to Missive, most things your were doing in Gmail are still possible.
Front app syncs your labels and flags but it's not seamless:
When you connect a Gmail account to Front, Front will sync your Gmail labels with your Front tags, including nested labels, as long as the channel is set to Gmail threading mode. If you use a different threading mode, tag activity will not sync between Gmail and Front. The tag sync also works differently for shared inboxes and individual inboxes, so it's explained more below.
Mobile app
We are always on-the-go, so the tools we use to get work done should be able to follow us around, seamlessly.
Missive offers a fully featured mobile app on both iOS and Android. This means all features you find in the desktop app, are available on your phone or tablet.
Front's mobile app does not support all features that the desktop app.
The iOS app does not support some advanced features that the desktop app supports, including but not limited to:

Onboarding for new users
Full set of personal settings
Sending images inline
Settings for message templates, signatures, inboxes, or rules
Analytics
Sequences
Full contact manager
Changing the default send button
Edit/rename/delete/archive private and shared tags
Calendar mobile notifications
With Missive you can receive notifications for events in your mobile phone.
This is currently not possible in Front App.
We recommend using the native iOS, Android Calendar app, or the Google Calendar mobile app (Google Workspace users only) to receive reminders for your events on mobile. Any changes made on Front's desktop app will synchronize to your Google or Office 365 account and will reflect on your mobile device; with the exception of updates to notification times for events, which do not sync. Likewise, changes you make in the native calendar or Google calendar app on your device will synchronize back to Front Calendar on the desktop.
Aliases
In Missive you manage aliases like you do in any other email client. For each of your email accounts you can easily setup new aliases. You need to make sure that those aliases have been verified in your Gmail settings.
This makes it possible to manage multiple domain addresses from a single Gmail account (phil@companyA.com, phil@companyB.com, …)
You also get the ability to share aliases from personal accounts to let people reply as yourself.
You will always have access to all emails sent by a delegated user.
Front app lets you change the From address for your inboxes but does not support using multiple aliases per inbox. You need to create one channel per alias.
When you change the Send As, you will be replacing the ability to send from the original address, so you will not be able to send from the original address in Front anymore.
When you change the Send As, you will be replacing the ability to send from the original address, so you will not be able to send from the original address in Front anymore. If you need to send from the original address, then you should not use this process but simply add a new channel instead.
Draft collaboration
In Missive, you live edit drafts with your teammates. Writing a draft with a colleague feels like writing a Google Doc.
In Front app, when you reply to a conversation shared with teammates, they are only warned that you are replying. You cannot help them write it.
Conversation assignment
In Missive, every conversation can be assigned to one or multiple people in your team. In Front app a conversation can only be assigned to one person at a time.
In Missive, you can assign conversations from your INBOX or you can activate the assignment flow for shared inboxes (e.g. help@acme.com). This will let people from your team triage the conversations from one or many team Inboxes.
You can learn more about the assignment flow by reading this guide: How to triage and assign emails.
Task management
In Missive you can create an infinite number of tasks per conversation and assign them to yourself, one, or multiple teammates.
A lot of our daily tasks are generated from the interactions we have with the outside world (emails) and the discussions we have internally (chats). In Missive a task is simply a comment with a checkbox.
e.g. You receive a bug report from a customer, instead of assigning the whole conversation to one of your team member, you can be specific and create multiple tasks:
In Front app a whole conversation can be assigned to one teammate only. There is no granularity, meaning you will probably need a third party task tool to manage complex issues.
Analytics & reporting
Both Missive and Front come with integrated analytics and comprehensive reporting features.
Shared conversations
In Missive, each shared conversation shows an overview of who has access and what's their respective state (seen/unseen, inbox/archived, snoozed, viewing, etc.)
Shared and private conversations live alongside in your unified inbox or labels.
The Front app UI doesn't have a unified inbox, so conversations are spread in many places.
Before being assigned to someone, a conversation is located in a team inbox. When it gets assigned, it's moved to the Assigned to me mailbox for the asssignee and in the Following mailbox for everyone else. If you are not following a conversation that is not assigned to you, you can find it back in the assignee's mailbox.
Since there is no unified inbox, Front app offers an Activities view where you can see what is happening. In Missive, you follow what's going on in your inbox.
Instagram, Facebook, SMS mailboxes
In Front, emails, SMS and Messenger messages pretty much all look the same. This makes it difficult to quickly differentiate between each of them. In Missive, each message type has a unique styling that reflects the original platform's design:
Messenger
Instagram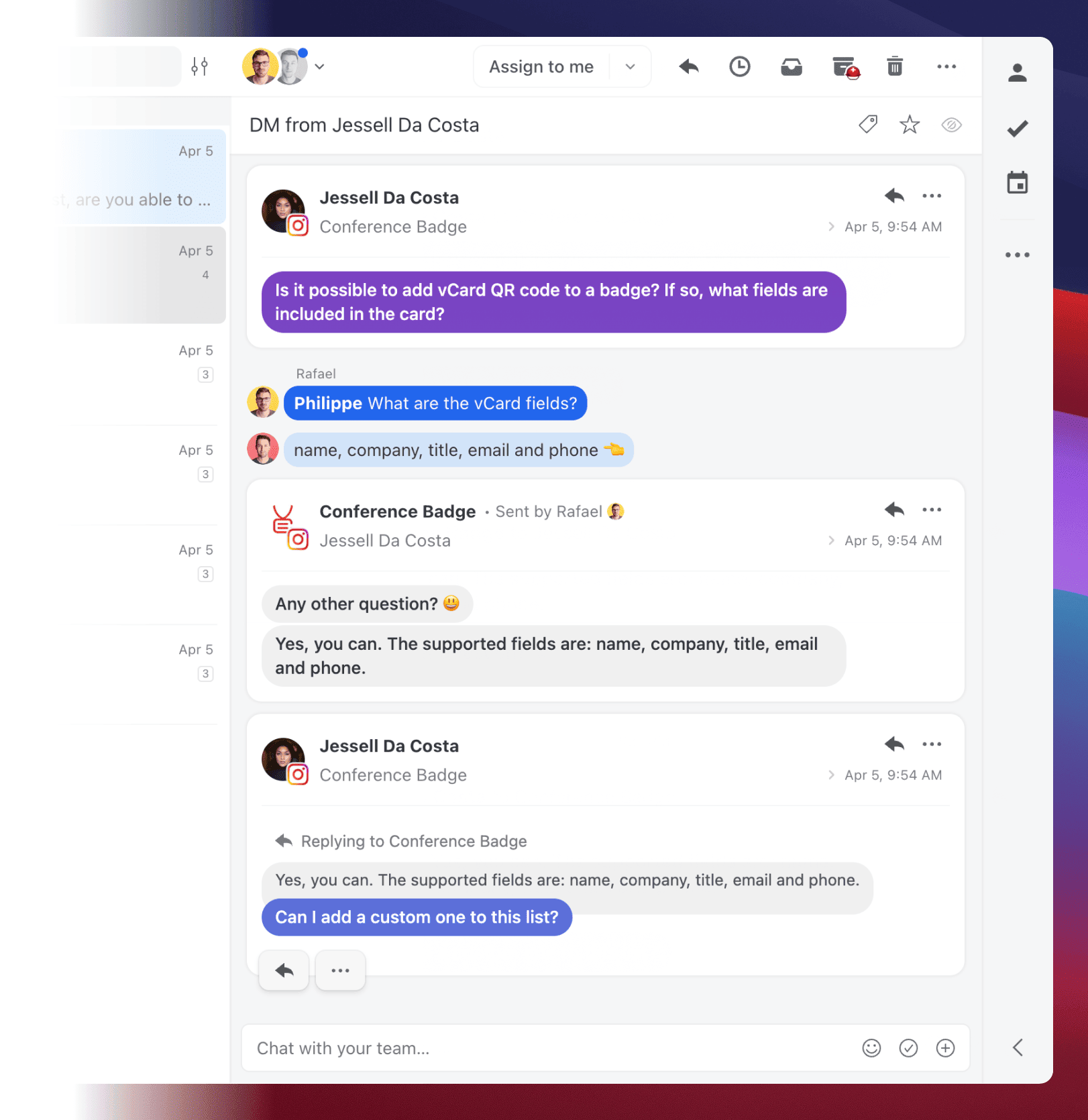 SMS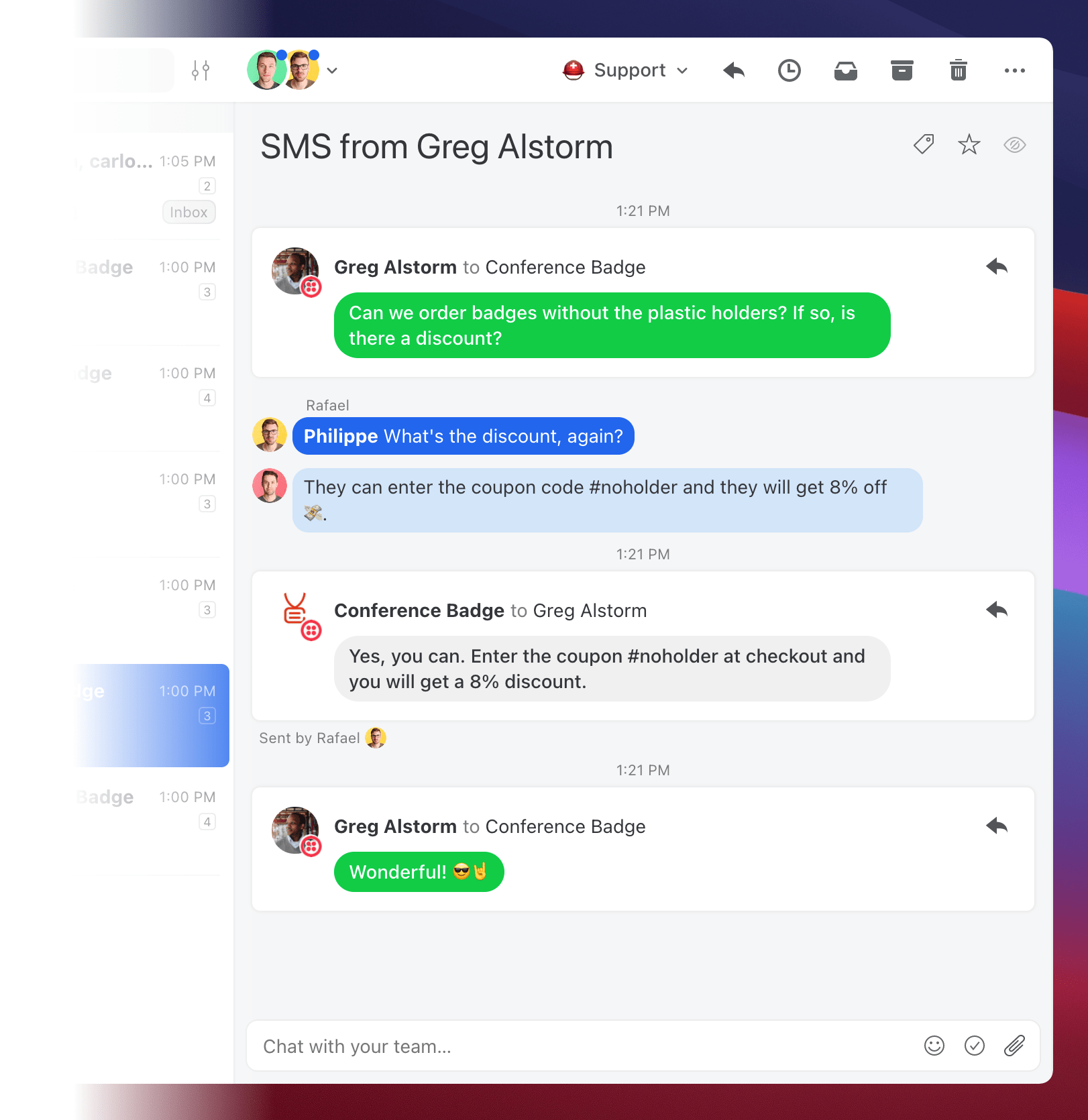 Integrations
Both Missive and Front offer integrations with third-party apps and also give you the ability to build a custom one for your business.
Browse all the integrations Missive offers.
Pricing
Let's be honest, no one likes to commit to a software solution for a year before trying it out.
This is where Missive comes in, offering a no-commitment and money-back guarantee trial that makes it easier for businesses to try out the software and determine if it's the right fit for their needs. And best of all, it's affordable!
Missive
Missive offers straightforward and affordable pricing options.
A free plan is available with basic functionalities to get started. Pricing starts at $14 per user/month for the Standard plan, which includes 5 shared accounts and 6 months of history.
For more advanced features like integrations, rules, and unlimited history, the Productive plan starts at $18 per user/month. The Business plan is also available for businesses with over 50 users and includes advanced features like Analytics and IP restriction.
Front app
Front app pricing works monthly but is billed annually, which may not be suitable for all users.
The Starter plan starts at $19 per user/month but requires a minimum of 2 users and a maximum of 10. The Growth plan starts at $59 per user/month and requires a minimum of 5 users, offering more advanced features such as automations.
Front also offers a Scale and Premier plan with pricing starting at $99 per user/month and $229 per user/month respectively.
Multi-organizations
Missive offers the ability to be part of multiple organizations in a single account. This means you can be part of many projects at the same time.
In the above image the user is part of four organizations, letting them collaborate instantly from a single app on many projects. Being part of many projects doesn't change the fact that you still have only one unified inbox to manage.
Front app doesn't support multiple organizations. This feature is marked as planned in their roadmap.
Front email forwarding
In Front, unless you have a Google or Office 365 account you will need to set up a forwarding generic inbox (@in.frontapp.com). This seems inoffensive at first, but it's a significant disadvantage because this locks you to Front. Mainly because the only backup copy of your emails will reside in Front.
We simply don't believe this is how email should be handled. A dedicated email server that hosts the main copy of your emails should be the backbone of an organization's email setup, then collaborative apps like Missive and Front should be a layer on top and they should not lock you in forever.
Front app alternative
Was one of the first Front users. But switched a long time ago to @missiveapp. Better in so many ways. And with realistic pricing. Never looked back.

 Jean-Paul Otto on Twitter
In the 2.5 years we've used Missive, I've seen it grow from a competent solution for a team inbox to a serious competitor with all of the other programs in this field. Anyone considering Slack, Front, etc., needs to give Missive serious consideration. This program has gone from something I never knew I needed to something I now couldn't get by without.

Geoff B. on Capterra
Missive hands down. Switched from Front about 12 months ago and it's pretty great.

Chris McElligott on Twitter
What is the difference between Front app VS Missive?
To us, Front app is a help desk. It cannot replace your email client or team chat app. It's a ticketing app for your shared mailboxes. The user interface assumes emails are tickets that need to be assigned to people.
Missive offers a the perfect communication app for small and medium businesses where you communicate with your team internally, orchestrate tasks and collaborate over the communication you have with the outside world.
In Missive, emails are emails; they are first-class citizens. You don't lose much going from your previous email client to Missive but you gain the tremendous ability to coordinate with your team. Our solution is also more affordable, the mobile app is full-featured and your emails won't be locked in* with us.
*If using anything other than Google or Office 365, Front keeps the only copy of your emails on their servers.
Switched from Front to Missive, and are very happy with the results. Simple pricing tiers with good functionality and no constant buffing up against blocked features that require an expensive upgrade. If you're looking for a great solution to manage team inboxes, with great functionality I would strongly recommend Missive.

Mark Lamb on Trustpilot
By the way, I really like Missive! After Zendesk, Gmelius, Hiver and Frontapp, this is a real relief.

Herman E.

|

Straetus Incasso Belgium
Can't recommend enough. Easy to set up and use after switching over from Front. Bit of a better fit for our small team to manage influencer relationships and move campaigns forward in a timely fashion. Haven't found any couns so far. Really intuitive and user-friendly.

Bayo O. on Capterra
Check out how Missive compares to Outpost, Missive compares to Slack, Missive compares to Spark, Missive compares to Help Scout and Missive compares to Shortwave.
If Front gets an update and this article becomes outdated, email us and we will update it.