Superhuman Alternative: the collaborative super power!
Are you looking for the best Superhuman email application alternative? Well, we're glad to inform you that your search might have ended here!
I'm a huge fan of Missive. I switched over from Superhuman in anticipation of bringing on my second team member and really wanting to drive seamless virtual collaboration in our inboxes. The experience has been seamless so far. I'm blown away at how small your team is and how well you've been able to create a delightful, bug-free experience cross-platform.

Monika B.

|

Function.vc
I am a paid subscriber of many email clients and using them eveyday @SpikeNowHQ , @Superhuman, @heyhey, @SparkMailApp . I use each of them for a specific need. @missiveapp is the best one for @remoteteamcom for many reasons.

@sahin on Twitter
And now I have the speed of Superhuman with all the team features.

Damien Hottelier
Superhuman can be described as a light email client on top of Gmail, like Airmail, Thunderbird or Mailbird. It does, however, offer some extra functionalities to enhance the efficiency of email management. Superhuman prides itself on being slick and promising to be the fastest email app in the market. But does it live up to the hype?
Having the right email client in place makes all the difference in terms of speed and productivity. However, when it comes to team collaboration, an email client that was built for individual users can't perform better than one that was built from the ground up for teams. And that's the main strength of Missive.
Both Superhuman and Missive are mail clients that offer plenty of features to improve the user experience. While both email clients are designed to boost efficiency and productivity, Missive's core feature is that it was designed to make team collaboration a breeze for all businesses and startups. Superhuman, on the other hand, is intended for individual users and isn't well suited for a wider team.
In this article, we'll highlight the major differences between Superhuman and Missive and why we confidently believe that Missive offers a more affordable yet better user experience than Superhuman, especially if you work at a company or with an executive assistant, as it integrates all aspects of office communication into a single medium. Missive offers a full work management solution that goes beyond email to also include chat, tasks, and social media.
Superhuman only supports Gmail
Multichannel communication is now more important than ever. As customers, clients, and stakeholders communicate in a diverse array of channels nowadays, a business communication tool shouldn't be focused on email alone. Not being able to aggregate the different communication mediums that you use in a single app can lead to lousy customer experiences and decreased efficiency.
With Missive, that's not an issue you need to worry about. While Superhuman only supports Gmail and Google Workspace email services, Missive allows you to collaborate around all these mediums:
All email providers (Gmail, G Suite, Google Workspace, Office 365, Yahoo via IMAP, regular IMAP, Microsoft Outlook, etc).
If one day someone sends you an email and the next day they message you via WhatsApp, you can give them a proper follow-up from a single app.
Manage multiple email accounts at the same time
Having to switch back and forth between account inboxes is a big waste of time and a counterproductive way to manage multiple email accounts, and that's the case with the Superhuman app. Superhuman does not offer a unified inbox view of your different email accounts.
Besides being a team-focused solution that enhances productivity and collaboration, Missive's real power unfolds when you also use it to manage multiple accounts. One single Missive account is all you need to store all entered email account credentials. With Missive, you can add personal and business email accounts to one central inbox or multiple team inboxes (your choice!).
With aliases, you can also use the same account to write emails from multiple addresses. You can delegate access to your whole email account or just to an alias to let colleagues send new email in your name.
Superhuman claims to be the fastest email client, Missive is just as fast
Superhuman justifies its price tag by offering a blazing fast email experience. But is Superhuman's speed really unrivaled?
Well, why don't we let users who've tried Missive answer that question?
Just wanted to say that we have been LOVING the App, it's not just a game-changer, I really can't imagine working on a team without this again! The price is drastically more affordable compared to Front. Couldn't be happier that we switched and saved so much money. Also I'll say this, the search function is the fastest and most flawless I've ever used!

Tim Jack

|

rise.la
I like how fast emails send and receive. Everything is synchronized and up-to-date at all times.

Chris F. on Capterra
Having tested every single email app under the sun, I can honestly say that Missive is one of the best implementations of all time.

I am running it side by side with a couple others and, man, it's so much faster and cleaner. It feels better and better with time. And you were spot on with the multi-swipe.

Total bliss.

Rodrigo Bressane
Missive has an excellent track record on speed and deliverability!
Superhuman is only available on Apple devices (iOS, macOS)
The Superhuman app is only available to Mac, iPhone and iPad users, there's no Superhuman Windows nor Superhuman Android app available. Another issue with Superhuman is that it's a desktop experience first and foremost as the app is heavily reliant on keyboard shortcuts that can't be changed. Missive offers a native app available for Mac and Windows. Missive is also available on mobile for iOS and Android and available through a web browser, like Safari or Chrome. And you can benefit from every single feature on all platforms.
Missive gives you the flexibility to use the app on any tool or operating system so that you and your team can stay productive while on the go. None of your employees will be left behind because they prefer using Windows over Mac or Android over iOS. Missive also offers a multi-swiping feature that you will undoubtedly enjoy. It lets you apply actions to multiple conversations at the same time with a single finger swipe.
Missive also offers a web version making it a solution that can be used from everywhere, even Linux!
Missive is more affordable than Superhuman
Let's see how Missive compares to Superhuman in terms of pricing.
Superhuman costs $30 per month and there's no free plan or free trial available. What's more, Superhuman doesn't let you sign up for their onboarding without entering a valid credit card or a PayPal account.
With Missive, all of your employees and team members can join you on the app at a fair price (starting a $14/month). The collaborative nature of Missive is the key factor that eliminates silos and helps boost your productivity.
Missive also offers a free plan that you can start with. No credit card is needed.
Missive allows for advanced automation that's not limited to inbound emails
Superhuman only offers automation for incoming emails with a configuration called Split Inbox. Missive, on the other hand, takes automation to a whole new level to ensure maximized productivity and fine-grained control. With Missive, you can use Rules, which are programmable conditions, to automate your workflows and thus save time on repetitive tasks for the following:
Incoming messages (Gmail, Office 365, SMS, etc.)
Outgoing messages (Gmail, Office 365, SMS, etc.)
User actions (New comment, applying a label, assigning/closing a conversation, etc.)
With Missive Rules, the sky's the limit. Here are just a few examples of what you can do with this powerful, nifty feature:
Properly categorize conversations by applying labels upon reception.
Delegate emails to specific team members based on the email content.
Incorporate an SLA program to provide an exceptional customer experience.
Achieve a better work/life balance by snoozing emails that arrive outside of business hours.
Share a message upon a label modification.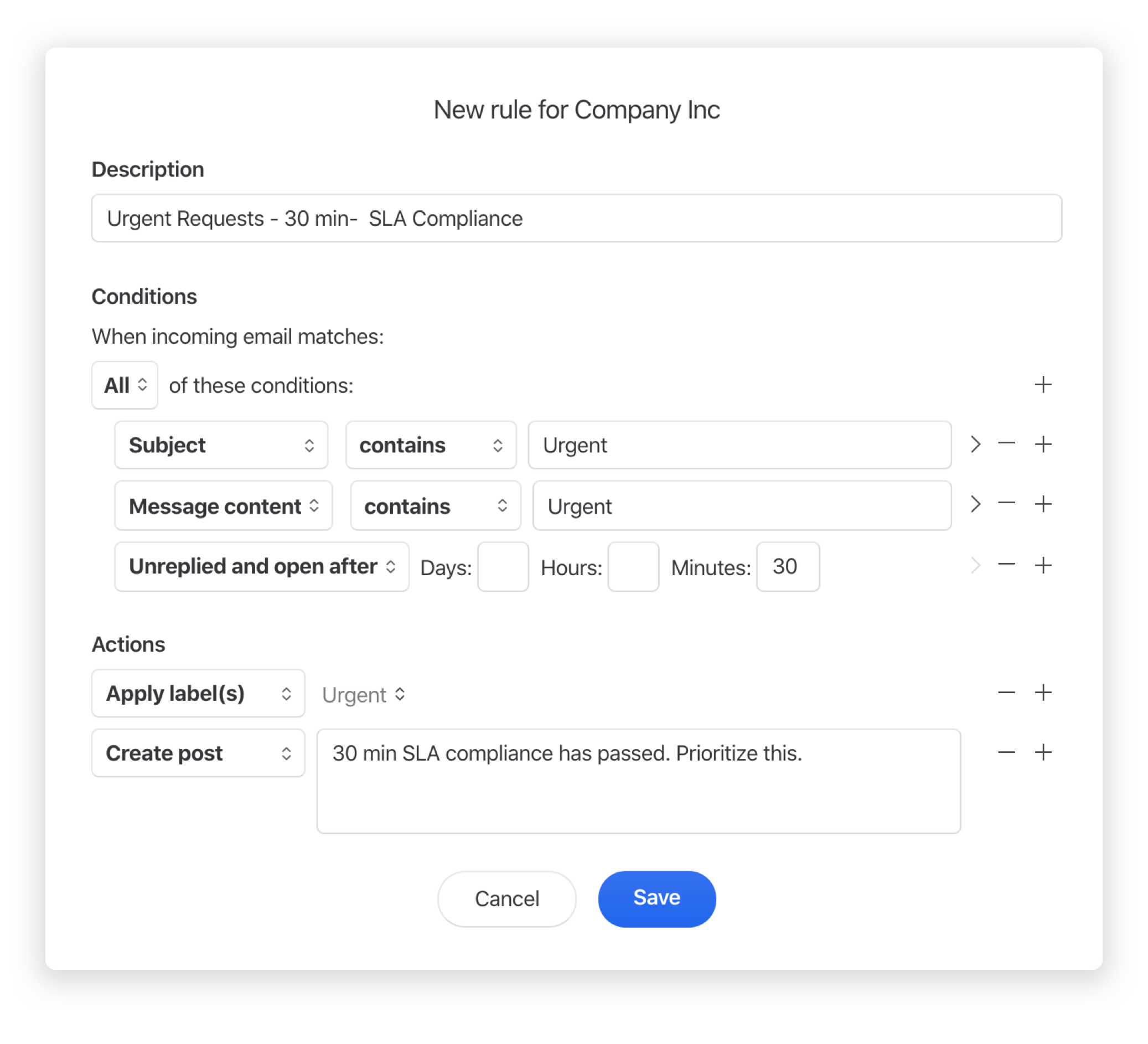 Missive breaks silos and allows teammates to chat around emails
As we've mentioned earlier, Superhuman's main focus is to enhance individual productivity, it's not meant to be a collaboration app. If you need an app that offers better email management and also allows teams to collaborate around email, then you should definitely choose Missive over Superhuman.
In Missive, everything external is email, and everything internal is chat. Both are merged in unified conversations.
If, for example, you received an email from a partner asking to change the terms of your partnership and you needed to consult your teammates before agreeing, you and your team can discuss the proposed partnership changes right in the context of the email via live chat.
Read more about the internal chat feature and all its use cases.
Share your canned responses
A crucial part of boosting productivity is reducing the time that you and your team spend on repetitive tasks. One of the many ways that Missive helps you do that is by offering canned responses. This feature allows you to compose and reply faster to frequently asked questions with pre-written snippets or templates, including support for variables.
Like most modern email clients, Superhuman also offers customizable snippets to create templates for common responses. However, what's special about Missive's canned responses is that they can be shared with the rest of the team. You benefit from the work of your team and they benefit from your work.
Missive allows you to preview full responses before inserting them into a draft. This is important as not everyone in the team can be expected to know the content of all responses written by other team members.
The search option makes it easy to find and add any response to a draft.
You can quickly find responses by searching their title, subject, and content. For example, to find a response named "How to be a better person?" you can input many different words:
| | |
| --- | --- |
| "ho bet pers" | ✅ "How to be a better person?" |
| "pers better" | ✅ "How to be a better person?" |
| "person?" | ✅ "How to be a better person?" |
You don't have to input every character from a word to see the matching results. You can also refine your search as you type.
Missive canned responses can also be classified using labels.
We encourage you to read more about Missive's Responses & Variables feature. We revisited something commonly found in help desks and made it 10 times better, right in your inbox.
Missive offers a full-fledged calendar app
Another essential feature that helps boost productivity and efficiently manage workflow is the calendar feature.
In Superhuman, the calendar feature is more like a scheduling widget that they describe as a "deeper" calendar integration. It's essentially a simplified version of Google Calendar's quick add pane where you can type in a date and time and invite others to join your event. Uniquely, Superhuman doesn't show most of the other calendar fields, including location and event details.
Missive offers a full-fledged calendar section that helps you schedule meetings and video calls, get reminders about upcoming events and planned tasks, and much more. As with all Missive features, Calendar was conceived with teamwork in mind. You can easily share events or entire calendar accounts.
Missive offers many integrations and allows you to create your own
Plugins and integrations with third-party apps allow you to work directly and seamlessly with the tools you are already in the habit of using. Both Missive and Superhuman offer a wide ecosystem of integrations with some of the popular SaaS providers and task management solutions.
With that said, making the most of these integrations takes more than just exporting emails to different apps. With Missive, you can see data from Asana, Pipedrive, Todoist, Trello, Dropbox, Shopify, and more right next to the conversation. You can also connect Missive to your CRM and other systems using Zapier. All to help you automate your work, get a better context, and provide customized in-depth replies.
You can also create custom integrations using the Javascript API that are tailored to your business's exact needs. This will enable you to effectively bridge the gap between your team inboxes and your business data and allow communication between your systems without migrating or disrupting data.
Just like all Missive integrations, your custom integrations will work on the mobile and desktop apps and web versions of Missive.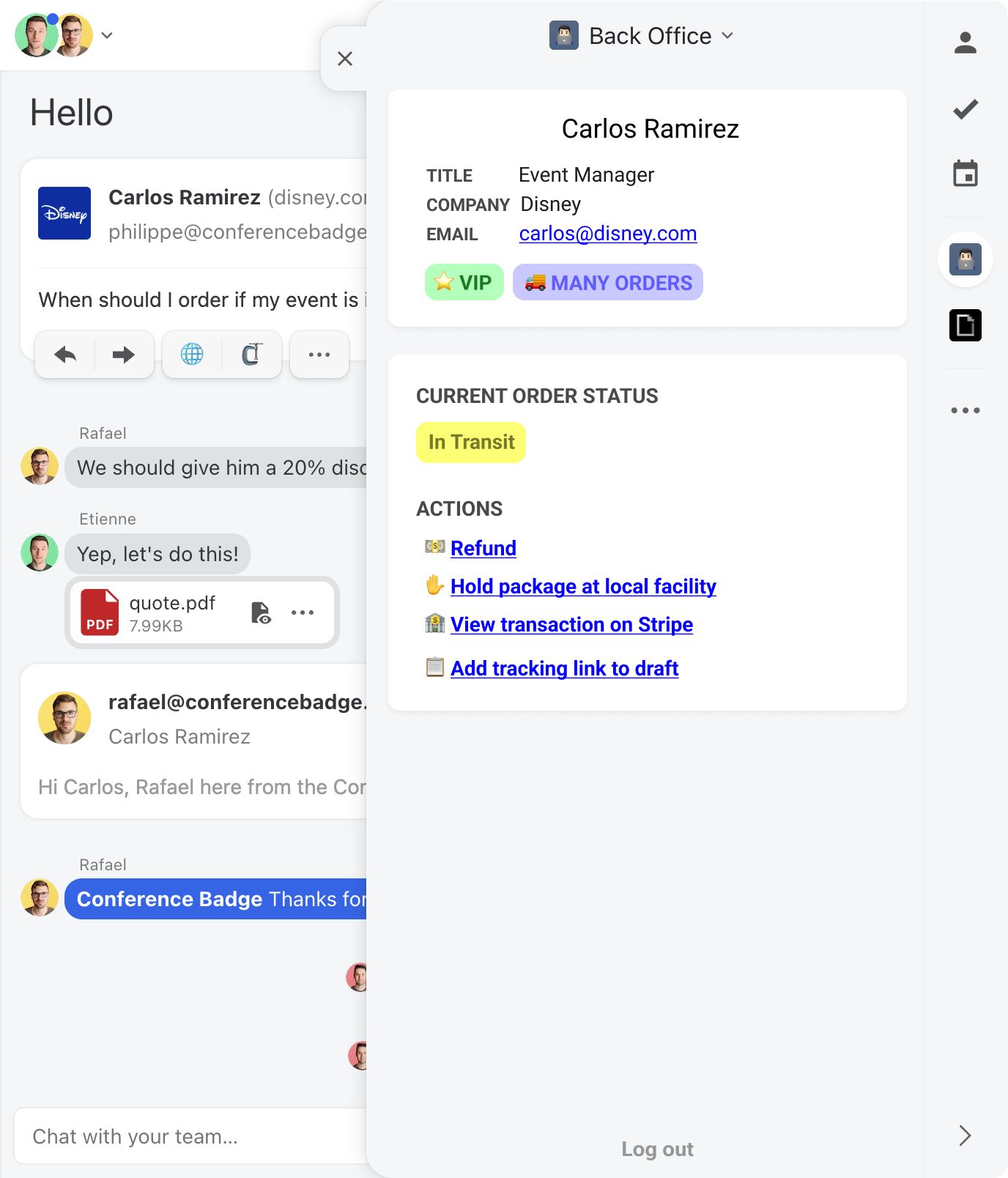 Read more about all the integrations that Missive offers.
In the end
Missive is more customizable than Superhuman and can be tailored to your team's needs and requirements. With Missive, you can collaborate around the really important emails that you receive at any of your email addresses.
To give you an exceptional team collaboration experience, Missive still has a lot to offer. Missive's other great features include but are not limited to:
Pinned conversations
General, team, and 1-to-1 chat rooms
Conversation assignment
Collaborative writing for real-time feedback
Powerful live chat
Workload balancing
Out of office statuses
Why settle for Superhuman email when you can go for a better, more affordable alternative that will benefit your whole team? Download Missive now and explore all the ways by which Missive can revolutionize how you communicate and collaborate with your team.
NoteIf Superhuman gets an update and this article becomes outdated, email us and we will update it.
Check out how Missive compares to Front, Missive compares to Spark, Missive compares to Shortwave or Missive compares to Slack.