Missive: A Better Alternative to Helpwise for Team Collaboration
Team collaboration is an essential part of any successful business. But what happens when it comes to emails and customer service? It can be difficult to find the right tool to facilitate this collaboration. That's why Missive stands out as a great alternative to Helpwise for customer service and team collaboration.
What Is Missive?
Missive is a collaboration tool for businesses that offer many features and benefits to help teams work together more efficiently and effectively. Missive allows your entire organization to collaborate on external communications, which is especially important for small to medium-sized businesses.
So, what sets Missive apart from Helpwise? Here are just a few features that make Missive a great choice for team collaboration:
Real-time collaboration: Missive allows teams to have conversations in real time, allowing for faster decision-making and problem-solving.
Easy-to-use interface: Missive's intuitive user interface makes it easy to use, even for those who aren't tech-savvy.
Missive can truly be a game-changer for your business. With its robust features and integrations, it can help your team work together more efficiently and effectively.
How Does Missive Compare to Helpwise as an Alternative?
When looking for a Helpwise alternative, it's important to consider key features such as email management, team collaboration, integration with other tools, and customer support. Here's how Missive compares to Helpwise in these areas:
Email Management
Helpwise offers email management features such as email automation, shared inbox, and email templates.
Missive also offers these features, as well as the ability to manage emails from multiple accounts in one place, snooze emails for later, and use keyboard shortcuts for faster navigation.
In terms of email management, Missive offers more advanced features than Helpwise.
Team Collaboration
Helpwise allows teams to collaborate on emails by assigning tasks and sharing notes.
Missive takes collaboration to the next level by allowing real-time editing of drafts, chat within email threads (conversation), and the ability to assign conversations to team members.
Missive's collaboration features are more extensive and better integrated than Helpwise's.
Integration with Other Tools
Helpwise integrates with tools such as Slack, Zapier, and Shopify.
Missive offers integrations with a wide range of tools, including CRMs, project management tools, and social media platforms.
Missive's integration capabilities are more extensive than Helpwise's, allowing for greater customization and streamlined workflows.
Customer Support
Helpwise offers support through email and chat, as well as a knowledge base and community forum.
Missive offers similar support options, but also offers phone support and a dedicated account manager for its higher-tier plans.
While both Helpwise and Missive offer solid customer support, Missive's additional support options make it stand out.
If you're looking for a Helpwise alternative with a greater emphasis on collaboration and productivity, Missive may be the better option for you.
Why Is Missive the Best Helpwise Alternative for Your Business?
Missive emerges as one of the best Helpwise alternatives for businesses that prioritize functionality, affordability, and an intuitive interface.
We have a growing business that desperately needed a shared inbox solution for all of our contact boxes for our customer base. We tried everything from Front, HelpWise, FreshDesk, ZenDesk, etc;. Absolutely NOTHING compares to Missive. We now have all of our emails, text lines and FB Messages coming in to one centralized location that ALL of our staff has access to. The Missive phone app has released me from the gauntlet of my multi-app nightmare. I am now in one app sitting by the pool. TY!

Tony Heinz on Google Play
Built-In Calendar
Missive offers a built-in calendar feature, which makes it easier to manage your schedule and team events directly from the app. It's also really easy to create an event directly in the app from an email. Helpwise doesn't offer this feature, which means you'll have to use an external calendar app.
More Than Customer Service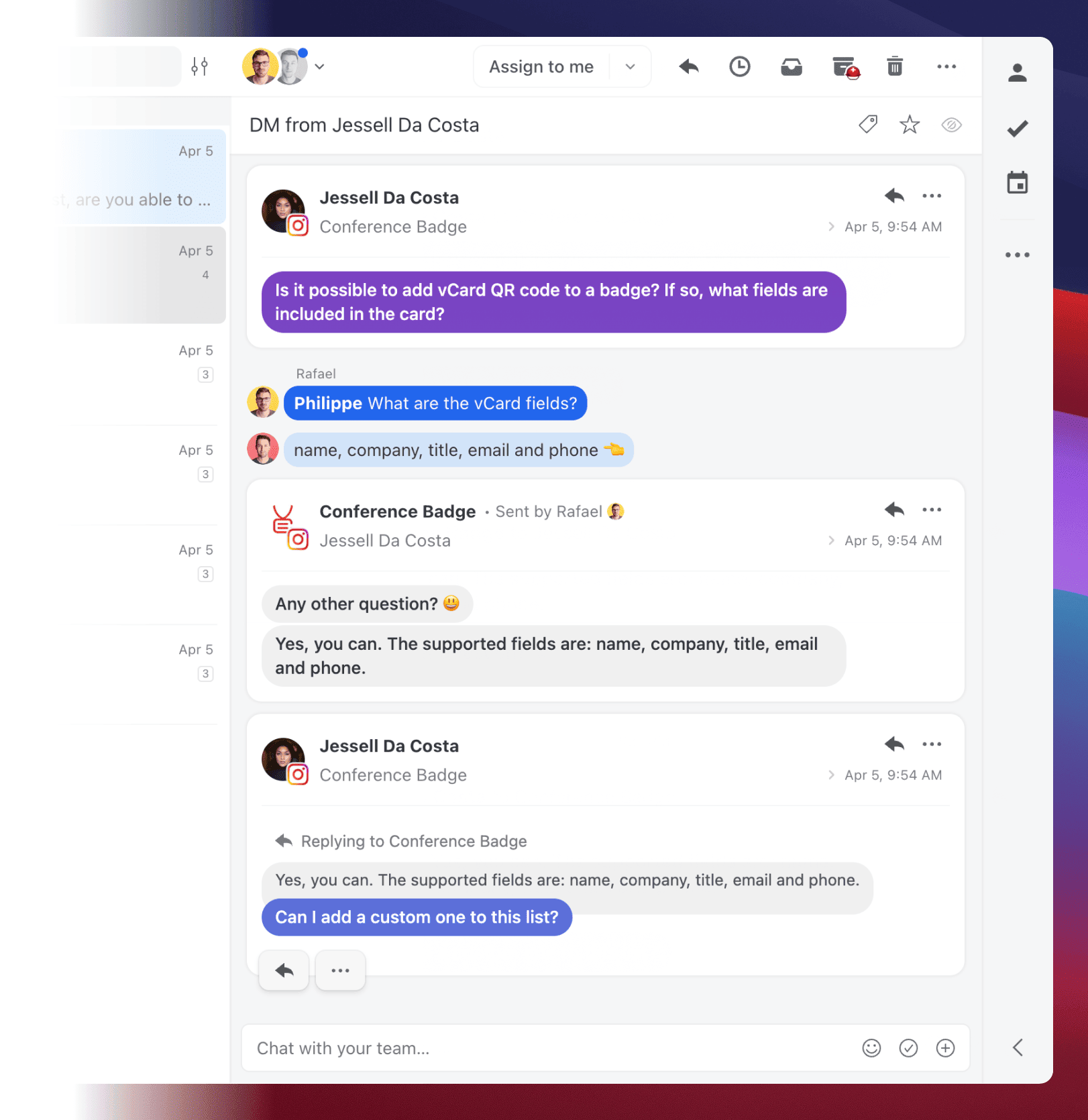 While Helpwise focuses primarily on customer service, Missive can be used by sales, marketing, or any other team to collaborate around emails, social media, SMS, WhatsApp, or other messaging platforms. This makes Missive a more versatile tool for teams who need to work together on various communication channels.
Unified Inbox
Missive allows you to manage both your work and shared aliases from one place. With Helpwise, you need to use a separate email client for your personal inbox management, which can be time-consuming and cumbersome.
More Flexible
Missive is more flexible compared to Helpwise as it offers customizable integration options using iFrame, Retool integration, Zapier, and an API. This enables you to create your own integration according to your specific needs.
More Affordable
Missive offers a free plan to get started, which Helpwise doesn't. Even its most advanced plan costs only $26/month per user, almost 50% more affordable than Helpwise's $50/month per user plan. This makes it more accessible for businesses that don't need all the advanced features that Helpwise offers.
Internal & External Communication in One Place
Missive allows you to manage both customer and team communication in one place. This eliminates the need for external tools or endless email chains, making it easier to streamline your workflow.
You can even send files using Missive so you can find all the relevant information in the right place.
Tasks & To-Do
Missive enables you to manage team tasks and to-dos directly within the app. You won't need to switch to a separate task management tool, saving you time and keeping all your work in one place.
It's never been easier to break down an email or customer inquiry into action items and assign them to a team member.
Intuitive Interface
Missive's interface is more intuitive compared to Helpwise. The customizable folders, tags, and interface make it easy to organize and streamline your workflow. Helpwise's interface can be cluttered, making it difficult to navigate and use effectively.
Dedicated App & Unified Experience
With Missive, you have access to a dedicated app on desktops for macOS and Windows, mobile apps for iOS, iPadOS, Android, and a web app. This means that you can enjoy a unified experience across all devices, allowing you to manage personal and shared emails from any device you choose.
In contrast, Helpwise only offers a web app and a mobile app, which limits the experience. With Missive's dedicated apps, you can easily switch between devices without any disruption to your workflow. Additionally, the interface remains consistent across all platforms, ensuring a seamless experience no matter where you access it.
Overall, Missive offers more flexibility, affordability, and versatility compared to Helpwise, making it the best alternative for businesses looking for an all-in-one email collaboration software.
Give Missive a try for $0, no credit card is needed. Or book a demo to explore how Missive can help your business.