Outpost vs Missive
If you're looking for the best Outpost alternative for a shared inbox app, you're in the right place. Outpost and Missive are products tackling a similar issue, which is to improve email management. But these two apps have very different approaches to what it means to manage email.
What's the difference between Outpost and Missive?
The most significant difference with Outpost is Missive's collaborative nature; it was built from the ground up with team-work in mind.
Outpost focuses solely on sharing emails and the individual assignment of messages; this can be an issue for companies with specialized teams (marketing, sales, support). The moderate feature-set could also result in needing other productivity tools to get the job done.
On the other hand, Missive is a complete solution that lets you handle all of your company's communications (both internal and external). Missive grows with your business and easily adapts to its dynamic structure.
Ten reasons why companies use Missive vs Outpost
We found ten reasons why you might consider Missive to be a better alternative to Outpost.
1. Assign conversations to more than one coworker or a specific team.
In Missive, every conversation can be assigned to a whole team, a specific person, or multiple people. In Outpost, you can only delegate an email to one person at a time.
Even more useful, in Missive, you can activate the Team Inbox flow for shared inboxes (e.g. help@acme.com). This will let your team triage the conversations from a dedicated inbox. This resembles more to a real-life collaboration scenario, where a team can share the caseload.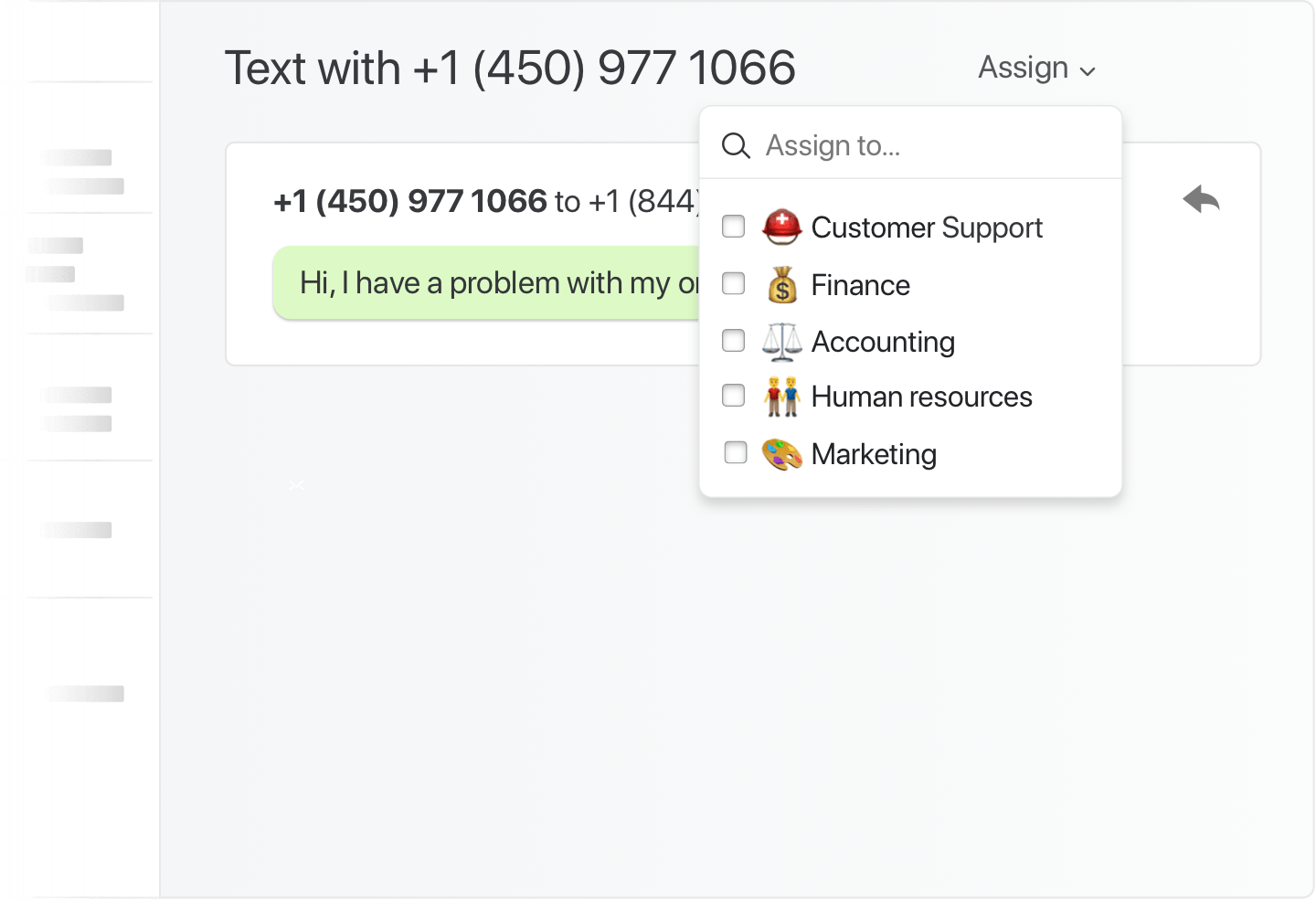 2. Use Missive's full-featured mobile apps.
We offer full-featured mobile apps available on iOS and Android, unlike Outpost, who only offers companion apps, where administrative tasks cannot be performed on-the-go.
On the other hand, in our apps, every single feature found on the desktop or web-based app is also available on mobile.
You will undoubtedly enjoy our multi-swiping feature. It lets you apply actions to multiple conversations at the same time with a one-finger swipe.
3. Automation is not limited to inbound emails
Missive offers Rules, which are programmable conditions that help you automate your team's workflow for incoming/outgoing messages, and user actions as well.
With Rules, you can, for example:
Apply labels upon reception to properly categorize conversations.
Assign emails to specific team members based on the content of the email.
Send automated replies based on the hour of the day.
Incorporate an SLA program to ensure an excellent customer experience.
Snooze emails that arrive outside of business hours to help you achieve a better work/life balance.
Share a message upon a label change.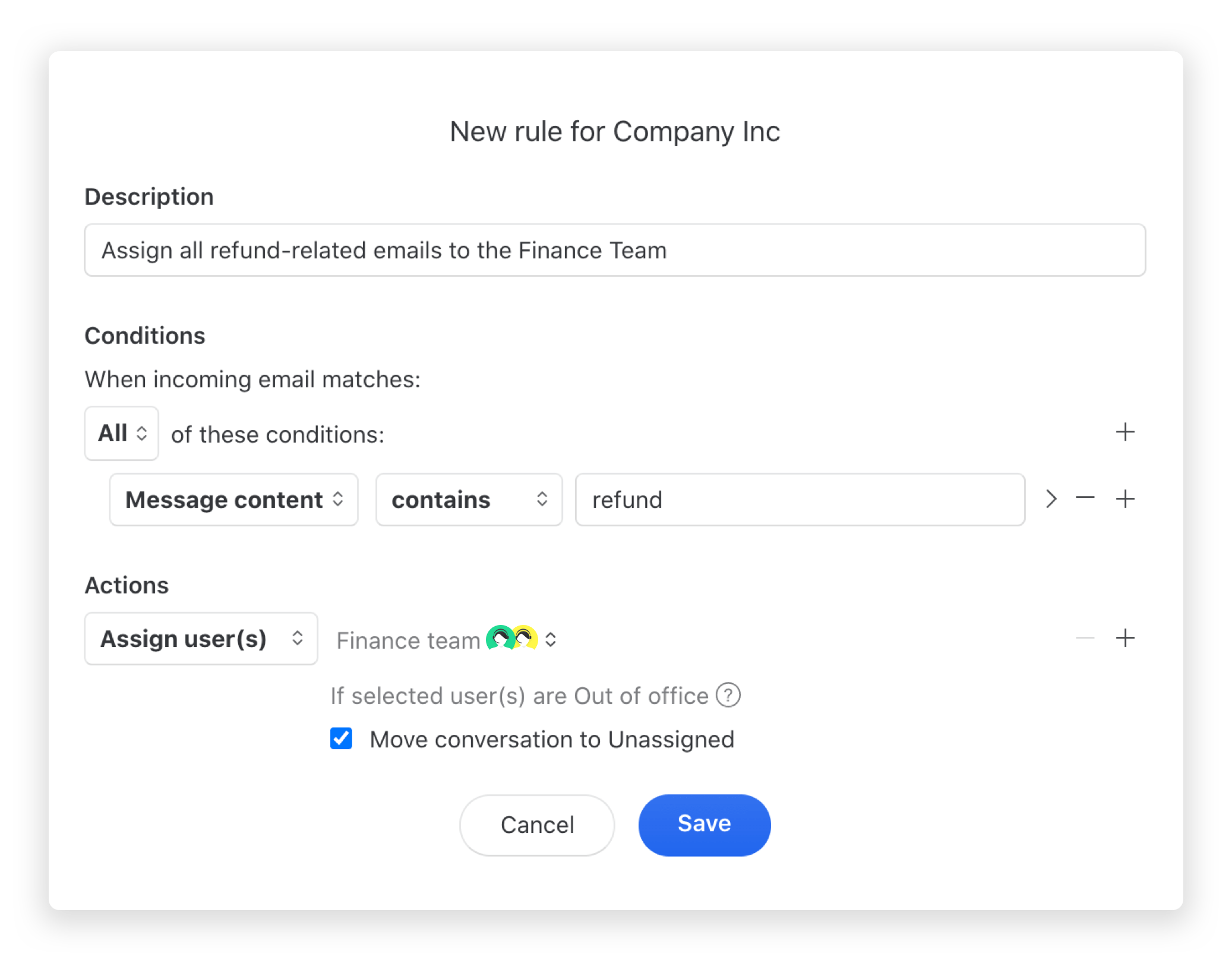 4. You can manage many communication channels, not just email.
A business communication tool cannot be limited to just email. Customers, clients, and stakeholders nowadays communicate in a diverse array of channels. Not being able to concentrate many of them in a single app can lead to lousy customer experiences.
With Missive you can collaborate around these mediums:
Email
Live Chat
SMS
WhatsApp
Messenger
Instagram
Website Chat
If one day someone sends you an email and the next they use WhatsApp, you can give them a proper follow-up from a single app.
5. Internal communication spaces.
Missive offers a complete internal chatting solution for your team. You can discuss ideas in a company-wide room, specific teams, or a one-on-one space.
Like other channels in Missive, in the chat, you can add tasks, including conversation links, attach media, etc.
You can also create a private space for to-do lists, notes, or to keep links and docs handy.
6. You can chat inside emails, not just add notes.
With Outpost you can add notes next to emails. You can also tag coworkers to read your notes. But given the format they use to present the comments, it's hard to keep the notes relevant as the conversation evolves. New emails get stacked, but comments are running parallel on a separate column, and old ones get pushed down.
In Missive the comments are always intertwined with emails, as they arrive. Always to keep the context of the conversation.
7. Connect to other services you already use.
We offer integrations in Missive. You can see data from Asana, Pipedrive, Todoist, Trello, Shopify, Full Contact Enrich, and PieSync right next to the conversation. That helps you get a better context and provide a customized and in-depth reply.
8. You can create live collaborative drafts.
Think of Google Docs for email. Compose emails together, get feedback in real-time. Unlike with Outpost where you only see when someone is drafting an email, but no the content of the message per se.
9. You can apply shared labels or tags
In Missive you can create shared labels (or tags) to quickly arrange conversations for yourself, the organization, teams, or specific people.
10. You can create and assign tasks
In Missive you can create to-do and assign them to coworkers, this helps the whole team manage simple communications-based projects with ease.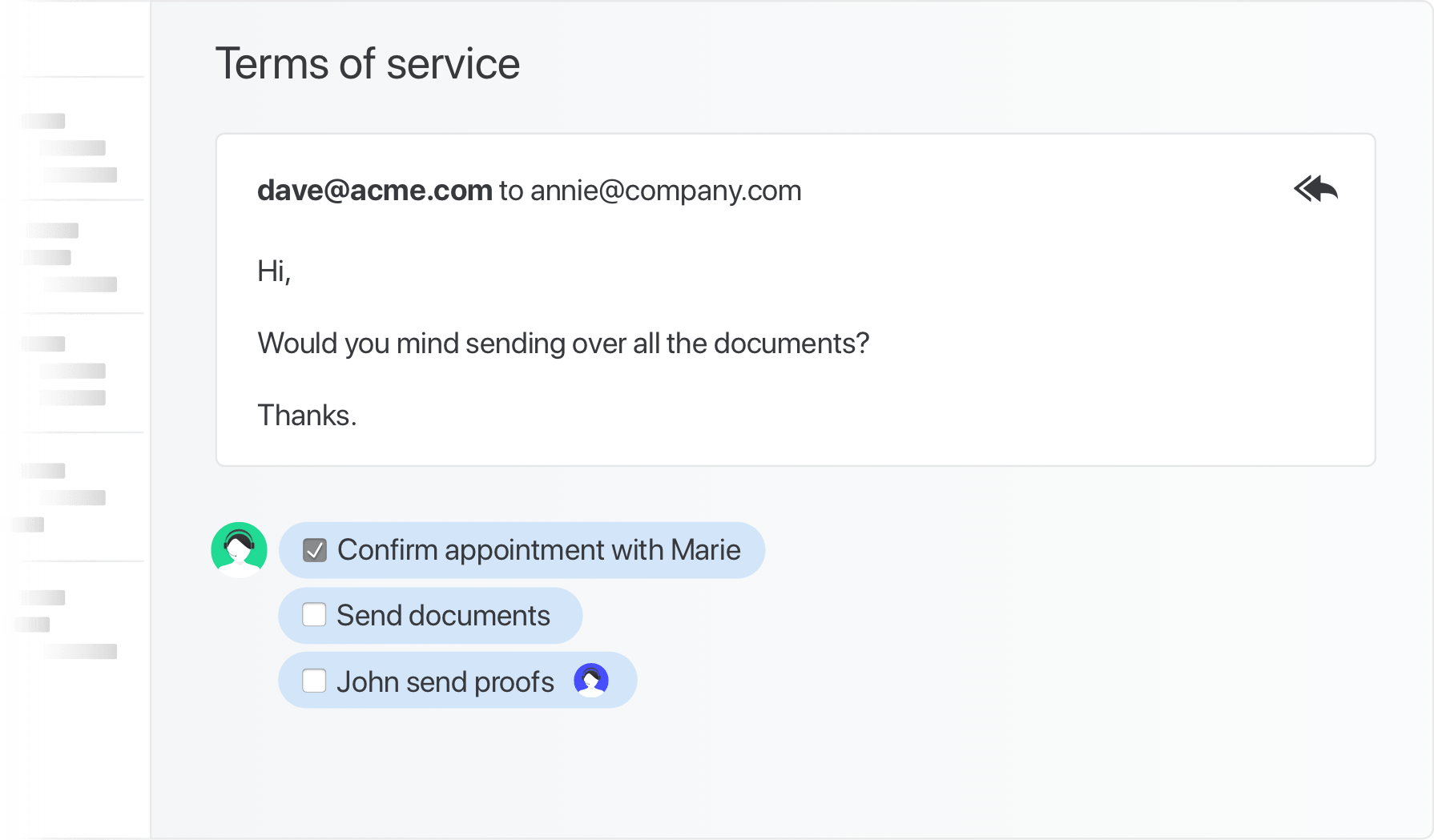 We like to be fair, so we have also listed two features that Outpost has that Missive doesn't:
Analytics: Get base metrics of your email usage.
Self-hosted email addresses: You can get an name@company.teamoutpost.com email address.
The monthly investment for using Missive is slightly higher; it's due to our vast feature-set. You can see the entire feature list here.
In the end, you decide which app fits best with your workflow. We hope this comparison will help you make up your mind with more ease.
In case you need more convincing, read what they have to say:
We are one of the pioneers in the collaborative team email space.
NoteIf Outpost gets an update and this article becomes outdated, email us and we will update it.
Check out how Missive compares to Front or Missive compares to Spark Mail.