Best Small Businesses Collaboration Software for Teams
As a small business owner myself, I still wear a lot of hats and feel like there are always a million and one things left to do.
Keeping things running smoothly depends upon clear communication and collaboration throughout the business. Some tools can help, but there are so many that it's hard to know which to pick without wasting time or money.
Chances are you searched online at one point and saw a list of 40 of the best software you could use. But trying 40 tools to see if they are the best for you is a full-time job in itself.
So I did it for you instead.
I've personally used every app I recommend below and dozens of their alternatives. I've also helped several other small businesses find the right set of tools to fit their business.
When deciding which tools are right for you, think about which areas of your business consume more time than they should.
For example, are you spending too much time communicating back and forth with others, finding files, delegating tasks, building contracts, or marketing yourself online?
Once you know where you need to reclaim your time (or your teams) and get more efficient, that's where you want to invest first. After all, according to a study, better collaboration results in a 27% increase in sales and boosts customer satisfaction by 41%.
My Top Recommendations for SMBs
I selected these apps based on 3 important factors:
Usefulness/functionality
Ease of use
Price
These are my top picks by use case.
| Best For | App | Has Free Plan? |
| --- | --- | --- |
| General Communication | Missive | ✅ |
| Training | Loom | ✅ |
| Remote Meetings | Zoom | ✅ |
| Managing Projects | Asana | ✅ |
| Finding & Sharing Files | Google Drive | ✅ |
| Marketing | Canva | ✅ |
| Sales | Pandadoc | ✅ |
| Collaborating with a CPA (Finances) | Missive | ✅ |
Best Communication Tools for Collaboration
Internal & external communications are really important in any business. In fact, 86% of projects fail due to a lack of collaboration and poor communication according to a study by Fierce. With more companies going remote-first, being able to stay up to date with others through asynchronous communication is critical.
These are the most valuable tools we've found to do so.
Slack
Slack is one of the most ubiquitous apps businesses of all sizes use to communicate with one another in real-time or asynchronously. You can use Slack for instant messaging, share files, hop on video calls, and receive updates from a host of third-party tools like Google Docs, Google Drive, Gmail, and more.
Slack has channels you can use to separate different types of conversations. For example, you may have a channel where you only discuss items related to operations and another channel you only communicate with your CPA in.
Price
Slack's free plan is more than enough for most businesses with support for unlimited users. The only reason to really upgrade to their Pro or Business+ plans is if you need to maintain a complete history of your message history (the free plan only stores the last 10,000 messages).
Slack's paid plan scales dynamically based on usage by users. If a paid user isn't active that month, Slack doesn't charge you for it.
If you're a service-based business with customers who work with you on long-term projects, you can add them to Slack but only to a single channel (as a guest) if you're on the free plan.
If you're running a business with a high volume of customers, it would be a logistical nightmare to try to add them all to Slack. So you'll still need to rely on traditional channels for communication like email, live chat, phone, text messages, etc.
That means more subscriptions and more apps to keep up with so things don't slip through the cracks.
Missive
Missive is a robust email and chat app that small businesses can use to manage internal and external communication without the headache of adding customers as guest users.
Fewer Things to Keep Up With
Have you ever wished all of your customers would send their support questions through a single channel?
Me too.
But we both know that's never going to happen. Luckily, there's Missive.
With Missive, a customer can send you an email, text message, Facebook Messenger, Instagram, or WhatsApp and you'll receive it right within Missive.
There are several platforms out there that will centralize messages customers send you via social, but not across social, email, and chat.
Missive removes the need to switch between apps to read, reply, and delegate to other people within your company or customer support department.
It's all just right there.
Missive supports internal communication as well.
You can create channels where you can add email threads, chat messages, or a mixture of both to discuss things with other people in your company.
Missive chat rooms are similar to channels and direct messages in Slack. You start with a general room for your organization but can also create rooms for teams, and private 1:1 or 1:M conversations with other members.
Conversations Around Email Using Comments
One of the most useful features of Missive is the ability to add notes and have conversations around email with a coworker without having to forward anything.
This is something we do all the time. For example, when a member of our team needs help with a customer, they just "@" message a coworker and ask. As soon as they do, their coworker can see the email in their own inbox, and both can begin chatting around the email chain without having to send back-and-forth emails or copy and paste links into Slack.
As the head of my company, I'm bombarded all day long with emails. Some can go straight to the trash and some justify a reply immediately.
Between those two extremes, there's a ton that I can delegate to others to handle for me.
Instead of forwarding them the email, adding it as a task in Asana, or sharing it in Slack, I just tag who I want to delegate it to and it immediately shares it with that person.
I can add details for the person I'm delegating it to so they can either reply as themself or from my email directly on my behalf.
This single feature dramatically boosts my workflow productivity and gives me back several hours per week that I can spend working on the business instead of always in it.
Price
Missive has a free plan you can start with if you want to check it out. We've been on the Productive plan for a few years now because of all the time we save using Rules and Integrations.
Missive is by far the most robust and affordable email and collaboration app for small businesses.
In addition to its core features (which work great on mobile by the way), it also supports several third-party app integrations with tools like Trello, Asana, ClickUp, Pipedrive, HubSpot, Zapier, and more.
It acts as our email client, customer support inbox, task system, calendar, and internal communication app, streamlines things and saves us hours of time each month.
Loom
Missive is great for asynchronous text-based communication but sometimes you just need to send a video or screen recording so people don't misinterpret you.
If that sounds like something you'd like—you definitely want to check out Loom.
Loom is one of the easiest-to-use asynchronous communication tools we've tried and easily outclassed alternatives like Vimeo and Vidyard.
Price
The free plan allows you to create up to 25, 5-minute videos per person. Every person at your company can create their own free plan, or you can create one company-wide and invite up to 50 "creator lite" users for free.
Once you finish recording a video, Loom gives you a link you can copy and share with others so they can watch it instead of skimming over your email, misunderstanding the context, and igniting yet another needless back-and-forth email threads.
Zoom Meetings
A few years ago it wouldn't have been strange to talk to other small business owners who hadn't heard of Zoom.
I doubt that's the case anymore.
On the off chance that you've somehow managed to avoid Zoom fatigue over the past two years or are still using ancient video conferencing software like GoToMeeting—Zoom is a tool you can use to host conference calls (with or without video), meetings, chat, and webinars.
Price
The free plan is good enough for most small businesses. You can host unlimited calls with up to 100 people but they're capped at 40 minutes. You can work around this by having more efficient meetings (something we all need these days) or scheduling back-to-back 40-minute meetings if you need something longer.
While Slack supports similar features, with Zoom, you can host calls with people not within your Slack workspace and get screen-sharing options for more than just 1-on-1 calls.
Best Project Management Tools for Collaboration
I can confidently say I've used every popular project management app out there and have yet to find a single one that I could recommend as the best.
Every company is a little bit different. What works for a law firm won't always work for a logistics company, marketing agency, or budding eCommerce store built on Shopify.
You have to figure out which one will work best for your business, your customers, and your team.
I'd highly recommend that you search for and review the product feedback forums/boards for any project management software before you even sign up for a free trial. You can usually find them by searching for things like:
[name of the tool] + feedback

or
[name of the tool] + canny board
See which feature requests have been around the longest and have a ton of votes from other users and ask yourself if you really want to invest in a tool if it's unable to provide its customers with what they need.
That being said, here are a few we've used and seen other teams find success with.
Asana
Asana is one of the most popular task management systems available. It has a free plan, but we quickly realized we needed a paid plan to manage operations within our company and get access to the timeline (like a Gantt chart), dashboards, custom fields, rules, task templates, and milestones.
Asana doesn't have native time-tracking by default though—so if that's important, you'll need to integrate it with a third-party application like Everhour or explore other tools that come with it out of the box.
Word of Advice: If you decide to use Asana, let me save you a lot of time and frustration and encourage you not to use subtasks. Most of Asana's features don't play nice with them and they're really meant to be more of a personal task list than anything else.
If you prefer a kanban approach, check out Trello. Asana has a view for that but it's not nearly as robust.
Price
You can create unlimited projects and tasks and assign them to yourself or other members you've invited into your workspace. The free plan supports up to 15 "guest" users with limited features but should be enough for you to try out and see if it's the right tool for you.
Asana upgrades aren't the most friendly for small teams, though. When you upgrade you do so by adding "seats" to your plan and have to do so in ranges of 5. If you have a team of 6 people, you'll have to pay for 10. So keep that in mind.
Monday.com
You've probably seen their ads somewhere. We don't use Monday.com ourselves but we did test it out extensively within our company but ended up passing on it because it didn't support subtasks at the time (it does now).
Price
Monday has a free plan for up to 2 users that includes unlimited boards for arranging tasks, unlimited docs for taking notes and recording SOPs, and works in the browser, as a desktop app, or on iOS and Android devices.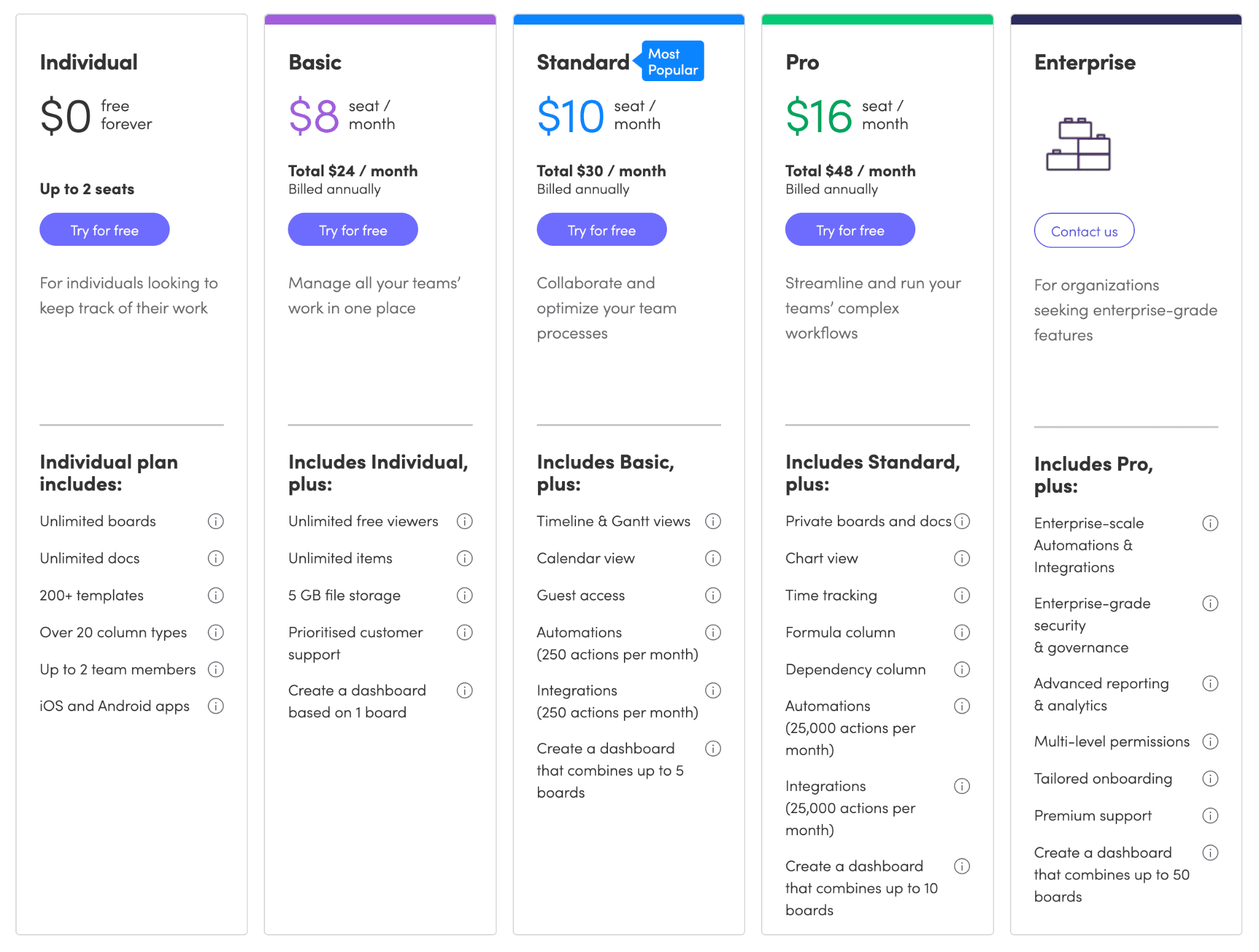 You'll need to upgrade to the Basic plan ($8/user/month) if you need more than two people to collaborate on projects though.
Best Files & Documents Management Tools for Collaboration
You are probably already familiar with or already using one of these best documents collaboration tools:
• Google Docs, Sheets, and Slides • Microsoft 365 • Dropbox Paper • Zoho WorkDrive
However, you certainly need to share files and documents that aren't accessible with one of these software. That's when a files & documents management tool for collaboration comes in handy.
Google Drive
Google has one of the best cloud storage options out there—especially for file sharing. You can store documents, pictures, videos, and just about any file type in the cloud and access it from any device you can connect to the internet and sign in to a Google account from.
If you find yourself needing access to your files offline—Google Drive supports that as well if you download their app (options available for both desktop and mobile).
Price
Google Drive does require you to have a Google account to use but that's something you can sign up for and get for free.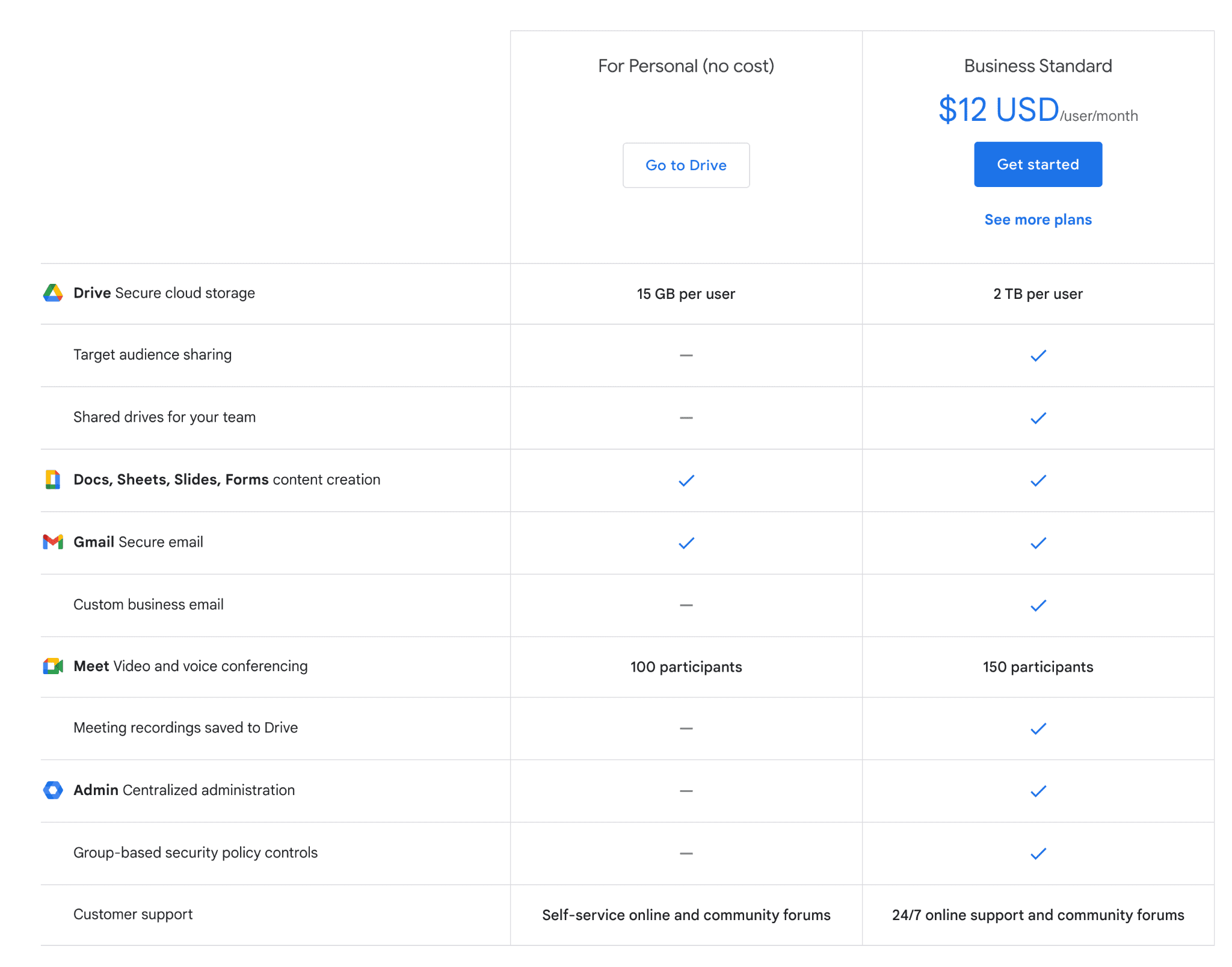 The free version of Google Drive is limited to 15 GB of storage so you'll need to upgrade to one of their paid plans. You can pay for Google Drive storage directly through a Google One subscription (starting at $19.99/year) or by signing up for Google Workspace (sort of like the business version of a Google account).
I personally prefer Google Drive over all other options but that's because of the suite of Google apps (e.g. Google Docs and Google Sheets) we use so much during our day-to-day operations.
Dropbox
If you're not heavily integrated into Google's ecosystem, check out Dropbox. It's effectively the same thing as Google Drive.
Price
It's worth noting that while Dropbox does have a free version, it becomes more expensive than Google Drive as your storage needs scale.
Best Marketing & Social Media Tools for Collaboration
Marketing is critical to growing your business. People can't buy from you if they don't know you exist. For most small businesses, social media is one of the best channels to generate demand—and also the channel that benefits from back-and-forth collaboration.
Canva
Canva is one of those unique tools that a company of any size can get a ton of value from.
Hiring a graphic designer can be expensive but with a few YouTube tutorials and 15 minutes, every small business can create professional-looking designs and marketing assets to promote on social media and attract more customers.
Price
Canva has a free version and two paid tiers to choose from.
Most small businesses will have everything they need using the free tier. This includes access to a ton of premade templates (250,000+) for a variety of mediums like social media, presentations, brochures, flyers, etc.
You can also invite team members for collaborative work on designs or to relay feedback and suggestions using comments similar to Google Docs.
While the paid version has several nice features, the most common reason I've seen people upgrade to "Pro" is to unlock the ability to post from Canva directly to social media without having to switch between platforms or pay for another third-party social media management subscription-like Hootsuite or Sprout Social.
Best Sales & Contracts Tools for Collaboration
Given that over 80% of small businesses have fewer than 20 employees, you might be able to skip right over this section.
If you're an eCommerce company or a founder filling the roles of the CEO, head of marketing, head of sales, and head of everything else—you don't need any tools to help you collaborate with yourself.
However, if you're company has more than one salesperson or that salesperson needs is struggling to collaborate and handoff deals to folks who handle operations—then these tools may help.
Pandadoc
Pandadoc is useful when you need team collaboration features for customizable contracts and sales documents with customers who aren't local and don't want to hassle sending physical files back and forth like it's the 20th century.
Real-Time Editing and Approvals
Two people will sometimes work on a contract at the same time, especially when we're working on a complex sales agreement with a long-term customer. Additionally, once a contract is drafted, I review and approve it before it gets sent to the customer for review and legally binding e-signatures.
Once it gets sent to the customer, they may request revisions (i.e. concessions) be made. In Pandadoc, they can request those revisions and chat back and forth with us in real time or asynchronously.
This is far more efficient than redlining a Microsoft Word document and sending it back and forth since most people who use Word still seem to forget that you can share and work on them collaboratively just like Google Docs.
Price
They have a free plan for collecting signatures and payments but you'll need to upgrade to a paid plan if you want advanced features like drag-and-drop designs, pricing tables, and integrations with third-party apps like QuickBooks (for reconciling invoices) or a CRM.
Gong.io for Sales-Heavy Companies
Unless your sales process involves more than one rep per opportunity (because who doesn't like sharing commissions?), I can't really think of any CRMs where the collaboration features are worth investing in.
The only true collaborative tool we use in the sales process is Gong.io. That tool is probably the single most useful and impactful piece of technology we've invested in to boost revenue.
Gong provides some truly next-level growth opportunities if you're a business that's running a high-volume sales team (outbound, inbound, or both).
Gong helps your sales leaders review and coach better sales reps by recording sales calls, transcribing them, and enhancing that data with some artificial intelligence and machine learning to surface what's working and what's not across various customer cohorts in a way that can seriously boost your close/won rates.
Price
Gong pricing depends on the number of users and on the license type you choose for your team. You need to contact them for more details.
Bonus: Best Tool for Finance Collaboration
I've talked to a lot of small business owners and had quite a laugh when I learned we all had to deal with the same problem when communicating with our accountants:
What was this transaction for $43.52 on February 9th?
9/10, I have no idea and have to go into my email, filter by date, and search for the dollar amount.
Doing it once is tedious and time-consuming enough but it never fails that I have to spend too long each week helping my accountant classify transactions because some companies out there don't know how to add easily identifiable statement descriptors to their transaction details.
Quickbooks and other accounting software will let you add your accountant as a user but they are definitely not built with collaboration in mind at all.
Collaborating with Your Accountant in Missive
This is where I have to recommend Missive once again. You can grant your CPA access to your Missive account and set up automation rules (another powerful feature Missive has) to automatically share and assign emails related to financials that come into your inbox.
It's been months since I've had to help my CPA classify transactions. Does it save me a ton of time each month? Probably not. But when you're already bombarded by a never ended list of things to do—every little victory you can get matters.
How to Choose the Right Collaboration Platforms for Your Business?
Collaboration tools are used to increase productivity, reduce time spent on tasks and improve team performance. However, they are not a one-size-fits-all solution. Every business needs to find the right tool for its needs. There are many factors to take into account when choosing a collaboration tool for your business but I have narrowed down some of the most important ones below:
• What is your budget? • Who will be using the tool? • What features does it offer? • How much training is required?
Having in mind the problems you need to solve will help you answer these questions.
Once you found the tools that suit your needs the next step is to try them or request a demo.
The most important thing to remember is to choose software that you and your team will actually use. If the tool is really advanced and requires are hard to use, chances are that people in your team will not end up utilizing them in the end.
---
FAQ
What Is a Collaboration Software?
A collaboration software is a tool, often a SaaS, that is designed to help teams work together on business various tasks.
The goal of collaboration software is to make it easier for teams to work together, share ideas, and accomplish tasks.
Collaboration software can be used by companies and organizations to improve communication and efficiency.
What Are the Benefits of Collaborative Software for Business?
There are many benefits of collaborative software for businesses.
For starters, it can help with efficiency and productivity. It can also help with a company's bottom line by reducing costs by avoiding errors and duplicated work.
Another benefit of collaboration tools is that information is centralized and accessible to all the employees that need to access it.
In general, collaborative software will create more transparency between team members and allow for more efficient communication.