Shortwave alternatives: Learn why Missive is better for teams
Shortwave and Missive are two of the best email platforms. Their smart inboxes, coupled with modern interfaces and feature-rich tools, make managing the deluge of emails we receive a breeze. But though the Shortwave app focuses more on personal Gmail inboxes, Missive is built as a swiss-army knife for business communication and teams.
While Shortwave and Missive share plenty of similarities and both are capable of supercharging your inbox, it's vital to understand their differences to decide which one's more suited to you and your team.
Missive vs Shortwave: team collaboration
The Shortwave app is designed by a bunch of ex-Googlers, and it borrows ideas from Google's defunct email platform, Inbox, to offer a smarter Gmail client for individuals. Although it can host enterprises as well, its capabilities for team collaboration are limited, and beyond a few built-in chat features, it lacks several advanced tools you'd need to manage your business inbox.
Missive, on the other hand, is a remarkably more versatile email platform where teams can efficiently collaborate and balance their communication workload without getting overwhelmed. This doesn't mean Missive can't handle personal inboxes. Its rich built-in facilities, such as the ability to block those invasive email trackers and schedule messages for later, are handy for everyone.
Because Shortwave attempts to mix Slack-like synchronous communication and traditional email workflows, it misses out on offering tools crucial to effortless team management. Organizations can only create channels for different topics, and co-workers can just chat inside them, not take any collaborative action on their tasks.
On Missive, teams can compose emails together, bounce ideas off each other in spacious messaging sidebars, and more. Managers can also easily delegate email responses and make sure their company's inbox always stays on top of things.
Shortwave Office 365 support?
One of the downsides of Shortwave is that it's restricted to Gmail inboxes. This is why Missive is an excellent Shortwave alternative, as it not only allows you to accomplish inbox zero, it can do so for practically every email service provider, including Gmail, Microsoft Office 365, and IMAP.
That's not all: Missive lets you import emails from a variety of mailboxes into a central inbox so that you can triage them in one go -- minus the hassle of going back and forth between accounts.
Shortwave desktop apps
You can access Shortwave either as a website or on your phone via its iOS and Android apps. In line with its minimal approach, these apps, however, are barebones in nature, and there's not much you can customize. Even if you want to change what swiping on an email does on Shortwave's mobile app, you will have to do that from its website.
This is another aspect where Missive holds an upper hand and proves it's the ideal Shortwave alternative. It has full-fledged programs for all major operating systems, including macOS, Windows, Android, iOS, and the web. More importantly, you have the option to tweak Missive apps' experience per your preferences. If there's a section you or your team doesn't need, for instance, you can instantly hide it.
Shortwave automation
One of the highlights of Missive is that it enables you to automate your repetitive email tasks. It's incredibly convenient for enterprise teams, such as customer support, who can automate their routine activities and dramatically cut back their load. The process to set up automation rules is straightforward too. All one has to do is define the parameters that should trigger a particular action, and Missive takes care of the rest.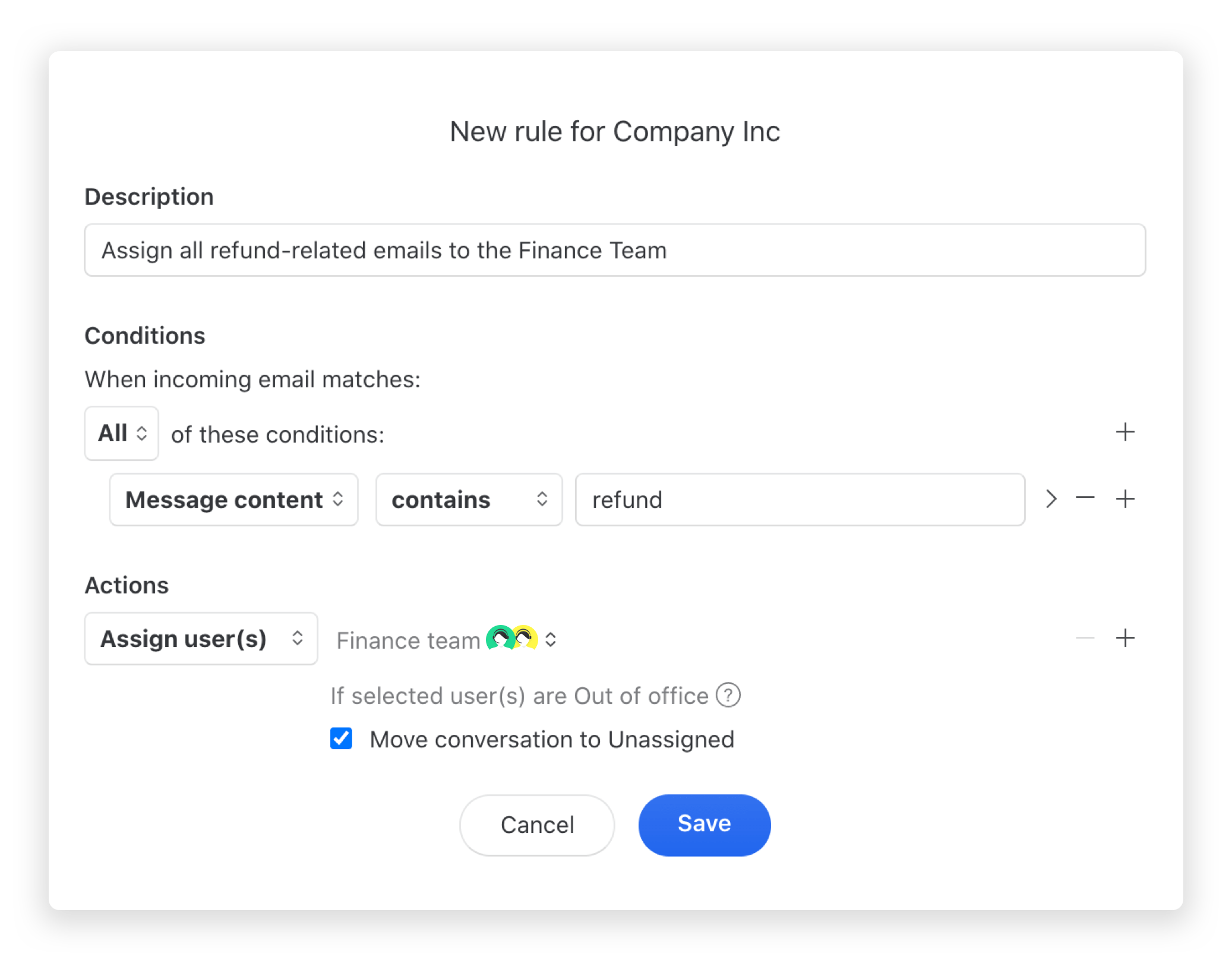 Automation is not available on Shortwave in any form.
Shortwave canned responses
Automation isn't the only way teams can save hours every day on Missive. Thanks to the ability to configure canned responses, users can skip typing the emails they frequently send entirely. Although pre-written snippets and templates are common among email apps, what sets apart Missive is that you can have variables in the body and update them before dispatching a canned response.
Shortwave doesn't support canned responses.
Missive vs Shortwave: communicate beyond email
Businesses can transform Missive into a command center for all their communications. Alongside email, Missive allows businesses to integrate their business profiles on Instagram, WhatsApp, Facebook Messenger, and even SMS from their company-managed phone numbers. Team members can discuss communications from any of these sources and handle customer inquiries right inside Missive instead of jumping across several different apps.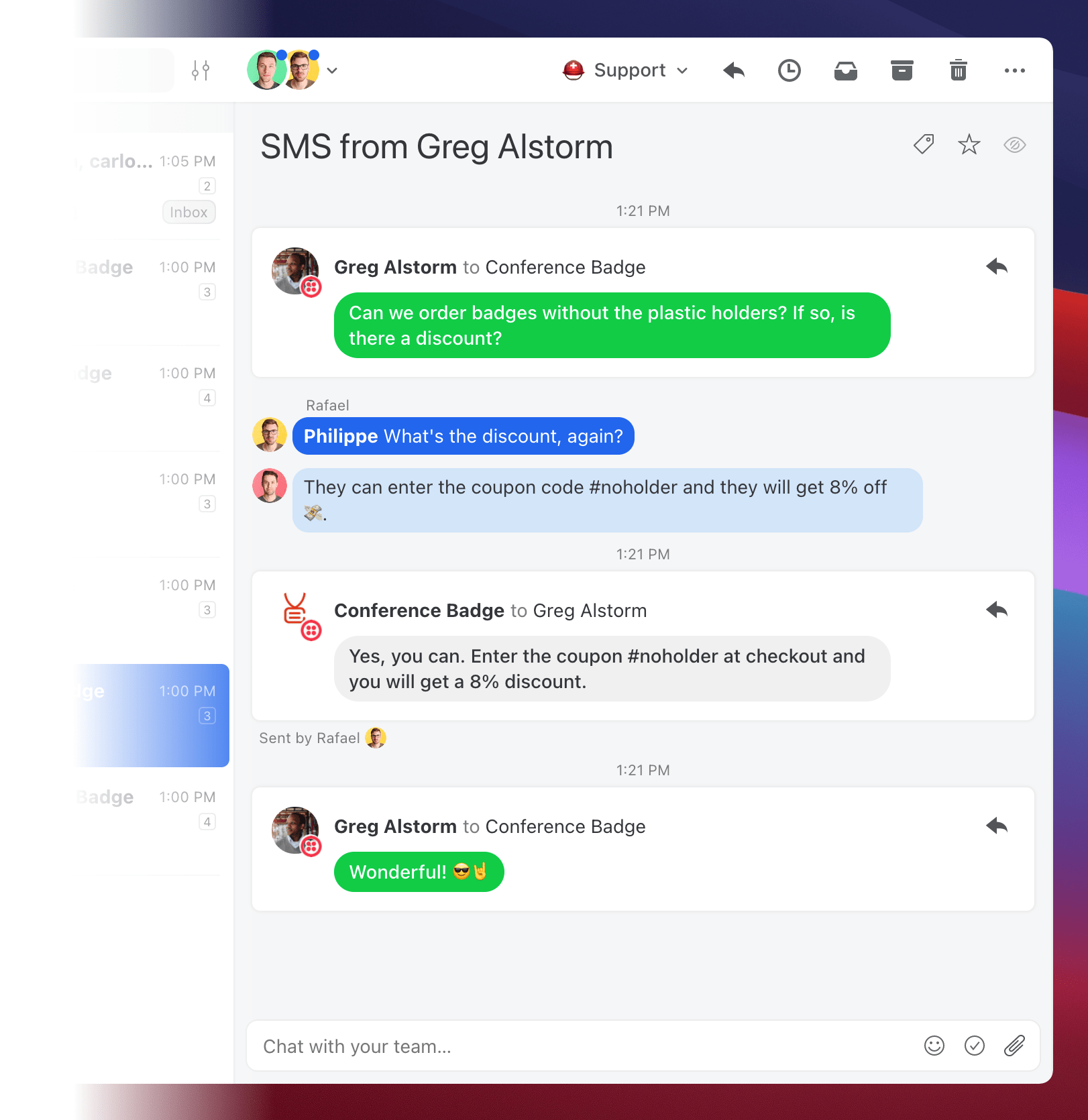 Missive's expandable interface not only fosters a far more productive workplace, but its well-indented design prevents an information overload while retaining a healthy volume of text density.
Shortwave is merely restricted to Gmail at the moment.
Shortwave calendar
Shortwave doesn't have a calendar feature, and its users have to switch back to Gmail for accessing their appointments.
Missive also houses a calendar intelligently programmed to spot appointment conflicts and offers an exclusive eagle's eye overview of the person's next week or months, unlike competitors, which are still stuck with traditional, complicated layouts.
Apart from letting individuals schedule their lives, set reminders, and whatnot, Missive enables teams to share their company calendars across the board so that everyone always stays on the same page. It currently supports Office 365 and Google Calendar.
Third-party integrations in Shortwave app
Businesses generally have a range of teams, all of which depend on separate productivity tools to organize their projects. Email plays a central role in these various projects as it's where teams come together to collaborate, prioritize, and strategize.
On Missive, you can plug those productivity tools into your email inbox so that you can quickly manage and respond to updates. It supports a wide array of services, including Asana, Dropbox, Trello, Shopify, and more. With third-party integrations, the possibilities are endless on Missive.
In addition to that, Missive's flexible API also allows you to embed rich content from platforms like Github right inside your conversations. For example, you can have a section for keeping a tab on Github master commits and, based on your needs, discuss and delegate any events to team members.
Shortwave doesn't support any third-party integrations at the moment.
Missive vs Shortwave: navigation
Of course, when you have so many tabs and integrations to multitask between, navigation can become a nightmare. On Missive, that's not a concern, thanks to its command center function. With a simple keyboard shortcut, you can pull up a universal search bar on Missive that lets you look up anything in your email inbox and even perform actions directly.
Missive's command bar is compatible with third-party integrations too, which means you can link and execute actions on other services from it. For example, if you have set up your Todoist or Asana account on Missive, you can create a new task from the command bar.
Shortwave's search can only sift through your email threads, messages, and contacts.
Shortwave alternatives
By now, it's clear Missive and Shortwave cater to vastly disparate audiences. While the latter is meant to be a simpler alternative to Gmail, Missive is developed for businesses and teams who are looking to build complex workflows inside their email inboxes.
What's more impressive about Missive is it's capable of adapting to a person's habits. Its scalable interface enables both individuals and teams to customize the experience per their preferences. So whether someone wants a flexible inbox to simply stay on top of their most important emails or a powerful platform to centralize all their communications, Missive is the app to beat.
You can try Missive for free and upgrade to the premium subscription, which comes with a 30-day money-back guarantee when you're ready.
NoteIf Shortwave gets an update and this article becomes outdated, email us and we will update it.
Check out how Missive compares to Front, Missive compares to Outpost, Missive compares to Spark or Missive compares to Slack.