Lionize is a SaaS software platform built to simplify the lives of marketers.
They specialize in an industry traditionally known as influencer marketing by connecting brands with influencers around the world to help market their product.
We spoke with Eddie Dalrymple, Senior Account Executive at Lionize, about how Missive helps their team collaborate better around their different communication channels.
What Challenges Led You to Look for a Solution like Missive?
Part of our business is managing the influencers that we work with. We work with anywhere from a hundred to a thousand influencers on one campaign among the brands that work with us.
That poses communication issues.
It's really difficult to organize those channels of communication because we are emailing these influencers and texting them. It was really difficult for us to manage a Gmail inbox, and also manage a Twilio number which was what we were doing originally.
We needed a way to group all communication together to be more organized when reaching out to these influencers. It's difficult to check that a person emailed us but we sent them a text an hour ago, and you get these mismatches in communication.
We probably needed the solution about four months before we actually made the transition. We've got a team of six campaign managers and they're all trying to communicate using the same email address. It gets a little chaotic.
The problem was always there from the beginning, but it really got difficult once we grew the rate that we did.
How Did You Find Out About Missive?
We were searching for a tool that would help us manage all different forms of communication. We looked at a couple of others before like Zendesk. It was great, but a lot more ticket-facing. What happens if I want to compose an email or compose a text message? Zendesk didn't really fit the bill for that.
Then we looked at Front. It was probably the closest thing that we were looking at besides Missive. Front had a lot of great features that we liked but it really didn't support the backend work that we wanted to attach.
We've got this database of 2 million influencers, and we need the relevant contact information about them:
What campaigns they're a part of?
What does their contract look like?

We need all that information in front of us when we're communicating with them and Front really didn't provide the level of support that we needed.
We Googled alternatives to Front and Missive was the first thing that came up. We set up a Demo and here we are.
What Was Most Important to You When Evaluating Your Options?
Missive really appealed to us because you had the ability to keep all that communication in the same window. Before reaching out to an influencer, you're able to see the last 10 conversations that you had with them. We were able to stay up to speed on every single aspect of the conversation.
When we were deciding between Front and Missive, one of the things that really also stuck out to us was the level of support that we received from the Missive team.
The feedback and the suggestions that we had about the product were really heard by the Missive team and we could really see our feedback show in future iterations of the product, which was really cool.
How Do You Use Missive?
All of our client management team uses Missive to help manage influencer campaigns.
We've got a couple of Gmail mailboxes linked up to Missive as well as a Twilio SMS number.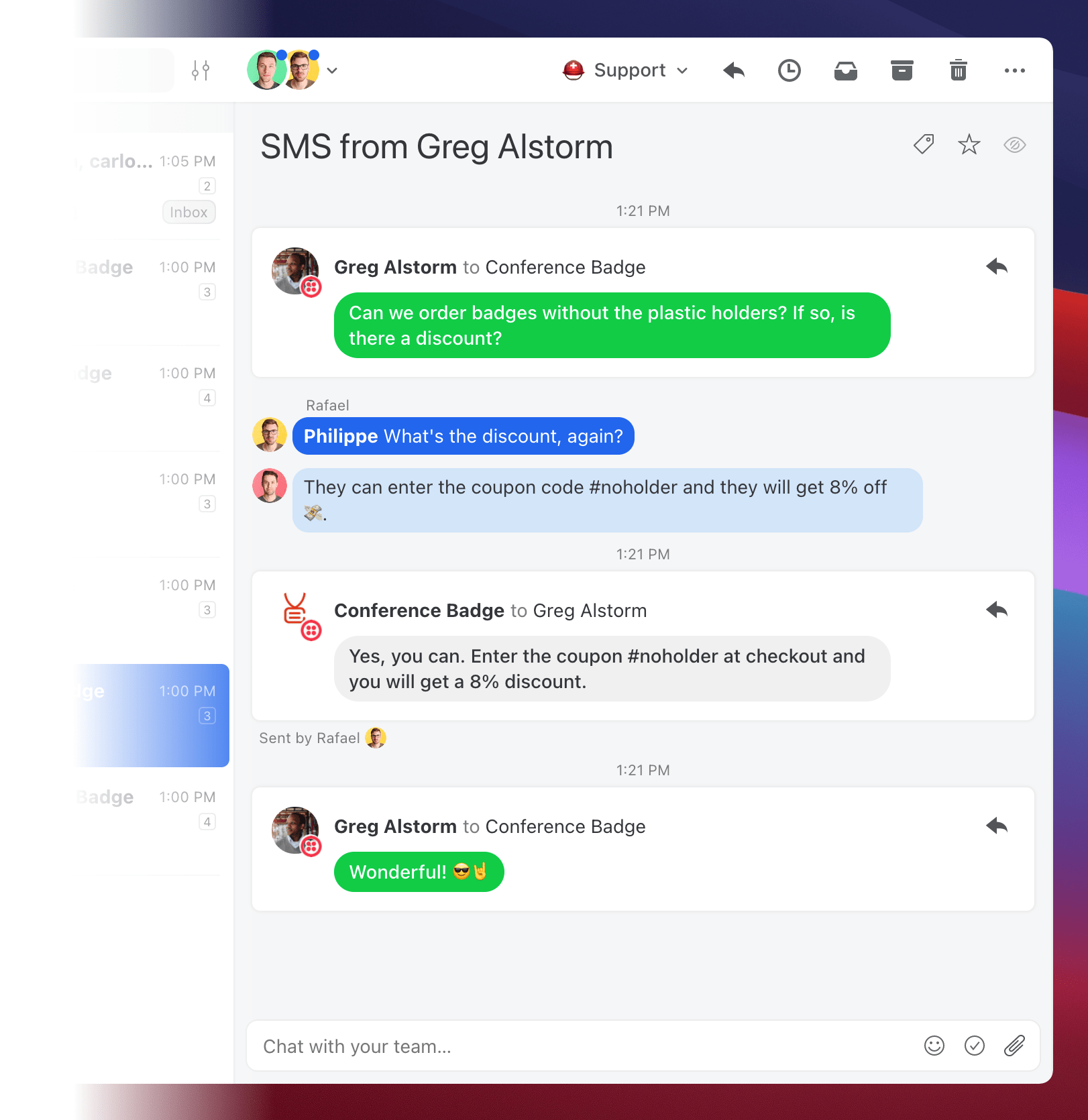 We don't necessarily use the team inboxes the way that they are designed to work. We use them as labels that most of our teams are connected to.
We have three inboxes that all receive influencer communication and those are all categorized:
Existing influencers that we are currently working with on campaigns. All their communication comes to that inbox. That's one of the more prioritized communication boxes that we want to clear out every day.


Extraneous email communications which keep us a little bit more organized with who are the people that we're actually working with on brand deals right now and who are people that are asking us questions outside of the organization.


Influencer SMS box, that's our text communication. It helps us to keep our emails and SMS separated in email inboxes because we have different cadences when communicating over each. It's nice to be able to switch between the two.
We have another that is not set up quite yet, our live chat box, We're hoping to connect our live chatbot that's currently on our website to come through Missive to keep everything in one area.
Right now, we are using HubSpot's chatbot and our live chatbot is currently managed by our sales team. They primarily operate in HubSpot, but we want to move communication more and more over to Missive and have our sales team use it more. One day all communication will go through Missive.
The main integration that we're using right now is just API to pass through our contacts and to create contacts and a contact book.
Our plans are just to create a panel on the right that's just directly connected to our database rather than passing through these contacts and updating them every day.
In One Short Phrase, How Does Missive Help You?
Organization, a hundred percent is the word that I would use.
How Did Missive Help You Accomplish the Above?
We're able to collaborate on communication, which is helpful.
It was obnoxious to have to jump between apps. We were using spreadsheets where we shouldn't have been using spreadsheets. There was just a lot of jumping around, a lot of disorganization, and a lot of errors were committed because of that.
Since we've switched over to Missive, we've dramatically reduced our response time to both our partners and clients, giving us the ability to better serve them.
We're getting back to influencers within 48 hours which is our goal to make sure that we're always following up with our brand influencers.
Client experience is really big for us. For every piece of communication that goes out, we want to make sure that it's being sent the right way.
If I've got a question when sending an email to a client and I need to ask one of my coworkers what they think or ask the CEO what he thinks, it's super easy just to start a draft, ping the person within Missive and say: "Hey, what do you think of this email?"
He can go in, make edits to the draft, add comments below, and he can send the email himself once he deemed it acceptable. It really makes the whole client communication process a lot easier.
As part of our campaigns, we're answering the same questions over and over again. The response feature that we leverage has allowed us to make sure that we're responding to these emails quickly with all of the right information, consistently every single time.
The last thing that is really helpful is integrating our personal mailboxes. Keeping all of my communication in one single area whether it's my personal email, the influencer communication that I need to do, or chatting with my team, it can all be done within Missive.
It allows me to stay organized. I can go down to my inbox in the morning and clear all the communication that I need to do for that morning within an hour. Beforehand it felt like it took me three to four hours in the morning that I was spending jumping between applications and responding to the people that I needed to get to.
Talking about an email or a text message that I'm trying to send, is so much easier within the Missive app rather than going to Slack to talk about this email that's over in Missive. It doesn't make really sense.
We do a lot of communication amongst ourselves. If we weren't remote, we could just say: "Hey, could you turn around and look at my monitor for a second?" But it's just as easy in Missive to say: "Hey, I just pinged you in something in Missive, could you take a look?".
What Are the 3 Key Missive Features That You Rely on the Most?
Number one, we could compose and receive emails and text messages all from the same window. We didn't want to use two tools to be doing that. We needed them all under the same window.



The second most important feature that we really like about Missive is that when composing an email or a text message, you can see all of the emails and text messages that were previously sent.

So if I'm reaching out to an influencer for the first time in three weeks and I need to re-affiliate myself with the conversation, re-affiliate myself with the influencer, and that was a really important tool for us.



Third would definitely be the backend capabilities that Missive provides. There's so much more potential in Missive that we just really haven't had the time to dedicate to.