Gmail Notes: How to Add Them
No matter what system you have for managing your Gmail inbox, we've all received an email from a customer, executive, or direct report that we just can't respond to immediately.
We don't always have all the answers and need to check with colleagues to get their input.
Wouldn't it be great if you could add notes, annotations, memos, and tasks to your emails to give yourself context for when you eventually get back around to responding?
What about being able to have a private conversation with another team member in Google Workspace or add Gmail notes on an email a customer sends you without having to forward or blind-copy things?
Something like Google Doc comments, but for your Gmail account.
Yeah. We'd like that too.
Gmail doesn't offer this sort of functionality, though.
There are some workarounds native to Gmail that can help with scenarios when you need to add notes to Gmail or collaborate with others without creating a mess of FW: chains.
We'll cover four options native to Gmail and one third-party option that makes it easy to add notes, comments for your team, attachments, tasks, and more without going forward or jumping through hoops.
What Are Gmail Notes?
Gmail notes are a feature that allows you to save notes and attach them to specific emails. This can be useful if you need to remember something important about an email thread, or if you want to keep track of something related to the email.
5 Native Gmail Notes Options
1. Using Google Tasks
You can add an email to Google Tasks to leave notes for yourself in the task description area.
Right-click on the email you want to add notes to and select "Add to tasks." You can also click on the email and use the keyboard shortcut ⇧ + T (Shift + T).
You'll see a task appear in the sidebar to the right of your email message. Click on it and add notes to yourself in the details area.
Click the mail icon below the task to open up the email you've associated with the note.
The Downside: You can't share your Google Tasks with others. If you want to collaborate on an email with a team member within Gmail natively, you'll need to forward the email to them or use Google Chat.
2. Using Google Keep
Google Keep can be used to add notes to email in Gmail.
Open the email in which you want to add a note.
Open the sidebar if it's not already by clicking on the arrow on the left side of the screen.
From the sidebar, select the Google Keep icon. Google Keep panel will appear.
In it, you can add as many notes as you need.
The Downside: No text formatting and poor note organization.
3. Using Google Chat
You can use Google Chat to collaborate with team members—sort of.
To do this, click Google Chat in the left sidebar of Gmail to trigger a chat pop-up.
Add the team member or members you want to collaborate with. Then copy, paste, and send the contents of the email you want to discuss with your team.
It's helpful to add a link to the specific Gmail message thread so you can easily open it back up later.
The Downside: Other team members can't click the link you've added to reference the original email because it lives in your email inbox—not theirs.
If you don't provide enough details, it may not make much sense to the people you share it with.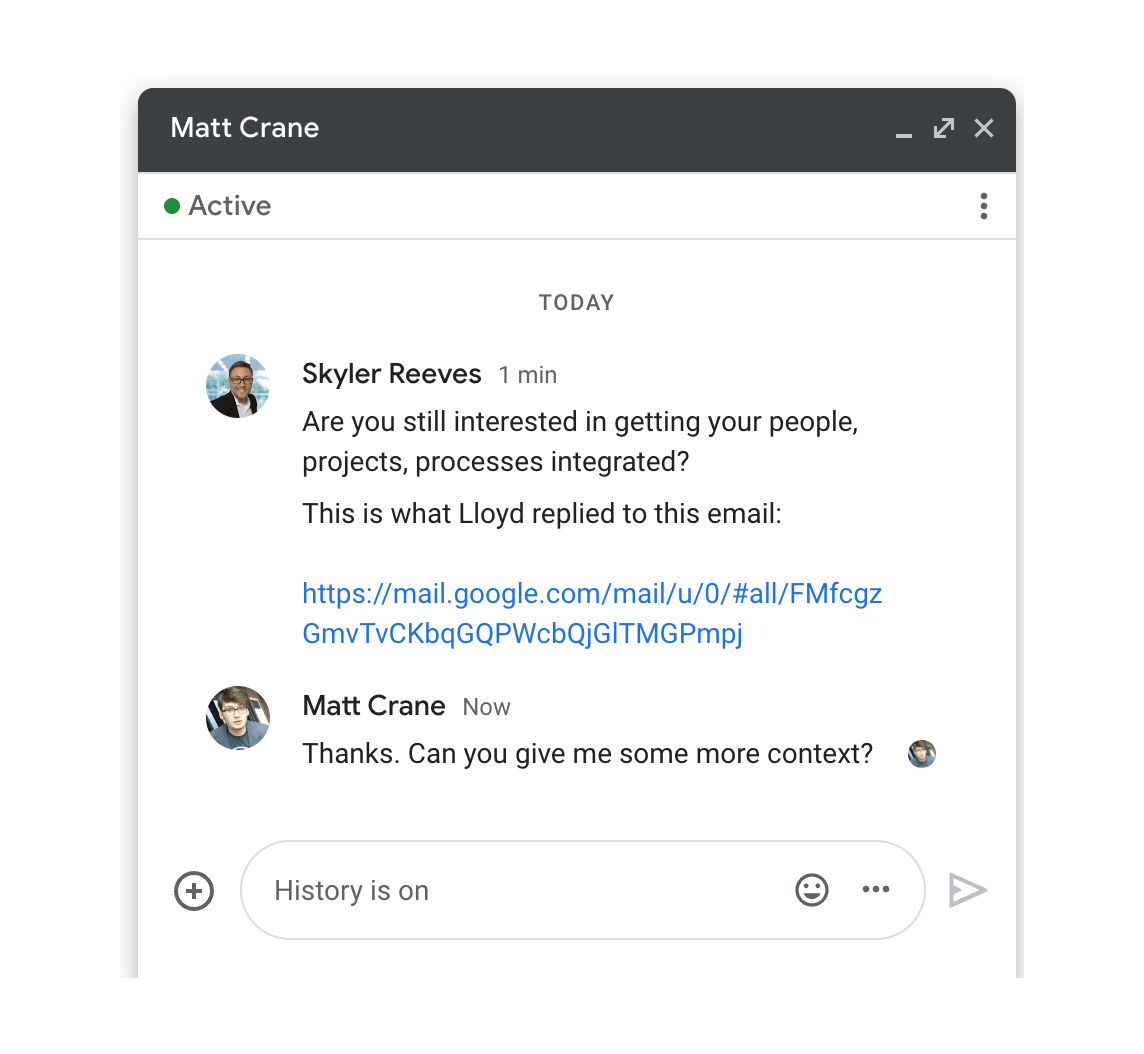 This causes a lot of wasted time going back and forth. It usually saves more time to forward the email to team members instead.
4. Using Drafts to Add Comments
You can also use a draft to add notes for yourself. Reply to the email without sending it, and your message gets stored in your Drafts.
5. Replying Inline Using Quotes
Step 1. Sign in to your Gmail account, find the email you want to work with, and copy the text from the body of the email you want to reply inline to.
Step 2. Click reply.
Step 3. Click the Quote button to add a quote block in your email reply.
Step 4. Paste the text you copied from the original message next to the gray quote block line where your cursor is.
Step 5. Press Enter and reply with your response below the quote block.
How to Easily Comment & Collaborate on Email with Missive
Missive is an email and chat tool that syncs with email platforms like Google and Outlook to make collaboration easy.
You can use it as a native desktop app on macOS and Microsoft Windows or as a web app in browsers like Chrome, Safari, and Firefox.
Here are some valuable ways we use Missive at our company to add private annotations and collaborate with other team members.
Add Private Comments for Yourself to Emails
You can add private comments for yourself to refer back to them later.
Tag Your Team in Comments on an Email
You can tag other team members in a comment by typing @ + their name. Tagging others will automatically share the email with them (without having to forward anything), so they can see your comment and reply to it.
They can reply with an inline comment or within a thread if they have multiple conversations within the email and want to keep topics organized.
Assign Tasks with Comments
You can turn a comment into a task if you have something you want to delegate to a team member or yourself without having to tab over to a project management tool and bog it down with more tasks.
If you're anything like us, you like keyboard shortcuts. Missive makes it easy to create tasks; just start typing your task description, then switch to task mode by pressing ⌘ + ⇧ + X on Mac or Control + Shift + X on other platforms.
Alternatively, type [ ] or - [ ] at the beginning of your comment. Assign the task to a team member using the @ + their name anywhere in your comment.
Suppose you want to send tasks to a more formal project management tool. In that case, Missive has several add-on integrations with Asana, Trello, ClickUp, Todoist, and a Zapier connector for any others you rely on.
Comment in Style
Missive comments support styling options beyond plain text too. You can add styles for bold, italic, strikethrough, quote blocks, inline code, and code blocks!
Share Attachments in a Comment
Make it easy for people to send attachments to customers without spending 10 minutes searching for them in Google Drive by sending them as a comment. We frequently use this to send zip files, PDFs, links, and screenshots without using apps like Slack, where we lose the context of the email itself.
Use Rules to Automate Comments
If you want to save time and maximize your productivity, you can use Missive's powerful rule feature to automate comments based on various conditions.
Delegating Customer Support to When You're Busy
Let's say you receive a new email from a customer that you can't get to immediately and your organization likes to keep customers happy by responding to them within 24 hours.
You can set up a rule in Missive to automatically move the email to a Team Inbox after a certain amount of time and add a comment that goes out to all members, letting them know you need someone to step in to help.
Respect Service-Level Agreements
You can set rules to apply to an entire team as well.
For example, you can help your team maintain SLAs established with customers by creating a rule that sends a notification to everyone on the team whenever receiving an email during business hours that goes 30+ minutes without a reply.
Automatically Add Reminders about Critical Customer Details
It's not uncommon for individual customers to have important details that your team needs to be aware of whenever they're interfacing with them.
For example, imagine you're a major OTR carrier or 3PL provider and have a particular shipper/receiver who restricts certain types of drivers from their facility.
You can use rules to automatically add reminders as comments to email exchanges involving that customer's domain address (e.g., *@acme.com).
Adding Comments to Gmail from a Mobile Device
You can also add comments, tasks, and attachments using the mobile app for iOS or Android.
This is something I often do when I'm taking a break mid-day to get some fresh air and get drug around the block by my Husky.
Don't Let Gmail Get in the Way of Work
Gmail is great for personal email but comes up short for collaboration. While you can use tasks for meta-level Gmail notes on your private emails, things get medieval again when you need to get someone else's input.
Hopping on Zoom for a quick chat is mentally exhausting and makes it harder to be productive remotely.
Teams should start embracing asynchronous communication and the tools that enable it—like Missive.
FAQ
What Is the Difference Between Gmail Notes and Google Keep?
Gmail Notes and Google Keep are both note-taking apps by Google. While Google Keep was developed to be a personal, simple way to jot down thoughts, Gmail Notes was designed to help users take notes through email seamlessly.
Can I Export Notes from Gmail?
There is no official way to export all your Gmail notes without copy/pasting them individually. Though it's not a Google-supported feature, it is possible to export notes from Gmail via add-ons.