Google Collaborative Inbox: Why Your Teams Won't Like It
At its core, email was designed to be consumed by an individual, just like regular mail.
But with more and more businesses starting to increase their online presence, catch-all email addresses (info@, sales@, support@) began to increase. However, with no way to efficiently distribute the workload of these catch-all addresses email quickly became a burden.
People started using the oldest hack in the book, sharing individual account passwords. It might have worked very early on when online security was not a big thing for most organizations. Then, email providers, like Gmail, started dissuading this practice by temporarily locking people's accounts when detecting multiple sign-ins to the same account.
As an alternative, Google offers Google Groups and its Collaborative Inbox.
But what is it exactly? And is it the solution you're looking for?
What is Google Collaborative Inbox?
Google Collaborative Inbox is a free feature of Google Groups available to businesses using Google Workspace (also known as G Suite). It can be used by teams to manage shared email accounts such as support@ or info@.
While not a complete shared inbox software solution, it offers more robust features than Gmail when it comes to email collaboration.
To simplify things, Google Collaborative Inbox is a shared email folder that members of a group can access through their own accounts.
The idea is that group members can access a group address securely. All members can also email everyone in the group and can also allow external emails. They can assign responsibility for topics to different group members, mark a topic's progress, create labels, and filter them.
It's the simple evolution of a distribution list, allowing teams to somewhat collaborate around email.
How to Create a Google Group Collaborative Inbox?
Creating a Collaborative Inbox inside Google Groups is relatively easy. First of all, if you don't already have one, you'll need to create a group, select the group email you want, and add the members you want in that specific team.
Once you have a group and are the admin you can easily follow the following steps to get started:
Click on the Group in which you want to add the Collaborative Inbox
On the left, click Group settings.
In the Enable additional Google Groups features section, select Collaborative Inbox.
Give at least one of the following permissions to the group members in order for them to access the collaborative inbox:

Moderate metadata: Take a conversation, assign or unassign a conversation, mark a conversation as completed
Moderate content: mark a conversation as duplicate, mark a conversation as no action needed
How to Manage a Collaborative Inbox in Google Groups?
Managing the workflow of a Collaborative Inbox inside Google Groups can be done in a few different ways. Depending on the permissions you gave to each team member they can use Google Groups features to manage the shared folder of email.
Assigning a Conversation
You can assign a conversation to any group member including yourself to manage messages and responsibilities. Conversations can be sorted based on their assignment status.
Resolving a Conversation
You can mark a conversation as complete, no action required, or as a duplicate. Right next to the subject will be the status of the conversation.
Categorizing a Conversation
You can organize your Collaborative Inbox by using labels on related conversations. Labels can be used in conversations no matter their assignment and resolution status.
What Are the Benefits of Collaborative Inbox?
Google Collaborative Inbox allows teams to access a basic shared inbox. It can be used to manage emails, and tasks that need to be done by a group of people. The benefits of using Collaborative Inbox come mostly from the collaborative nature of the feature and not the tool itself.
Here are the benefits of a having an mailbox with collaboration functionalities:
Increased efficiency: When a team is able to share an inbox, they can more easily divide up the work that needs to be done. This can lead to increased efficiency and a decrease in the amount of time it takes to complete tasks.
Improved communication: Collaborative inboxes can help improve communication between team members. This is because team members can easily see what work needs to be done and can discuss the best way to complete the task.
Decreased workload: Using a collaborative inbox can help to decrease the workload of individual team members. This is because team members can share the responsibility of checking and responding to emails or tasks.
Increased productivity: The benefits of a collaborative inbox often lead to increased productivity. When team members are able to work together more efficiently, they can get more work done in a shorter amount of time. Collaborative inboxes can also improve morale making team members feel like they are part of a team and are working together to accomplish tasks.
Improved security: By having a shared folder with all the messages from a shared address accessible via each team member own's account you reduce security risk. You don't need to share login information with all employees which reduces the risk of exposing your company to data breaches. It also resolves the problem of having to change the password each time an employee leaves a team to avoid unauthorized access.
Assigning conversations: Collaborative Inbox enables you and all group members to assign a conversation to someone and resolve them.
What Are the Disadvantages of Collaborative Inbox in Google Groups?
Google Collaborative Inbox sounds great until you encounter some significant collaborative limitations. Your customer service and sales teams will certainly be the most impacted. Here are the most important ones:
1. Not Integrated Into Gmail
The UI is unfamiliar. it isn't integrated into the Gmail inbox so your team will have to shuffle between the two apps.
2. No True Team Collaboration
You cannot easily discuss an issue with a coworker in the context of an email. You need to either forward emails, which will generate more emails, or use the built-in chat, but you will need to describe the problem since your teammates won't have the whole picture.
3. Inadequate Accountability
Replies to customers are sent from the individual's account, not the group email address, so you always need to remember also to send them to the group address. Otherwise, teammates will no longer see that email. And if the customer forgets to "reply-all", the email will never show up in the group's inbox. Emails can easily fall through the cracks.
4. Ineffective Assignment & Visibility
If an email has been assigned to someone, other people won't see if others are already working on it, not until the reply is sent. This may lead to double responses, wasted time for your team, slower response time, and customers getting a negative impression of your organization.
5. Hard to Manage
There's no simple way for a manager to monitor emails from their team. Filtering is also a bit rudimentary, so important things might get easily overlooked.
You also need to switch between Gmail and the Google Groups UI to be on top of things. This also means that emails sent to the group address can't be read on mobile devices, because they cannot be accessed through a Gmail account or any other app.
6. No Automation
Creating automation rules that help your team triage emails faster is impossible. Everything needs to be done manually, which can lead to mistakes.
7. Zero Integrations
You can't centralize your team's communications. As we all know, customers nowadays contact organizations through various channels, like, Messenger, Instagram, SMS, etc.
To wrap things up, we could say that using Google's Collaborative Inbox is far from the right tool for the job. Lost emails, unclear ownership, unintuitive UI... Here's where Missive might prove to be an excellent weapon to keep in your arsenal.
What Are Your Alternatives?
Your best option when looking for an alternative to Google Groups' Collaborative Inbox is dedicated email collaboration software for business.
While you have multiple options when it comes to choosing one alternative to Google Collaborative Inbox (refer to our top shared inbox software), we truly believe that Missive is the tool that will check all the boxes to make your team love shared email.
Missive is a real collaborative inbox. It features team inboxes and chats that empower teams to collaborate not only around email but other channels of communication like SMS, WhatsApp, Messenger, Instagram, and live chat.
Missive was built with collaboration in mind.
Team Inboxes: Foster Accountability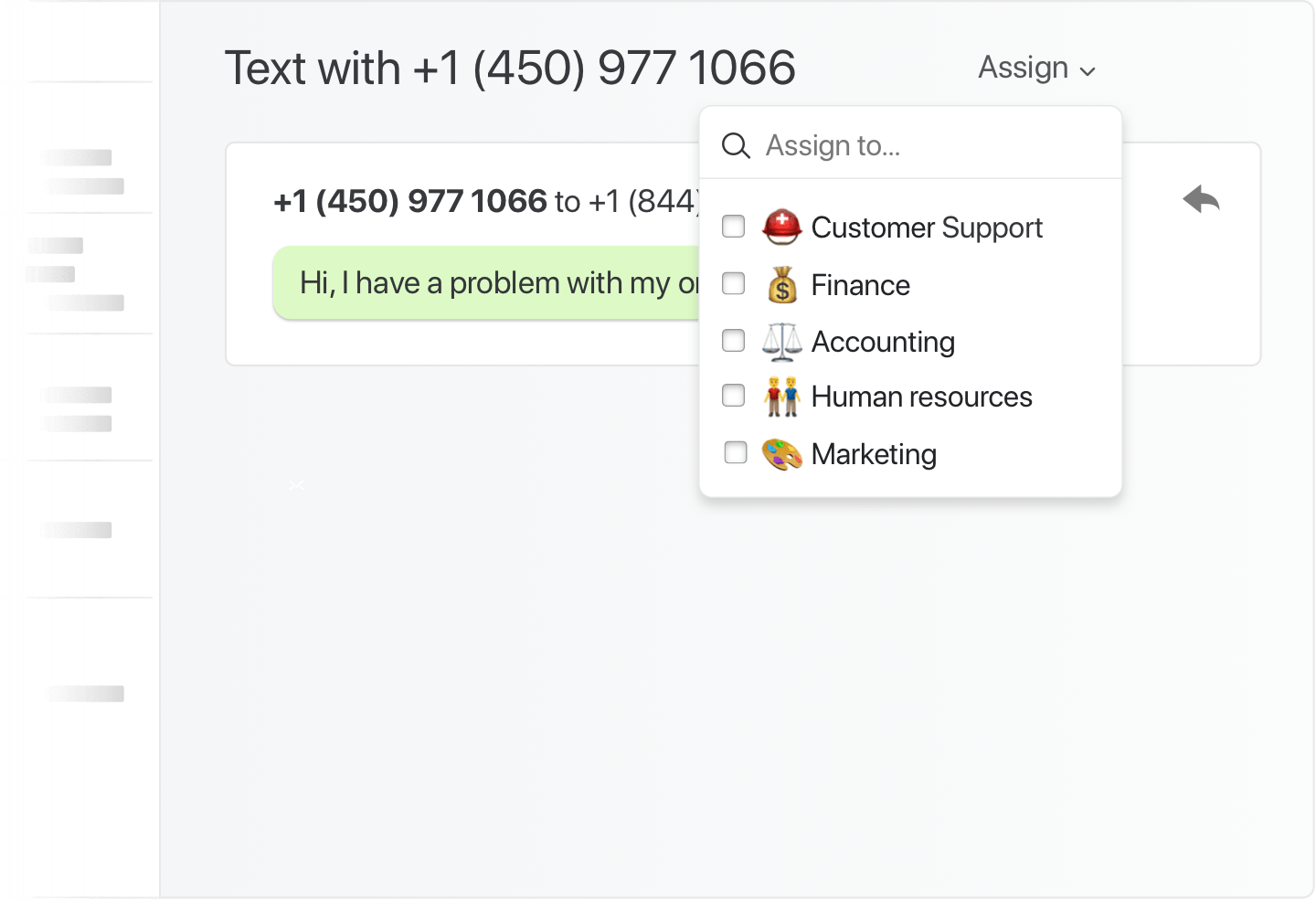 Missive's Team Inbox is a shared inbox made for collaboration and assignment between team members. It is useful for teams who want a "triage" step that will clean up messages for all coworkers at once. It offers two roles:
Active members receive notifications for new messages. They see conversations listed in the Team Inboxes mailbox in addition to the team inbox.
Observers do not receive notifications and see conversations listed in the team inbox only. This is perfect for managers who want to monitor the work being done but don't want to be flooded with notifications.
By adding this layer of roles, you can easily manage a shared inbox right from the start.
This makes it easier to know who is working on what, and it adds transparency and accountability to all employees.
Internal Chat: Spark Collaboration
Communicating with coworkers right inside an email thread proves effective when you need help with a difficult question or need to verify some information. Simply @mention a colleague and start a conversation, all without leaving the email in question.
Live Drafting: Prevent Useless Work
It lets you collaborate on crafting an email with one or multiple coworkers, live. This feature also enables everyone to see who's working on a particular case in real time. So no more double replies to customer emails.
Tasks & Assignments: Increase Efficiency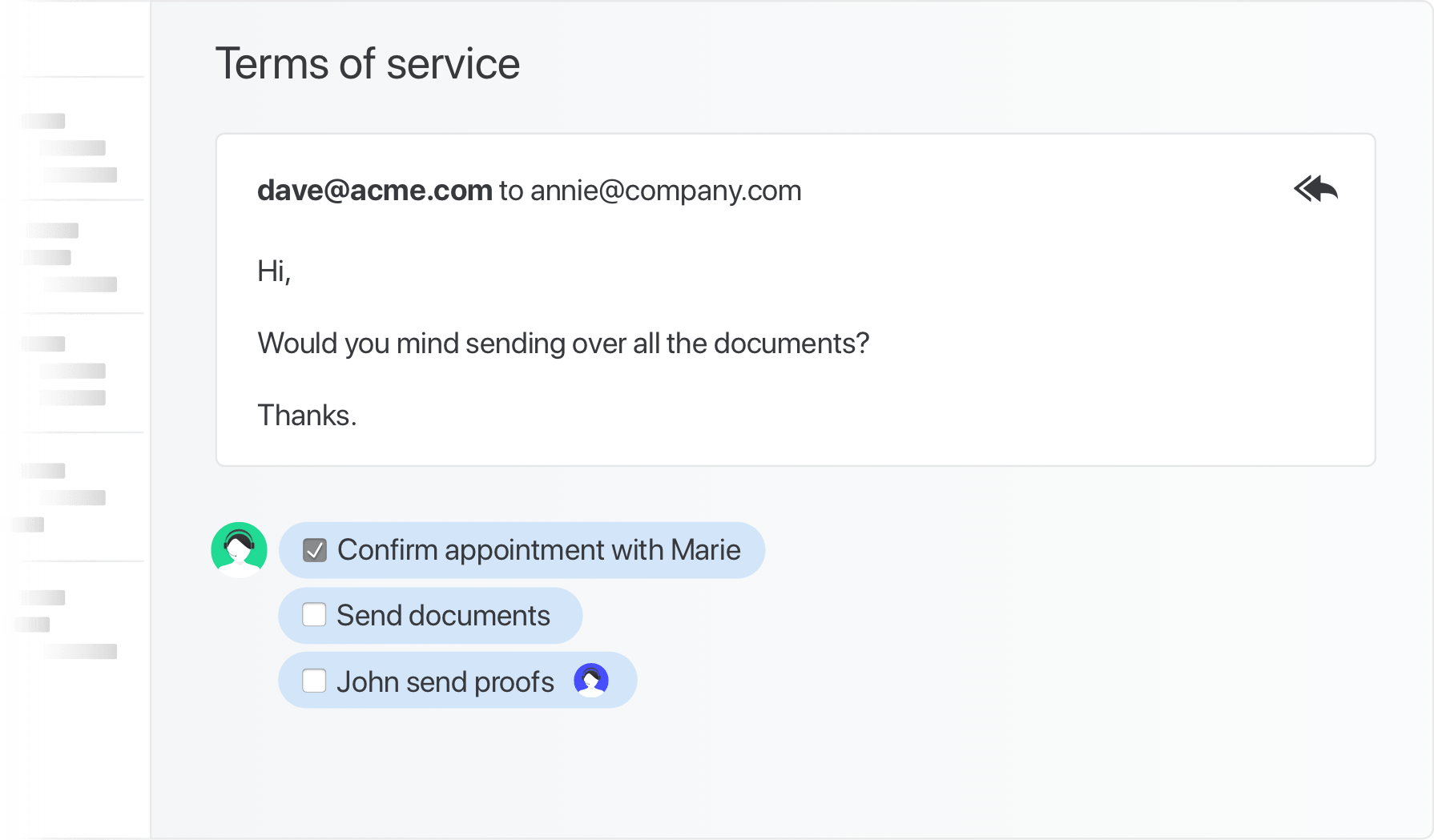 Some issues cannot be resolved immediately, so you can create tasks or to-do lists inside emails to track what needs to be done. These tasks can also be assigned to other coworkers. This is true teamwork.
Rules: Get Time Back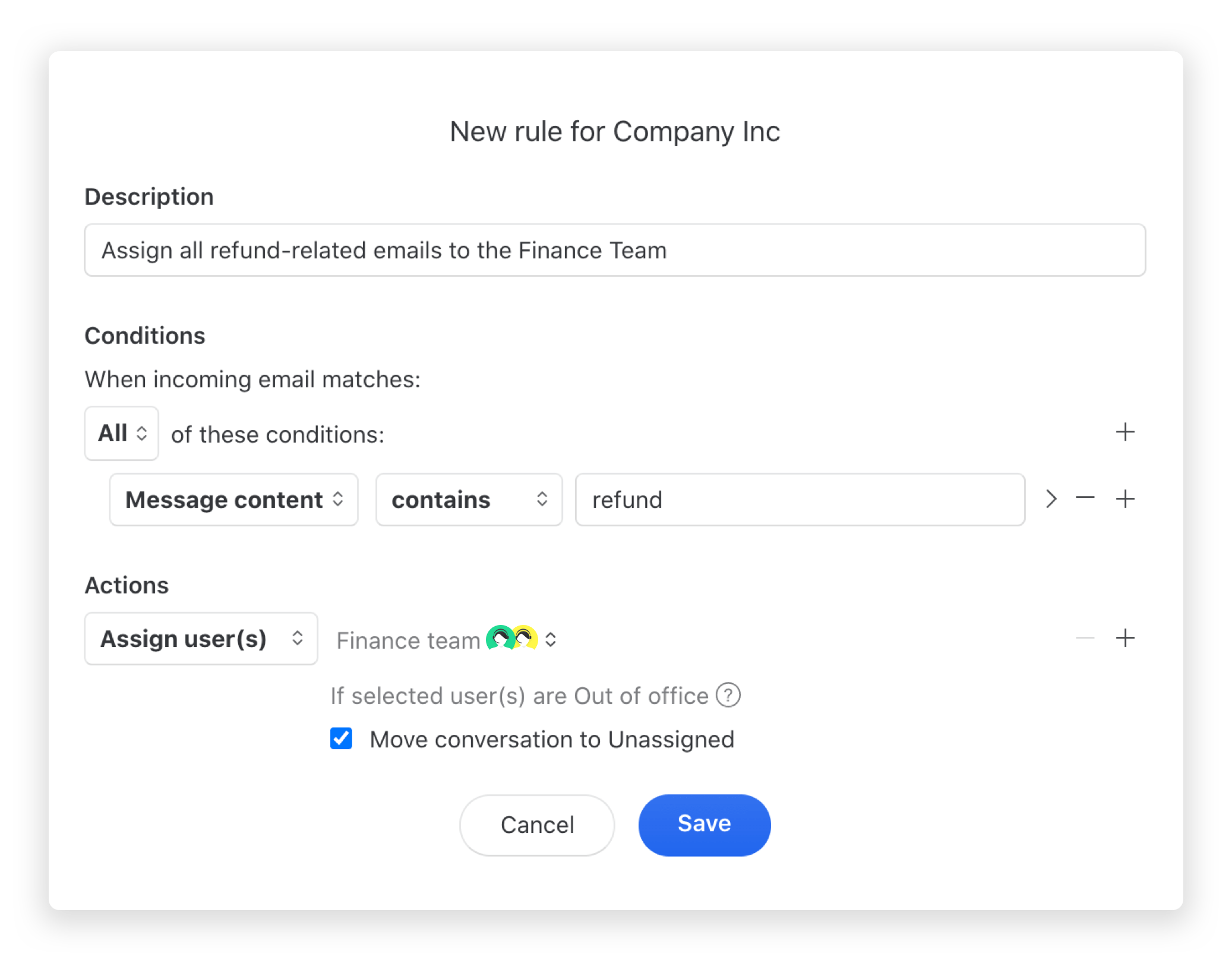 With Missive, you can create sets of rules that automate actions; these can save time and spare support employees from doing repetitive tasks. For example, all refund-related emails can be automatically assigned to the Finance team or a specific employee.
Canned Responses: Reduce Frustration
They will let you write and reply to emails faster with pre-written snippets. Responses are especially useful when you end up responding to the same questions over and over again.
Don't get me wrong. Gmail is a great email client for individuals. But when it comes to shared inboxes and team collaboration, Missive helps your team keep their eyes on the ball and move toward inbox zero.
FAQ
What Is a Collaborative Inbox?
Google Collaborative Inbox is a free feature of Google Groups that lets businesses using Google Workspace manage shared email addresses like support@ or info@ as a team.
What Is the Difference Between a Collaborative Inbox and a Shared Inbox?
A Collaborative Inbox is a feature of Google Groups that enables teams to collaborate on shared emails like info@. It acts as a shared folder where all emails from a shared alias go. It offers barebones and basic shared inbox features.
Shared inboxes allow multiple coworkers to access email simultaneously. While each user maintains a personal account, their shared mailboxes can be accessed and managed by all.