Google Groups "Collaborative" Inbox
Email at its core was designed to be consumed by an individual, sort of like regular mail. Then, organizations started having an online presence, and catch-all email addresses (info@, sales@, hello@) began to proliferate. Email started to become a burden because there was no way to efficiently distribute the workload of these catch-all addresses.
People started using the oldest hack in the book, sharing individual account passwords. It might have worked very early on when online security was not a big thing for most organizations. Then, email providers, like Gmail, started dissuading this practice by temporarily locking people's accounts when detecting multiple sign-ins to the same account.
As an alternative, Google offers Google Groups, a distribution list tool allowing teams to somewhat collaborate around email. There are four types of Groups: Collaborative Inbox, mailing lists, web forums, and Q&A forums.
We are going to focus on the Collaborative Inbox. The idea is that group members can access a group address securely. Also, all members can email everyone in the group and can also allow external emails. They can assign responsibility for topics to different group members, mark a topic's progress, create tags, and filter them.
It all sounds great until you encounter some significant collaborative limitations. Here are the most important ones:
No true team collaboration
You cannot easily discuss an issue with a coworker in the context of an email. You need to either forward emails, which will generate more emails, or use the built-in chat, but you will need to describe the problem since your teammates won't have the whole picture.
Inadequate accountability
Replies to customers are sent from the individual's account, not the group address, so you always need to remember also to send it to the group address. Otherwise, teammates will no longer see that email. And if the customer forgets to "reply-all", the email will never show up in the group's inbox. Emails can easily fall through the cracks.
Ineffective assignment and visibility
It's not possible to assign individual emails to teammates. You can only assign Topics (these are assigned to multiple teammates).
Also, if an email has been assigned to someone, other people won't see if others are already working on it, not until the reply is sent. This may lead to double responses, wasted time for your team, and customers getting a negative impression of your organization.
Hard to manage
There's no simple way for a manager to monitor emails from their team. Filtering is also a bit rudimentary, so important things might get easily overlooked.
Also, you need to switch between Gmail and the Google Groups UI to be on top of things. This also means that emails sent to the group address can't be read on mobile devices, because they cannot be accessed through Gmail or any other app.
No automation
It's not possible to create automation rules that help your team triage emails faster. Everything needs to be done manually, which can lead to mistakes.
Zero integrations
You can't centralize your team's communications. As we all know, customers nowadays contact organizations through various channels, like Twitter, Messenger, Instagram, SMS, etc.
To wrap things up, we could say that using Google's Collaborative Inbox is far from being the right tool for the job. Lost emails, unclear ownership, unintuitive UI... Here's where Missive might prove to be an excellent weapon to keep in your arsenal.
Why use Missive instead of Google's "Collaborative" Inbox?
Missive is a real collaborative inbox. It features team inboxes and chat that empowers teams to collaborate not only around email but other channels of communication like SMS, WhatsApp, Twitter, Messenger, Instagram and live chat.
Missive was built with collaboration in mind. These great features prove it:
Team Inboxes: Foster accountability
In Missive, we have a concept called Team Inbox. It is a shared inbox made for collaboration and assignment between team members. It is useful for teams who want a "triage" step that will clean up messages for all coworkers at once. It offers two roles:
Active members receive notifications for new messages. They see conversations listed in the Team Inboxes mailbox in addition to the team inbox.
Observers do not receive notifications and see conversations listed in the team inbox only. This is perfect for managers who want to monitor the work being done but don't want to be flooded with notifications.
By adding this layer of roles, you can easily manage a shared inbox right from the start.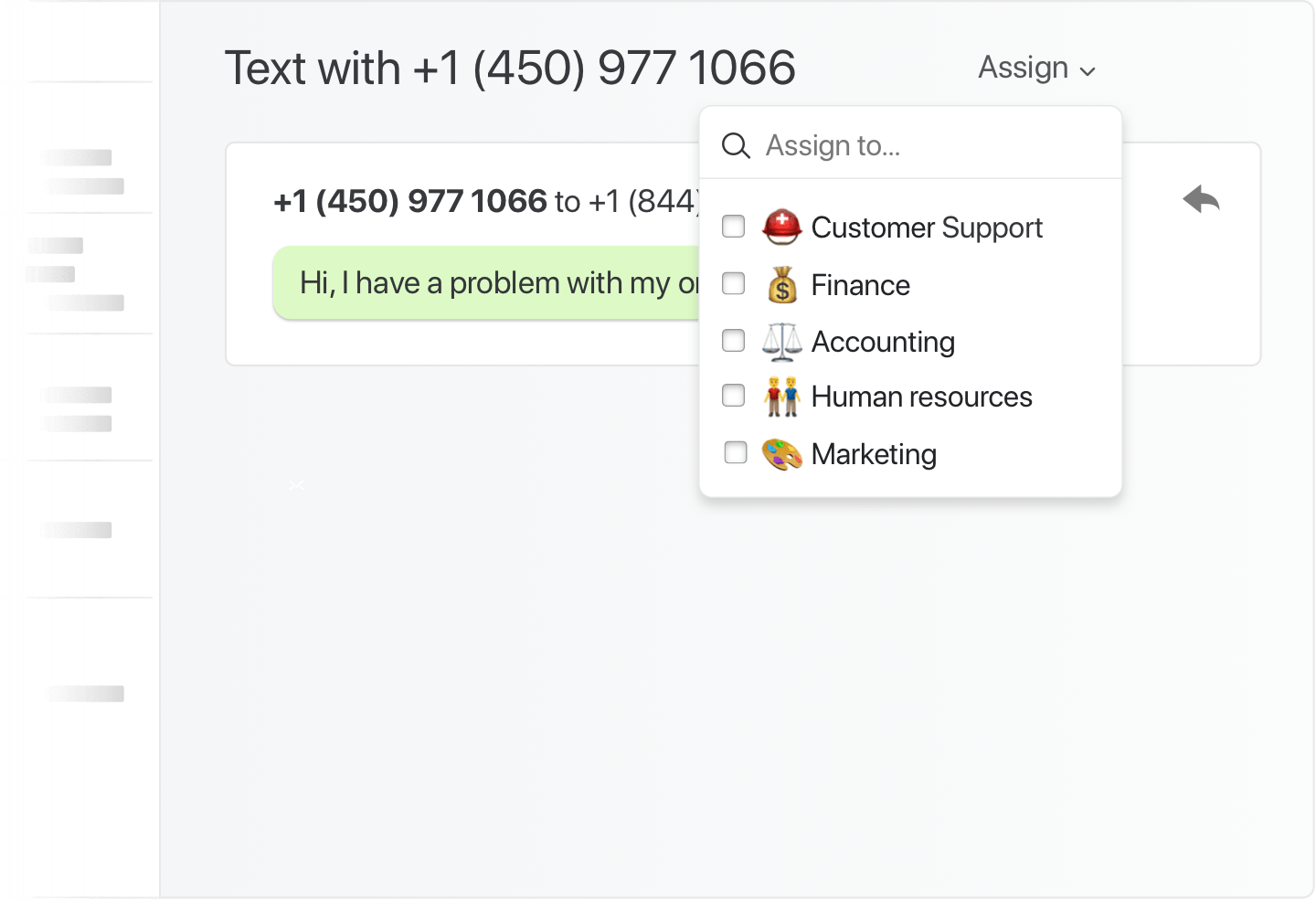 This makes it easier to know who is working on what, it adds transparency and accountability to all employees.
Internal chat: Spark collaboration
Communicating with coworkers right inside an email thread proves effective when you need help with a difficult question or need to verify some information. Simply @mention a colleague and start a conversation, all without leaving the email in question.
Live drafting: Prevent useless work
It lets you collaborate on crafting an email with one or multiple coworkers, live. This feature also enables everyone to see who's working on a particular case in real-time. So no more double replies to customer emails.
Tasks and assignments: Increase efficiency
Some issues cannot be resolved immediately, so you can create tasks or to-do lists inside emails to track what needs to be done. These tasks can also be assigned to other coworkers. This is true teamwork.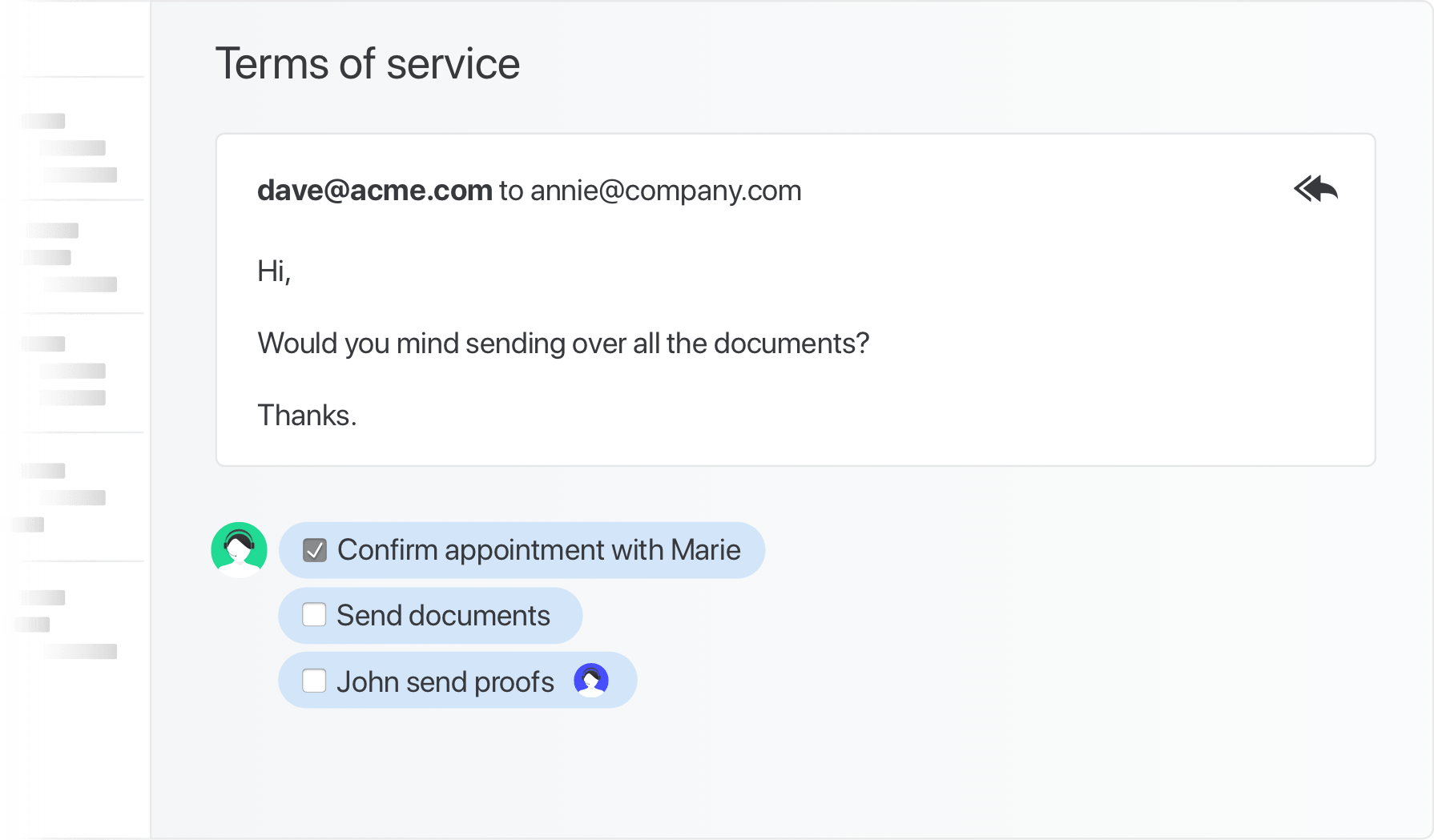 Rules: Get time back
With Missive, you can create sets of rules that automate actions; these can save time and spare support employees from doing repetitive tasks. For example, all refund related emails can be automatically assigned to the Finance team or a specific employee.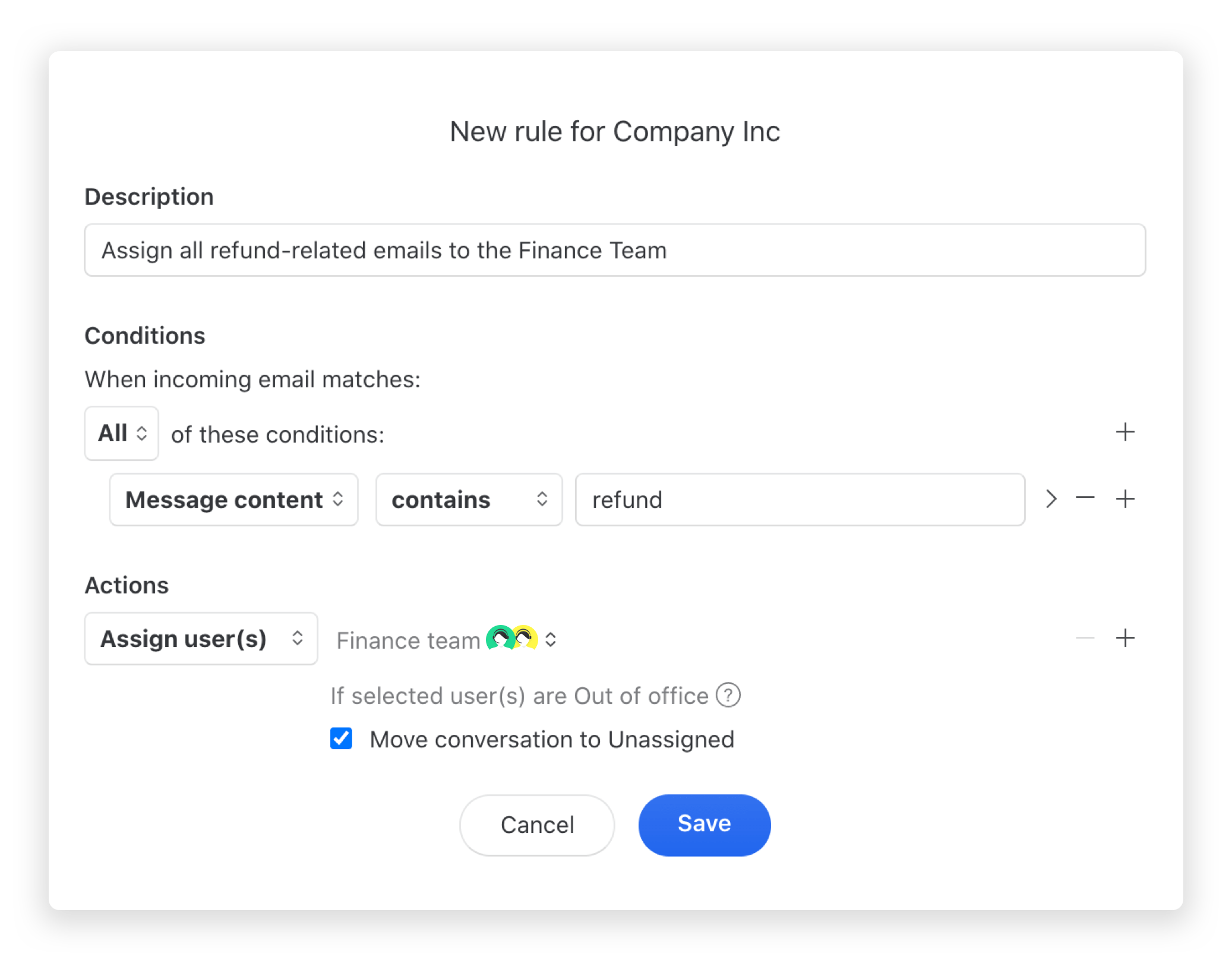 Canned responses: Reduce frustration
They will let you write and reply to emails faster with pre-written snippets. Responses are especially useful when you end up responding to the same questions over and over again.
Don't get me wrong. Gmail is a great email client for individuals. But when it comes to shared inboxes and team collaboration, Missive helps your team keep the eyes on the ball.