The Best Email Clients for Gmail to Make Life Easier
It seems unreal, but the right email client for Gmail can make your work and life (a lot) easier.
Gmail is an incredible communication tool for teams and businesses, but any tool built to serve everyone will always have tradeoffs. It lacks productivity and collaboration features, making following email management best practices more time-consuming than necessary.
That's where third-party email clients built around Gmail can enhance it and make life easier.
Third-party mail apps boost productivity by bringing all your email accounts under one roof, integrating with your favorite apps, and enabling more effective team collaboration.
These are the best email clients to help you manage your personal email and organize your team's inbox for an efficient work experience.
What Are the Best Email Clients to Use with Gmail?
Managing your emails can be overwhelming when dealing with an inbox that constantly demands your attention. While Gmail doesn't offer an email client apart from their web application that you can access on the web, there are email clients available that can make email management of your Gmail accounts easier, faster, and more organized.
These email clients we will explore offer a range of features designed to streamline your workflow, including a version for desktop and running Mac or Windows. Whether you're looking to declutter your inbox, prioritize your messages, or simply enhance your overall email experience, the following email clients are sure to provide the tools you need to be more productive and efficient.
Top Picks by Use Case
Missive: Best all-around for teams, collaboration, and productivity
Spike: Best for conversations that revolve around people, not threads
Superhuman: Best for individuals who don't need collaboration features
Front: Best for huge teams looking for help-desk features
Missive
Missive is the easiest way to do email. It's a team inbox and chat app that empowers you to collaborate around email services like Gmail, Microsoft Outlook, iCloud, and other external communication channels like SMS, Facebook, and live chat.
On an individual level, you can use it to centralize all communication and achieve the coveted inbox zero using rules to automate workflows for things like:
Reducing notifications by batching when emails should land in your inbox
Using labels, sub-labels, and shared labels to triage, organize, and delegate your messages as meticulously or simply as you want
Reducing newsletters and other spam using rules (helpful when brands don't respect unsubscribe requests)
Delegating emails to your assistant or a colleague at the click of the button is another great feature. No password sharing or forwarding necessary!
Missive also integrates the app with many popular productivity tools like Asana, Google Drive, Chargedesk, Dropbox, and Zapier.
While these core features are great for boosting personal productivity, Missive is a game-changer for teams.
Benefits for Teams
Missive was designed with a business-first collaboration experience in mind. It streamlines communication and enhances collaboration.
You get everything you need to get more productive with flexible inbox setups that let you manage private conversations alongside ones shared with your team, rules and automations, collaborative writing, and internal chat.
You can centralize customer messages across social, email, and chat. So, whether you get an email, a Facebook message, or a WhatsApp message, you'll receive it right within Missive. You don't have to switch between apps to read, reply to, and delegate emails.
Suppose you receive an email and want another co-worker's help. In traditional email clients like Gmail, you would need to forward the message to them.
Not in Missive.
Missive lets you add notes and have conversions around email like this:
Just "@" message a colleague and ask them for more information. Your co-worker will see the email in their inbox and can chat back and forth with you around the email chain.
No need to copy-paste links into Slack or deal with back-and-forth emails.
And that's just scratching the surface!
Missive gives you a host of other excellent team collaboration features like:
Rules that let you automate team workflows to skyrocket team productivity
Email sharing to see private emails alongside shared emails
Collaborative emailing and shared inboxes
Live chat for solving time-sensitive technical issues to maintain customer relationships
Shared labels to organize team conversations structurally
Internal chat rooms to have more effective team conversations across various communication channels
Security Features
Security and authentication features like two-factor authentication (2FA) are available on all plans. Missive also supports SAML single sign-on and IP restriction. You can read more about Missive's security and data encryption here.
Availability
Missive is available for macOS, Windows, Apple iOS, Android, and modern web browsers like Chrome, Safari, and Mozilla Firefox. The mobile apps for iOS and Android provide a full-featured experience as well.
You can configure rules, create templates, delegate emails, comment, and craft replies using rich text from your mobile device just like you can from the desktop app or web versions.
Pricing
Missive's pricing is also competitive compared to other email clients for Gmail—especially for small businesses that want to collaborate around email.
Start with the free version to test-drive features and see if one of the paid plans is worth upgrading to.
Free Tier: Free for up to 3 users (with a 15-day inbox history)
Starter: $14/month per user
Productive: $18/month per user
Business: $26/month per user
Limited History?
Messages and comments older than your plan history limit are hidden from the interface, not deleted. You can still access all your emails on your email provider interface.
Missive is available on Windows, Mac, iOS, iPadOS, Android, and the web.
Spike
Spike is a conversational and collaborative email client tool that turns your email into an experience similar to text messaging.
It removes repeated headings, signatures, and threads that make emails difficult to read, emulating a real-time chat to have faster conversations.
In Spike, conversations revolve around people, not threads. This can be a handy feature since many other email clients don't support grouping by the sender and require you to use search to find conversations with particular people.
This UI tries to change how you communicate with people, doing away with common and awkward email artifacts like salutations and complimentary closings. Is it working, to be seen…
A smarter inbox feature lets you prioritize essential messages, while notepads allow you to create, edit, collaborate, and share notes like Google Docs.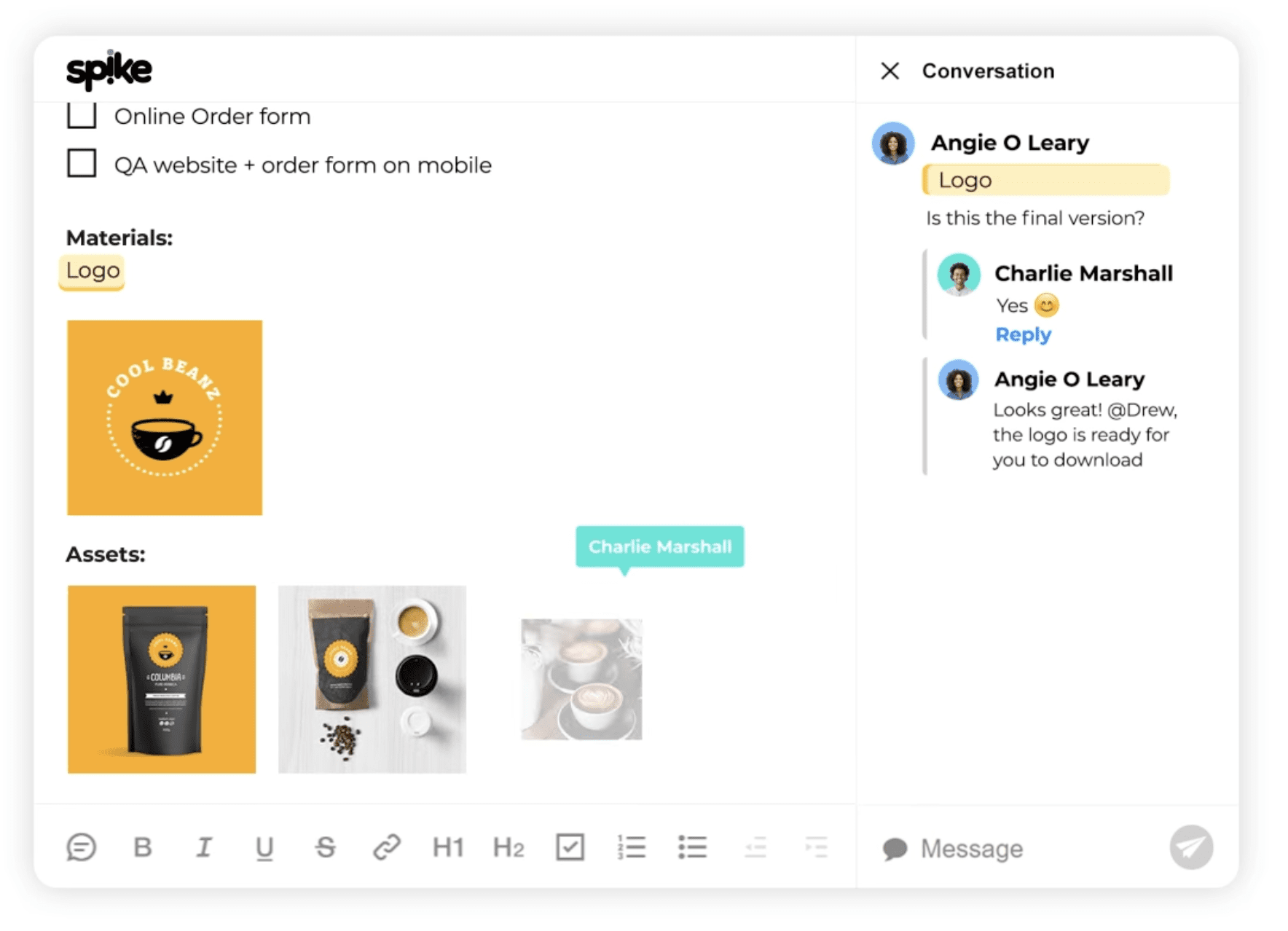 Spike supports live collaboration on email and sports a sidebar area where you can chat and collaborate with colleagues without leaving notes.
Like other tools on this list, Spike supports a unified inbox that brings all of your emails across different accounts into one place.
They offer a desktop version for Windows and Mac.
Notable Features & Integrations
Tasks: Spike supports tasks with a built-in to-do list.
Video Conferencing: You can screen share via Zoom within Spike.
Voice Memos: Recording and sharing voice memos within the app can be useful—especially when you want to avoid confusion and don't want to go through the hassle of hopping on a Zoom call.
Pricing
Spike is designed for small businesses with budget constraints in mind. So, it's not an ideal solution for large organizations, especially considering many of its advanced features still need a lot of work, making collaboration challenging.
Pricing is reasonable, starting from $7 per user per month. A free plan with 1 GB storage is also available.
Superhuman
Superhuman is a light email client for Gmail and Outlook email accounts, modeled like Thunderbird and Mailbird. But it offers extra functionalities that can significantly enhance productivity making a better email management tool.
The tool promises to deliver the fastest email experience ever, but you need to shell out $30 a month for it. Superhuman claims to leverage AI to automatically sort your emails, with its algorithm quickly learning which emails are most urgent and bumping them to the top.
You can also create a VIP list to make specific lists for specific senders. This is like adding a filter rule that applies a label in Gmail.
Superhuman also boasts a feature where you can easily remove an email from your inbox and have it returned at a designated time in the future—which is just a fancy way of saying Superhuman has a snooze feature. The problem with their snooze feature is that it can quickly create a mess in your inbox if you open up your email in a different client.
It has an individual focus on handling your emails with more efficiency. That's why Superhuman is more suitable for individual users and not teams.
If you want your email client to have features like shared inbox, chat, comments, and collaborative writing, Superhuman is not the tool for you.
It's important to note that Superhuman is the only email client on the list that is only available on Mac.
Why Individuals Use Superhuman
A big reason people use Superhuman is that other people talk about the fact that they use Superhuman. There's a bit of Zeitgeist around it. That being said, Superhuman does have a few distinct features that make it a great fit for a particular group of people:
Keyboard shortcuts make triaging and processing email very quick and easy
Read receipts for staying on top of things you need a response to
Contact data enrichment via Clearbit
Intelligent scheduling features that bring your email and calendar in one view so that you don't have to navigate different interface windows
Pricing
Superhuman starts at $30/month, but you can't just sign up for the email app—you have to be invited by an existing user or sign up for the waiting list through the website.
Then you'll have to go through an extensive questionnaire and personalized onboarding call to ascertain you're the right customer for the product.
While exciting, this may feel tedious and time-consuming. Besides, Superhuman is only available to Mac, iPhone, and iPad users (No Android or Windows), which is another limitation that can work against it. Especially considering tools like Missive offer greater flexibility, more collaboration features, advanced automation, and lightning-fast speeds—all at a more affordable price.
Front
Front lets you assign messages to your teammates (only one at a time), removing the hassle of forwarding and CCing, similar to Missive.
With Front, you can chat with team members about emails without leaving the app to free up space in other team chat apps and make communications readily accessible to everyone. You can also create automation rules and canned responses to process emails more efficiently.
Although Front is a robust tool, it isn't the right email client for Gmail for everyone. If you're looking for a tool that is a help desk first and foremost, Front is a great fit.
Everything in Front is geared toward assignments. It gives customer support use case emails (info@, help@) greater priority over personal/private inboxes.
Analytics give you insight into your team's performance and company impact. If you're a business that deals with large volumes of email, you can use this data to keep up with operations. Keep in mind that this feature is only available if you opt for the Scale plan which requires a minimum $11,880 yearly contract.
Integrations
An extensive list of integrations means you can use Front with other applications based on your workflows. The most popular include tools like Asana, HubSpot, Guru, ClickUp, and GitHub.
Pricing
Front's primary users are people managing help desks at enterprise companies—and their pricing model reflects that.
Front's Starter plan is priced at $19 a month, but it's very basic compared to starter plans offered by other solutions like Missive. If you want to unlock company-wide rules that let you centralize management of individual rules, analytics, and integrations, you need to upgrade to the advanced plan starting at $990/month with a yearly contract.
They offer a desktop version for Windows and Mac.
Don't Let Gmail Lower Your Productivity
With various easy-to-install add-ons and integrations with IMAP email providers, Gmail's lack of robust and comprehensive collaboration features stifles what's possible for email.
If you need to collaborate with co-workers, triage email faster, and automate your workflows—you're better off doing so with a third-party email client.
No matter what tool you use, though—it's the processes and systems you put in place to manage email that matter most. Don't forget that when selecting which tool to bring into your workflow.