10 Best Email Management Software for Clean Communications
Some hate them, and some praise them, but no matter how you feel about them emails are the pillar of business communication. However, managing email can be a challenge.
There are a variety of email management software options available to help make email more efficient and organized, but it can be tough to decide which one is right for you.
Luckily, we've compiled a list of the 10 best email management software to help make your decision easier. From programs that declutter your inbox to those that help you better organize your communication and collaborate with others, you'll find the one that suits your needs.
Here are 10 of the best email management software options.
What Is an Email Management Software?
An email management software is a tool that helps you organize and manage your email inbox. It can also help you automate email tasks, such as sending out automatic responses to new messages.
It helps individuals and teams keep track of emails and organize them. Email management software is designed to offer more robust features than their email client counterparts and help you be more efficient and productive with emails.
What Is It Used For?
There are a number of different email management software available. These programs help you better manage your email accounts and messages.
Customer service teams and other customer-facing squads might want to use an email management tool to ensure customer requests are answered promptly. It also helps them keep track of communications, collaborate with their co-workers, and automate certain workflows.
What Are the Advantages of Using Email Management Software?
Email management software provides a number of advantages that can help improve productivity and scalability for businesses of all sizes.
Better productivity
An email manager can help businesses automate certain email-related tasks, such as responding to customer inquiries or sending out marketing materials. It can also help businesses keep track of important email correspondence, making it easier to find and reference important information.
Better scalability
Email management software is a boon to businesses that are looking to scale their operations. It provides them with a central system for all their emails. It also has features like spam filters, email scheduling, email templates, and often shared inbox which make it easier to manage inboxes efficiently as a team grows.
Manage multiple accounts
Email, management software can help you manage multiple email accounts more effectively. This can be a huge time-saver for businesses that have employees who need to regularly check and respond to emails from multiple accounts. It's also really helpful when you need to manage your personal account as well as a shared alias and don't want to have to switch between multiple applications.
Overall, email management software provides a number of benefits that can be extremely helpful for businesses of all sizes. If you are looking for ways to improve your business's productivity and efficiency, email management software is definitely worth considering.
Email Management Tools Essential Features
Managing emails is a lot easy with the proper tool. However, to ensure you choose the right one for the job, you should be looking out for these essential features:
Folders: Folders will help you organize your emails into categories so you can find them more easily later on.
Labels: Just like folders, labels are a great way to organize emails. They can be used to track the progress of customer inquiries or categorize priorities. Platforms like Missive can even let you share those labels with your whole organization.
Rules: Rules are a great way to automize your workflow with a multitude of actions that are triggered when an event occurs. These actions can range from simply organizing incoming emails into folders or labels to automatically sending an automatic reply when certain conditions are met.
Snooze: Snooze is a neat feature that lets you set a date and time to remind you about an email. It's a great way to clean up your inbox from emails that don't require immediate action.
Integrations: Integrations are another essential feature for an email management tool. It can help you connect with other apps that you use like CRM, project management software, or other communications software to receive calls or SMS. These integrations are great for those who have a lot of different tasks and projects going on at the same time.
Saved responses: Canned responses are a time saver when you often need to reply to similar inquiries via emails. It's especially useful for customer services teams that are used to getting the same questions over and over as they can quickly select a pre-written answer and reply in no time.
Multi-accounts: Multi-accounts support is a great way to manage all your communications all in one place. depending on the tool you use, you can connect your personal email, work email, and shared account all in the same software. This makes organizing and handling emails a breeze.
Rich contacts information: Handling thousand of communications can quickly become a hassle when you need to research information about your correspondents. Rich contact information gives you context about the sender, like the previous discussion, directly in a conversation.
Other features made for collaboration are really useful when choosing an email management tool. It makes dealing with customer service and teamwork a breeze.
Shared inbox: A shared inbox will let you collaborate on shared email addresses with your team. Customer support teams or sales teams will benefit a lot from a software that can handle shared inboxes since it will make teamwork more productive by enabling better collaboration.
Chat: Chat is another really useful feature for team collaboration and better email management. Instead of using email thread to communicate with your colleagues about a particular email, you'll be able to send messages directly in the conversation to the people you need input.
The 10 Best Email Management Software
Missive is an intuitive, and powerful all-in-one email management software built for teams to help them manage communications. It comes with standard features that you would expect from an email management tool like snoozing, multiple account support, and filters. Missive helps teams collaborate from within their email inboxes with advanced collaboration tools like chat, team inboxes, collaborative writing, assignments, calendar, status, and so much more.
In addition, you'll gain access to a multitude of tools to help you and your team stay productive. Rules let you automate your team workflow by triggering actions when certain conditions are met. You can also share canned responses or templates with a team or everyone at your company so they can reply to common questions with little to no time. To make sure you don't overload your inbox you can merge two related conversations into a single one.
In conclusion, Missive offers all the tools you need for the best all-in-one email management software. You can even connect different communication channels let it be SMS, social media, WhatsApp, calls, and live chat. Missive also offers a multitude of integrations to create a highly customized email management system.
Price: Free for up to 3 accounts. Starting at $14/month after.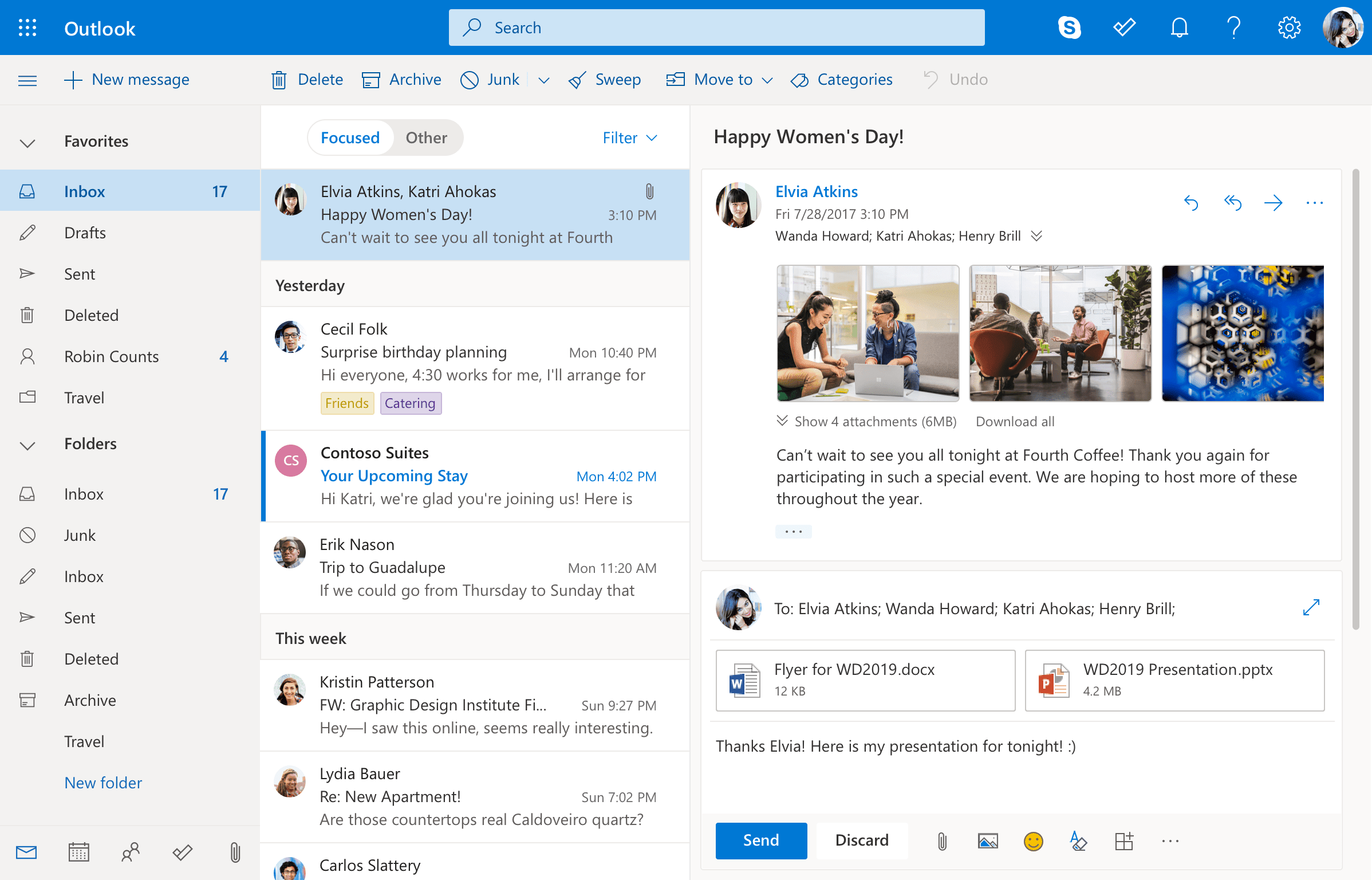 Microsoft Outlook is probably one of the most well know email management tools out there. It comes with all the basic features you would expect from software to manage your emails like snoozing, calendar, tasks, team inbox, and contacts.
Outlook is included in Microsoft 365 subscription which makes it a great option for businesses already using Microsoft 365 and needing a basic email manager.
Price: Starting at $6/month.
Gmail is the default email client for Google Workspace users. While compared to email management apps like Missive or Help Scout, Gmail might look limited in terms of team collaboration, it offers the basic features you would be looking for in a tool to help you manage emails.
It has features like labels to organize your emails, spam protection, and filters to help you manage your email.
Price: Starting at $6/month.
Hiver is an email management platform that is added on top of Gmail. It helps you to manage your emails by allowing you to assign emails to team members, set up reminders, track email threads, and tag emails.
You can quickly get a handle on your inbox, directly in Gmail. However, it should be noted that Hiver is only available on the desktop browser version of Gmail.
Price: Starting at $19/month.
Most email management platform offers some sort of collaboration and team features to help you and your business be more productive with emails. Superhuman differs from the other solution by providing a clean email client for your own Gmail email account.
While Superhuman only supports Gmail and Google Workspace, it offers features to ensure you are efficient and productive with your individual email like automatic email triage with AI, snooze, and follow-up reminders.
Price: $30/month.
As we've seen a lot of email management software let you manage shared email aliases. Front is no exeption. Just like Missive, lets you manage shared inboxes as well as your personal inbox.
Which font you can collaborate around an email with features like chats and assignments making it a good option for managing team emails. CRM, analytics, and a few other more advanced functionalities are available on the highest plan.
Price: Staring at $38/month on a yearly contract.
If you don't need email collaboration features or use a shared inbox then SaneBox might be a solution for you.
This email manager works with most email providers and uses AI to sort and categorize your emails in folders. SaneBox also offers a feature to filter out distractions by automatically putting them into a separate folder.
Price: Starting at $7/month for 2 features.
Helpwise is a helpdesk that also offers tools for managing customer service emails. It is designed to help businesses with their customer service operations.
Helpwise offers a variety of features to help you manage emails, including email templates, shared inboxes, notes, rules, and assignments.
Price: Starting at $15/month.
Sendinblue is an all-in-one marketing platform offering email management tools built for marketers and salespeople. The platform makes it easy to create, send, and analyze email marketing campaigns. Their tool lets you send emails to a huge number of recipients.
The tool offers automation to send emails at the right moment. You'll also get access to features like A/B testing, metrics tracking, segmentation, and a shared inbox.
Price: Free for up to 300 emails/day. Starting at $25/month after.
Help Scout is an email-based customer support platform and knowledge-based tool that can also be used as an email management software.
It offers a suite of tools to help businesses manage their customer support operations, including a knowledge base, a ticketing system, and a CRM system. Help Scout also offers a variety of integrations with third-party applications, shared inboxes, rules, and other collaboration tools.
Price: Starting at $25/month.
Summary
Tool
Main Features
Price
Missive
- Shared Inbox
- Chat
- Collaborative Writing
- Assignments
- Rules
- Canned Responses
- Multi-Account
- Tasks
- Rich Contact
- Snoozing
- Calendar
- Folders
- Integrations
Free for up to 3 users. Starting at $14/month for more.
Microsoft Outlook
- Shared Inbox
- Task
- Multi-Account
- Rich Contact
- Snoozing
- Calendar
- Folders
Starting at $6/month.
Gmail
- Shared Inbox
- Task
- Snoozing
- Calendar
- Canned Responses
- Folders
Starting at $6/month.
Hiver
- Chats
- Assingments
Starting at $19/month.
Superhuman
- AI Filtering
- Snoozing
- Reminders
$30/month.
Front
- Shared Inbox
- Chat
- Assignments
- Multi-Account
Staring at $38/month on a yearly contract.
SaneBox
- AI Categorization
- Folders
- Snooze
- Do not Disturb
Starting at $7/month for 2 features.
Helpwise
- Shared Inbox
- Snooze
- Canned Reponses
- Rules
- Assigments
- Notes
Starting at $15/month.
Sendinblue
- Shared Inbox
- Send in Bulk
- Analitycs
- Email Campaign Builder
Free for up to 300 emails/day. Starting at $25/month after.
Help Scout
- Shared Inbox
- Rules
- Tickets
- Assigments
- CRM
Starting at $25/month.
How to choose the right email management tool?
When it comes to choosing an email management tool, there are a few things you need to take into account. First and foremost, you need to decide what your needs are. Do you need a tool that can help you organize your personal inbox, a team inbox for customer service, one that can help you automate your email marketing or a mix of all?
Once you know what you need, you can start looking at different tools and comparing them. Make sure to read reviews and compare pricing before making your final decision. And, last but not least, don't forget to try out the tool yourself to see if it's a good fit for you.
FAQ