How to Place the Customer First (and Avoid the Pitfalls)
Think about a brand you love.
I don't mean a store you buy from every now and then. I mean a company you hold a freakin' torch for. You are loyal to them. And it'll take a lot for you to change to a competitor.
For me, it's Apple.
Cliché, I know. But that company has always been there for me. When I dropped my laptop on my way to a lecture at University a couple (okay, more like 15) years ago. When I email them. When I drop into a Genius Bar because my phone is glitching and I need to get on a flight. When a new product feature drops that improves my working day. They are there.
In my mind, Apple is the perfect example of a customer-first company. Every product they have produced has been for its customers, from iPods to watches. Heck, even Steve Jobs said it was his job to figure out what we want before we do.
This is the epitome of a customer-first approach. It's a brand that puts customers' needs first and fulfills them so well, they never shop anywhere else.
So, how does a customer-first strategy like this work?
Let's take a look 👇
What does Customer First Mean?
A customer-first culture means a company puts their customer base at the center of every decision—from product design to initiatives, marketing campaigns and support.
With a customer-first approach, every product, service, conversation, campaign, and interaction is designed around what the customer wants. By listening, taking on feedback, and putting customers first, you lay the foundation for long-term partnerships with your customers so they stick around.
The tough reality about a customer-first approach is to achieve it, your productivity or even your bottom line might take a hit. However, with 65% of customers surveyed in a Khoros study admitting poor customer experience caused them to switch brands—putting customers first is a strategy worth pursuing.
To figure out what this really meant and what a customer-first company really had to do to succeed, I dug a little deeper.
That's when I found Bloomberg's Customer Centricity Index. It rates the world's leading brands on their customer-centric approaches. You might just recognize some of the names that made the leaderboard:
So, how did they crack the top 100? 🤔
Well, each company was tested on eight factors:
✓

If they anticipate customer needs

✓

How much they care about customers

✓

If they manage to deliver exceptional customer service

✓

How easy it is to do business with them

✓

If their leadership is ethical

✓

How honest are they with the public

✓

If their products/services are relevant with customer's needs

✓

If they respect customer privacy
Ticking all these boxes will score a company a slot at the top of the leaderboard. This checklist is a great foundation for what you should aim for if you want to turn your company into a customer-centric machine.
But before we dive into how to do that, let's take a detour and look at why a customer-first approach doesn't mean you should hand over control to customers.
"Customer First" vs. "The Customer is Always Right"—What's the Difference?
Don't confuse a customer first strategy with a customer is always right strategy.
A customer-first strategy will build a bridge between what a customer needs and what your company can achieve. On the flip side, following a "customer is always right" strategy can lead you down a garden path where you try to meet every customer demand, even if it hurts your business.
Build a strategy to strike a balance between meeting customer needs and maintaining your own business objectives.
Benefits of Adopting a Customer-First Strategy
A customer-first strategy helps a business truly see its target customers and allows them to build out products and services they really need. It also helps improve customer retention and employee satisfaction because both parties are satisfied.
Let's break that down a little.
Great service can mold how customers spend money. A recent Zendesk study found a whopping 87% of customers changed their future buying behavior thanks to a good customer service experience.
It found they were more likely to purchase more products, recommend the company to other people, or even switch who they shopped with. Forbes also found brands that give customers a "super experience" reap the (cash) benefits and bring in 5.7x more revenue than competitors.
Apart from increased sales, a customer-first strategy can also:
Bring repeat business.
Satisfied customers stick around. It's not rocket science. 89% of companies say an excellent customer experience plays a huge role in customer retention, which helps lower acquisition costs and keep more money in your pocket.
Give you a competitive advantage.
Industries get crowded. Putting your customer first helps you truly understand them and tailor solutions that fit their specific needs. Your company can create a unique selling proposition around this solution instead of just marketing a generic solution to your customer's problem.
Consistently grow your company.
Brands need consistency to grow. I don't just mean consistent revenue—I'm talking regular referrals for other customers and more awareness about your products. Happy customers aren't just a buffer against economic downturns, they help grow your business through word of mouth.
A lot of these benefits are down to one thing: customer satisfaction. And most customers will pay more for an exceptional customer experience.
4 Steps to Implement a Customer First Approach
Step 1: Figure Out What Your Customers (Actually) Want
The days of closed-door innovation—when teams got in a room and figured out what to build or supply next—are over.
That's not a bad thing. Today's customers are more vocal and tell you exactly what they want from a product or service. All you have to do is listen. Monitor your social media channels and check online reviews to see what customers are saying and if they are asking for a product or upgrade they need.
Oh, and don't forget about asking your employees on the front line (like those in the customer support team) what they hear on the ground. Any nagging issues or suggestions from customers should be put into an internal shared document to follow up on. The sooner you act, the better.
This brings us to step two—getting feedback.
Step 2: Listen To Customer Feedback and Input
The most loyal customers aren't just happy—they've got their skin in the game.
Asking customers for feedback and acting on it is the best way to prove to customers that their voices are being heard. Set up feedback loops through surveys using tools like Tally, or trawl through customer reviews or social media posts to understand how your customers perceive your brand.
Maxie Schmidt is a Principal Analyst at Forrester. She recommends taking a look at whether this process is measurement-obsessed or customer experience-obsessed using this chart:
Obviously, you want to be on the right side of the chart (no pun intended.)
Just look at how Starbucks gets feedback from customers.
Ever tried a pumpkin spice latte? If so, you have mystarbucksidea.com to thank. The site was launched over 15 years ago to give customers a platform to share and vote on ideas to improve their Starbucks experience. It wasn't pretty, but it worked:
Customers posted over 150,000 ideas on how to improve Starbucks on the platform, and nearly 300 of them were brought to life. And even though the mystarbucksidea.com site has been wound down, it showed thousands of customers the brand wasn't just willing to listen, but their ideas were good enough to use in-store.
The takeaway here is simple. Actively address customer feedback and use it to drive trust in your brand.
Step 3: Talk to Customers 1-on-1 Whenever You Can
A good product fit can only get you so far. If your post-sale support sucks or customers don't feel appreciated, there's a risk they will churn to a competitor.
Make the effort to connect with customers on a 1-on-1 basis whenever you get the chance. Whether it's replying to an email or a comment on social media, a personal interaction will always score points. It also shortens the feedback loop and you can instantly solve a problem or take a great idea back to your team instead of wading through surveys.
He may be controversial, but Elon Musk is (very) visible on social media and makes the effort to reply to customers about concerns they have with Tesla. Look at how he replied to this comment about electric vehicle charging stations:
You're right, this is becoming an issue. Supercharger spots are meant for charging, not parking. Will take action.

— Elon Musk (@elonmusk) December 11, 2016
This showed the customer that his feedback mattered and action would be taken immediately. It's a great example of showing your customer you care.
Step 4: Give Your Team The Tools to Serve Customers First
Finally, equip your team with the tools they need to successfully implement a customer-first strategy.
Talk about what a customer-first culture will look like at your company and make sure your team is on the same page. Then, set some goals for them to hit:
Set metrics for response times.
Don't leave customers in the dark. Create a Service Level Agreement (SLA) for when emails, text messages, and social media comments will get a reply. Use shortcuts like canned responses or automated replies if your team is short on time.
Share communication responsibilities.
Encourage your team to share the customer load. Use a tool like Missive to create shared inbox and chat channels so everyone can jump in and talk to customers. If each department (e.g. sales, support team) has its own inbox, teams can collaborate on emails and stay on top of messages so no customers slip through the cracks.
It's also a good idea to put all your data under one roof. Use a customer relationship management (CRM) software to collect and store customer data. That way, if your team needs to get up to speed on a customer or look at recent feedback—it's all in one place.
Real-World Examples of Customer First Businesses
Not all companies are customer first. But those who have adopted this strategy have learnt how listening to what their customers want can pay off.
Here are two examples of companies that have used this strategy to improve customer experience. 👇
1. Uber Changed How it Catered for Its (Furrier) Customers
You may have to pay an extra couple of bucks, but you can now take your pet in an Uber.
Before the feature launch, individual drivers could decide whether or not a cat, dog, bird, or any non-human was allowed in their car. For customers with pets, this led to an awkward (and sometimes heated) standoff where they had to message their Uber driver to make sure the ride would be accepted.
After a ton of feedback from customers in certain areas like Hong Kong and Germany, Uber decided to launch a dedicated option to order a pet-friendly ride.
This change accomplished two goals. It gave a subsection of Uber customers a feature they asked for. Plus, it cut out the annoying (and awkward) messages between customers and drivers about whether a pet was allowed in the vehicle or not.
Talk about a win-win!
2. Lionize Retooled its Tech Stack to Reply to Thousands of People Every Day
Lionize is a SaaS software platform built to simplify the lives of marketers. It serves thousands of influencers every day along with the brands that work directly with the company.
But there was a problem. The Lionize team was juggling a ton of influencer and client communications and its team… couldn't keep up. Influencers were left hanging and waiting for a reply, and Lionize's brand partners were also leaving money on the table.
Eddie Dalrymple, Senior Account Executive at Lionize, said it was really difficult to organize communication channels as they were all over the place. For example, the team is sending emails to influencers, but they might get a reply via text.
"It was really difficult for us to manage a Gmail inbox, and also manage a Twilio number which was what we were doing originally. We needed a way to group all communication together to be more organized when reaching out to these influencers", he said.
"It's difficult to check that a person emailed us but we sent them a text an hour ago, and you get these mismatches in communication."
Lionize knew it wasn't replying to its influencers' emails and texts quickly enough. So, the company set a goal to reply to each influencer within 48 hours. And they hit it.
The company started using Missive (our team inbox and chat app) to keep communications under one roof and reply strategically. The best part is anyone can reply to an influencer when an email lands in an inbox, as they can see the last 10 conversations and get up to speed on where they are at.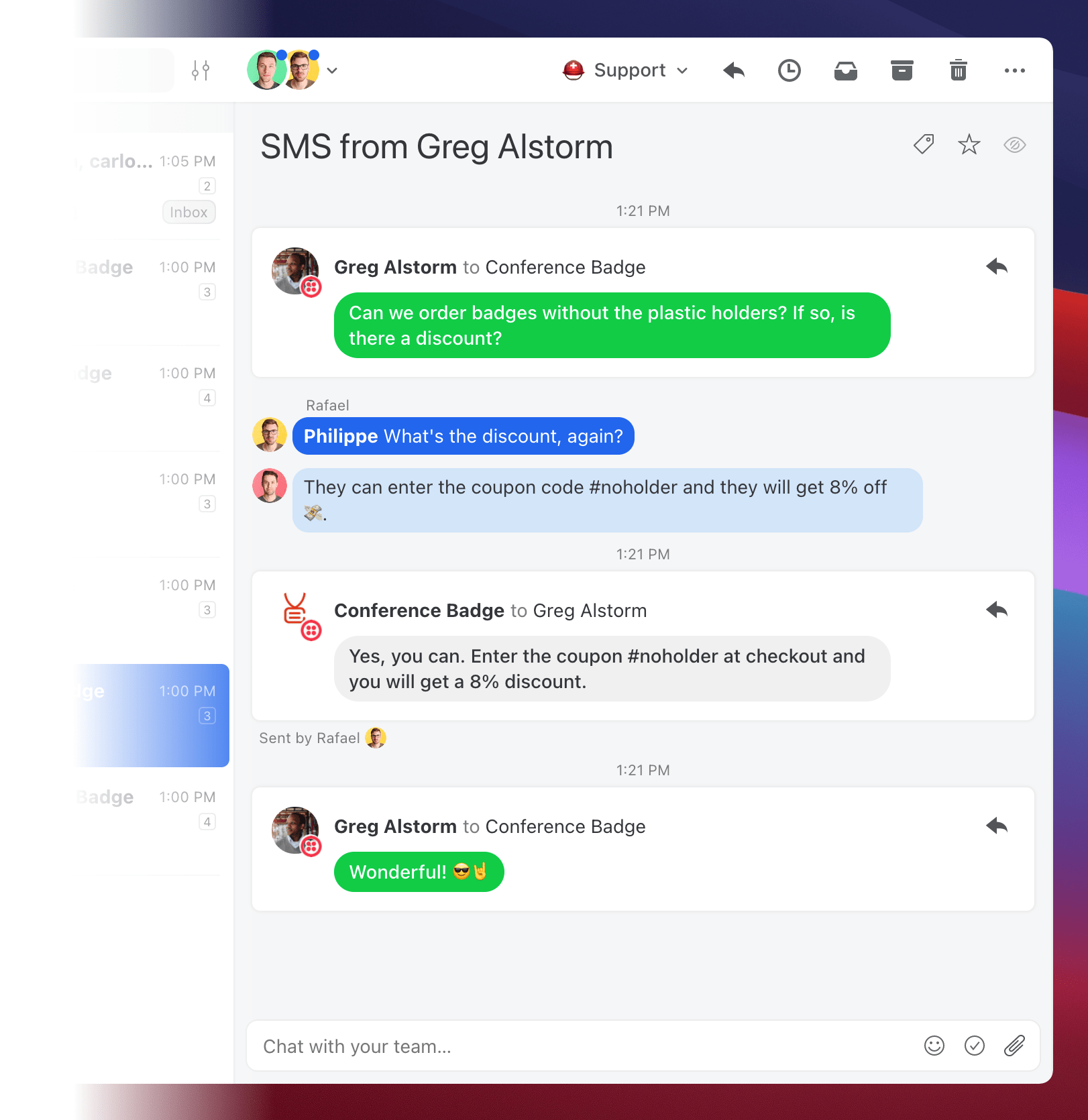 Since Lionize prioritized putting its customers first and (dramatically) improving its communication, it has cut response times and most importantly given its clients a better service. 🥳
Want to join Lionize (and 3000+ businesses) and put your customers first? Missive is a team inbox and chat app rolled into one to help your team truly collaborate. Take it for a free test drive here!