Effortless Customer Support.
Companies nowadays have multiple points of contact (help@, info@, support@, Instagram DMs, Facebook messages, SMS…)

Managing them can turn into a painful task, and unreplied requests give way to frustrated, bad-reviewing customers.
Let's talk about how people can deal with customer support.
Shared email accounts
It is the most simple yet most inefficient way to deal with customer support. The premise is quite simple, set up an email account, support@ for example, and share the password with your coworkers.
Everyone has access to all emails, which might seem like a good, easy option, but it entails problems.
Sharing passwords is a terrible security practice.
Emails can be answered twice by different people.
There's no accountability.
Impossible to scale.
Help desk
It is undoubtedly a step up from sharing email accounts; it turns emails into tickets, which can help you prioritize, and assign cases to the right people.
But just like sharing email accounts, it has downsides.
They are complex to set up.
They create a new silo of communications, meaning you will have both emails and tickets to monitor in some cases.
It will be one more tool your team has to learn how to use.
They use impersonal ticket numbers and auto-responses.
Help desks offen offer a myriad of add-ons that quickly add up to an expensive monthly burden.
Missive
It brings the best of both worlds.
Secure inbox sharing that allows you to monitor, assign, prioritize, and categorize support requests.
Missive doesn't add one more tool in your arsenal; it replaces one you already use: your email client. It doesn't create a new silo of isolated data. You can work on your personal/business emails, your shared inbox emails, and you will have all your team internal chat. It's magical.
Here are a few features that will help you manage customer support:
Team Inbox
It is a shared inbox made for collaboration and assignment between team members. It is useful for teams who want a "triage" step that will clean up messages for all coworkers at once.
Let's say you enable the Team Inbox flow for the account support@company.com and select the Support team. All team members (support employees) can now see incoming messages in the Support team inbox from the left sidebar. Observers (managers) don't get notified of new emails, but they can manage, monitor, and control the Team Inbox.
You can always add new accounts like info@ or hello@ with the click of a button.
With the Team Inbox flow, you can easily add new members as the organization grows. But what's interesting here is the fact that new support employees can access the old support requests; this helps accelerate the onboarding process of new employees.
They can consult past resolved cases to see how to handle new ones.
Rules
With Missive, you can create sets of rules that automize actions; these can save time and spare support employees from doing repetitive tasks.
For example, if you have a customer support employee that specializes in a topic, you can create a rule that whenever a message contains a specific word, it will always be assigned to that employee or team.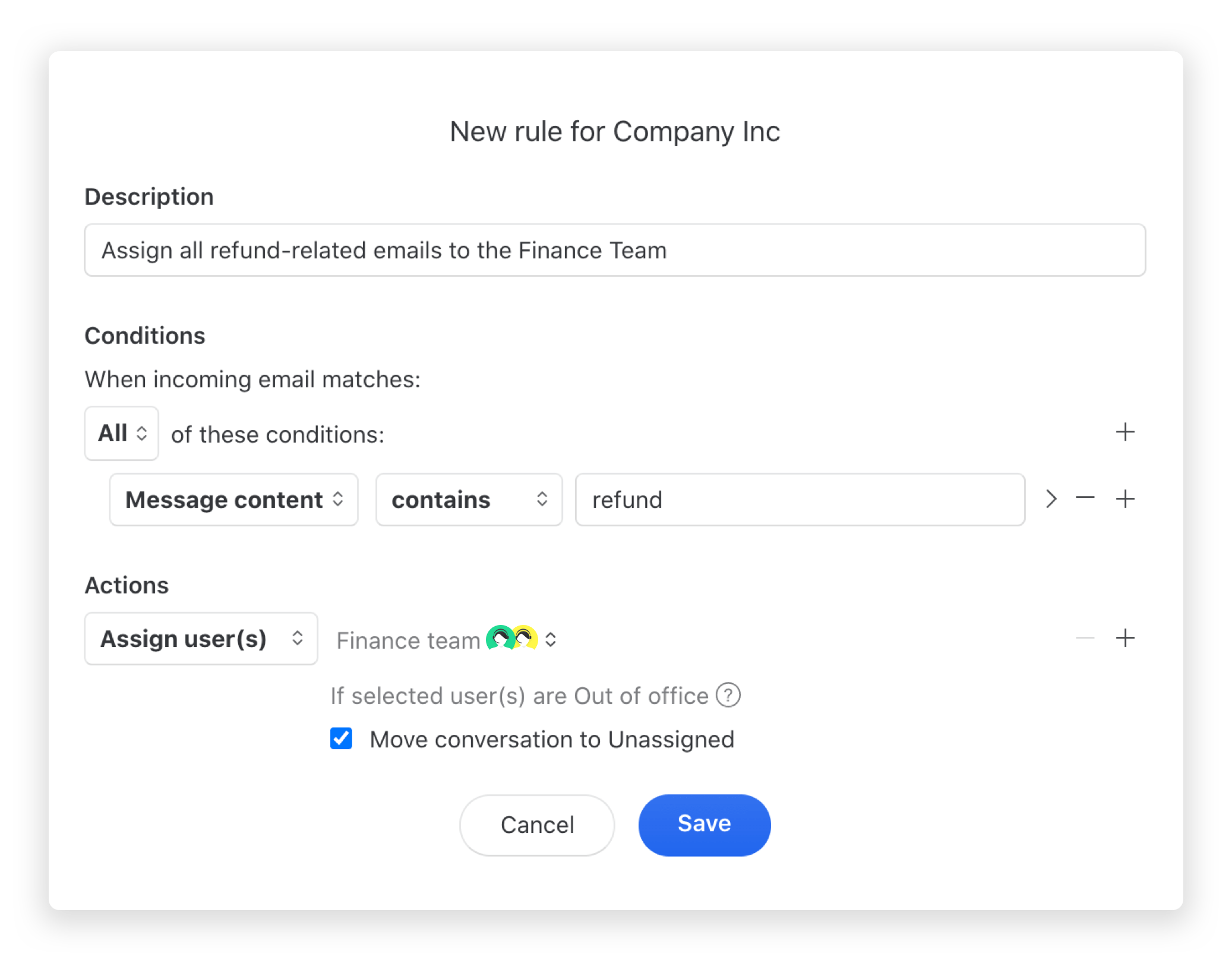 Or let's say you want to implement an SLA (Service Level Agreement) because it's always a good idea to set standards of excellent customer support; it also creates goals for employees to meet, so they stay productive.
A basic SLA implementation in Missive could be made with a rule. For example, to all emails containing the word "urgent" in the subject or message content and that are unreplied after 30 minutes, the system will show a message warning.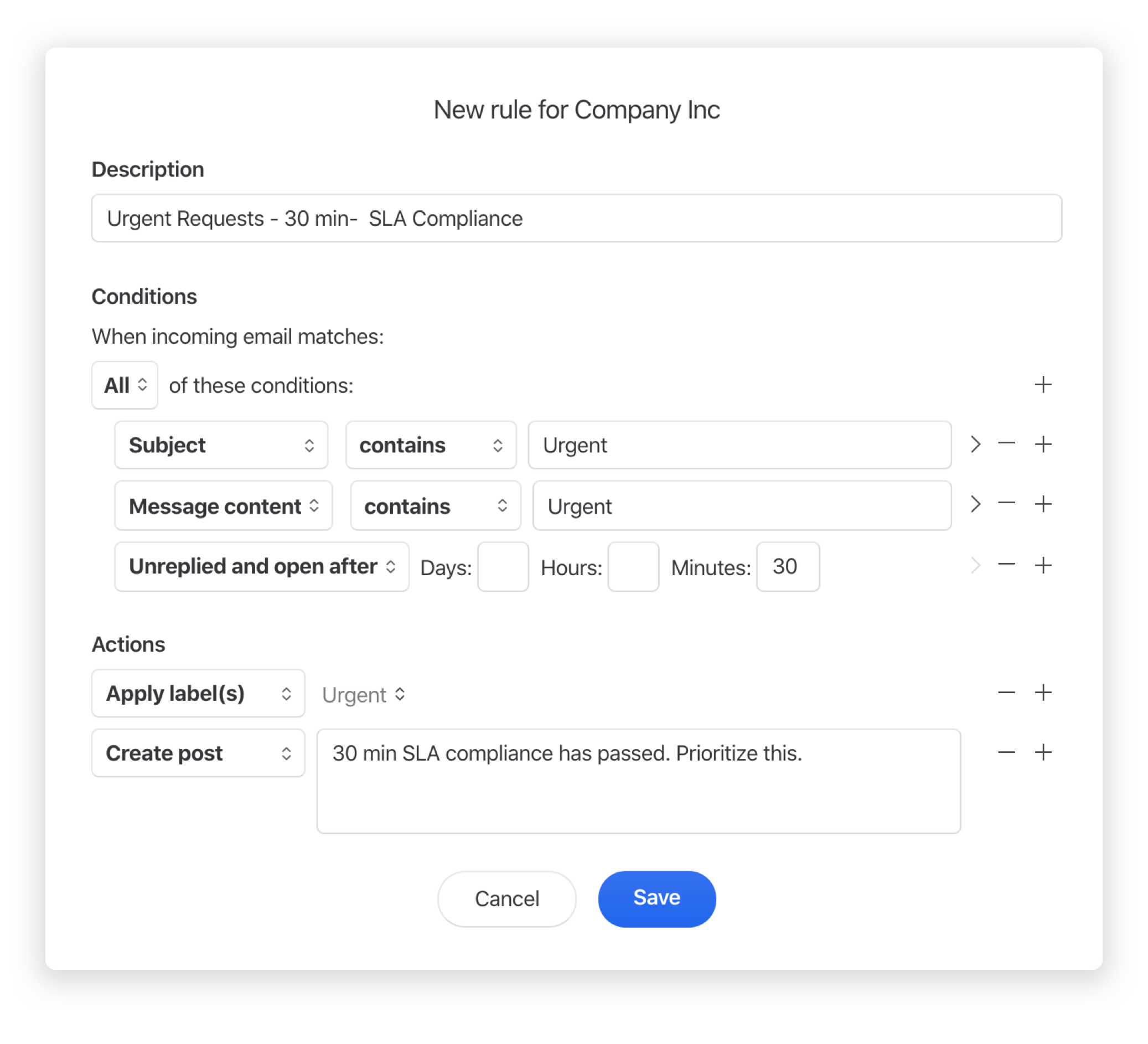 Workload balancing
Missive lets you automatically distribute your team's workload with four distinct balancing methods.
Round-robin or in turn. The most used method to distribute incoming conversations across a team. It automatically assigns conversations to selected coworkers on a cyclical basis.
Least busy first. The system looks for the teammate with the fewest assigned conversations and assigns the pending work.
All at once. Any incoming conversation will be assigned to all selected teammates.
Randomly. It does not discriminate or take into account the workload of any teammate, it merely assigns a conversation randomly.
Canned responses
They will let you write and reply to emails faster with pre-written snippets. Responses are especially useful when you end up replying to the same questions over and over again.
By combining rules and canned responses, you can fully automate the reply of certain simple questions, bringing the response time down to seconds, leaving more time to your support employees to focus on more complex cases.
Internal Chat
This feature is essential for true team collaboration. It allows you to chat with coworkers inside emails. This is very helpful when an employee is unsure of how to answer a difficult question.
Instead of forwarding the email to a coworker or having to call a manager, they can just @mention someone and ask the question, all without leaving the email's screen. The other person will be able to access the email instantly to get the full context and guide the employee's reply through the chat.
Out of office
This status lets you set yourself or a coworker as unavailable for a determined period. Replies received in conversations assigned to you will automatically move the conversations to a Team Inbox so that other coworkers can handle these while you're away.
As a manager, you can also set this status for an employee calling in sick.
Social Media and SMS
With Missive, collaborative inboxes do not stop at email accounts; you can handle requests coming from:
Facebook messages
SMS with Twilio, Dialpad or SignalWire
Instagram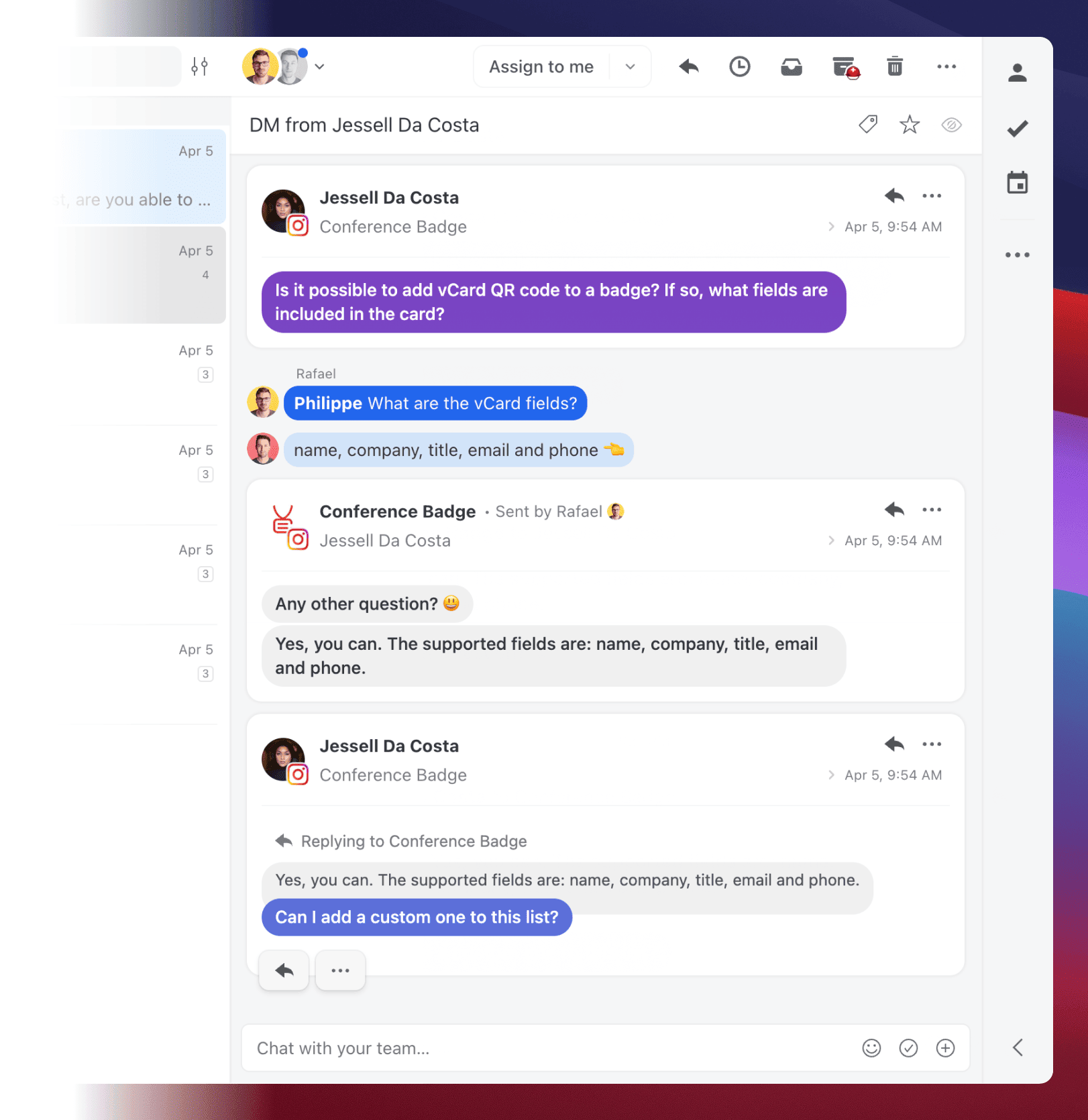 Webchat
Missive Live Chat is the perfect way to interact with visitors and users from your website without creating additional silos of communication.
Whenever someone sends a message through the live chat on your website, it will instantly appear in your Missive app.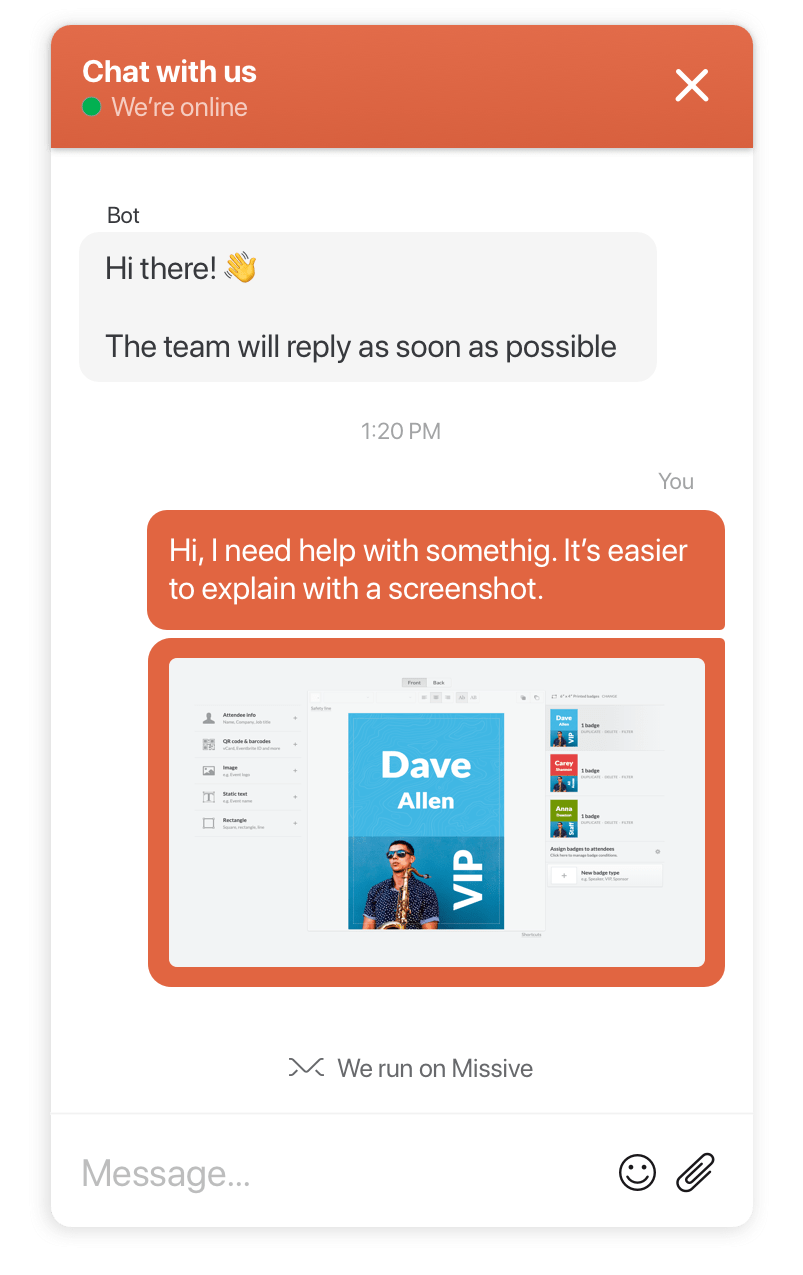 Integrations
The Missive API lets you enrich conversations with content from anywhere on the web. Customer profiles from Shopify, transactions from Stripe, Contact cards from FullContact, events from your servers! The possibilities are endless.
We currently offer and maintain the following integrations:
Asana
Pipedrive
Todoist
Trello
Shopify
FullContact Enrich
PieSync
Custom (learn more)
---
Stop sharing accounts and passwords; don't complicate your life with a help desk. Customer support is and will always be email first, and Missive is all about it.