Top 10 Shared Inbox Software for Efficient Email Management
Wouldn't it be wonderful if managing emails within your team wasn't a hassle? Do you wish you could manage your shared email accounts and collaborate as a team seamlessly while maintaining accountability?
Well you're not alone, many growing companies ask these questions every day.
While using a couple of Gmail or Outlook email addresses might be manageable when your business is small, it becomes a lot harder as your business starts to gain some size.
When the volume of requests becomes unmanageable for one person, it's time to stop using an email client that hasn't been designed for this type of collaborative work and start looking for a shared inbox tool. These software are built to make email handling and collaboration efficient.
In this article, we'll dive into shared inboxes and explore why you should be using one and give your the list of the ten best shared inbox software available today.
Let's dive in!
What Is a Team Email?
A team email, or shared email alias, is a single email address that multiple team members can access and use to communicate with customers or external collaborators.
It makes communication more efficient within your team and also provides a single, consistent point of contact for anyone reaching out to a business. the best way to access team emails is by using a shared inbox where multiple coworkers can access and manage emails together.
What Is a Shared Inbox?
A shared inbox is an email inbox that can be accessed by multiple coworkers at the same time. Each user maintains their personal account, but they all can send, read, and manage messages from particular shared mailboxes.
For example, John (john@acme.com) and Lucy (lucy@acme.com) can both receive, send and manage emails from the shared address help@acme.com.
Unlike standard business emails, shared inboxes don't have their own ID and password to log into them. To access them, you'll need permission that is granted by an administrator.
Following shared mailbox best practices will ensure you make the most of team collaboration.
How Does a Shared Inbox Work?
The general process among shared inbox tools is roughly the same: You select an email address, share it with a team and now multiple users can access the catch-all email account. But the real power behind shared inboxes lies in the ability to distribute and categorize emails among a team properly. This is the added value that differentiates shared inbox software.
For example, with Missive, any email address can be made into a shared account. Here's how it works:
Select an email service provider
Enter the credentials for the email in question
Select to share this address
Choose how you want to share messages:
Team inbox: Shared inbox for collaboration and assignment between team members.
Inbox: Messages appear in Inbox. No assignment flow.
All incoming messages will be shared in the predefined mailbox.
Should You Use Shared Inboxes?
Operating shared email aliases with 1 or 2 people without a shared inbox tool can be relatively straightforward, however, it is a totally different story when you start to scale your business.
Problems start to arise when a team of people needs to collaborate together on a shared mailbox. If you have experience situations where conversations slipped into the cracks and were forgotten, duplicated responses were sent, or follow-up email messages were addressed to the wrong person, you certainly need shared inbox software to help you manage shared emails.
Customer service sales and support teams can benefit from a collaborative inbox tool making all shared information accessible in one centralized inbox. Teams can then implement effective workflows so they can be more productive as a squad. Better collaboration between team members will also help decrease the response time and improve customer experience.
Benefits of Using a Shared Inbox
Having a shared inbox comes with many benefits. The most obvious ones are the collaborative advantages it brings. Teams that need to manage incoming emails will be the ones who will experience the most of it.
There are many reasons why you would want to use a shared inbox tool to manage shared emails in your business. Here are some key ones:
Quickly scale the number of requests you can receive not by creating new points of contact but by distributing a centralized email account (help@acme) to multiple coworkers.
Maintain ownership of who answers what from the centralized email account.
Stop responding twice to the same email. This often happens with distribution lists that forward emails to different accounts.
Follow proper security protocols. Sharing passwords is a terrible security practice.
Communicate more efficiently in your team by sharing information about every customer request and response. Most tools we'll explore later on also let you and your coworkers chat directly in the app saving you time and keeping everything in context.
In addition to these direct benefits, you can expect additional improvement in your customer interactions like customer service and sales. By having one centralized point of contact it is easier for your customer to get the help they need and for your team to make sure their inquiries are replied to.
The 10 Best Shared Inbox Software
Recommended for teams that want the best-shared inbox for productive team collaboration.
Missive is much more than a simple shared inbox tool, it's a team inbox and chat app that empowers teams to collaborate not only around email but other channels of communication like SMS, WhatsApp, Instagram, Messenger, and live chat.
Missive can be used with your personal email address as well as with your shared accounts, making it the perfect solution for an all-in-one small business collaboration software.
The Team Inbox is a shared inbox made for collaboration and assignment between team members. It is useful for teams who want a "triage" step that will clean up messages for all coworkers at once.
It offers two roles:
Active members receive notifications for new messages. They see conversations listed in the Team Inboxes mailbox in addition to the team inbox.

Observers do not receive notifications and see conversations listed in the team inbox only. This is perfect for managers who want to monitor the work being done but don't want to be flooded with notifications.
By adding this layer of roles, you can easily manage a shared inbox right from the start. This makes it easier to know who is working on what, and it adds transparency and accountability to all employees.
Missive shared inbox can be used in a variety of scenarios in all areas of a business like customer support or sales for example. Missive can even replace your help desk.
Some other features are a great addition to the shared inboxes to help you and your teams collaborate seamlessly and be more productive.
Internal chat: Communicate with coworkers inside emails, this proves effective when you need help with a difficult question or need to verify some information. Simply @mention a colleague and start a conversation, all without leaving the email in question.
Live drafting: It lets you collaborate on crafting an email with one or multiple coworkers, live. This feature also enables everyone to see who's working on a particular case in real time. So no more double replies to customer emails.
Tasks and assignments: Some issues cannot be resolved immediately, so you can create tasks or to-do lists inside emails to keep track of what needs to be done. These tasks can also be assigned to other coworkers. Collaboration at its finest.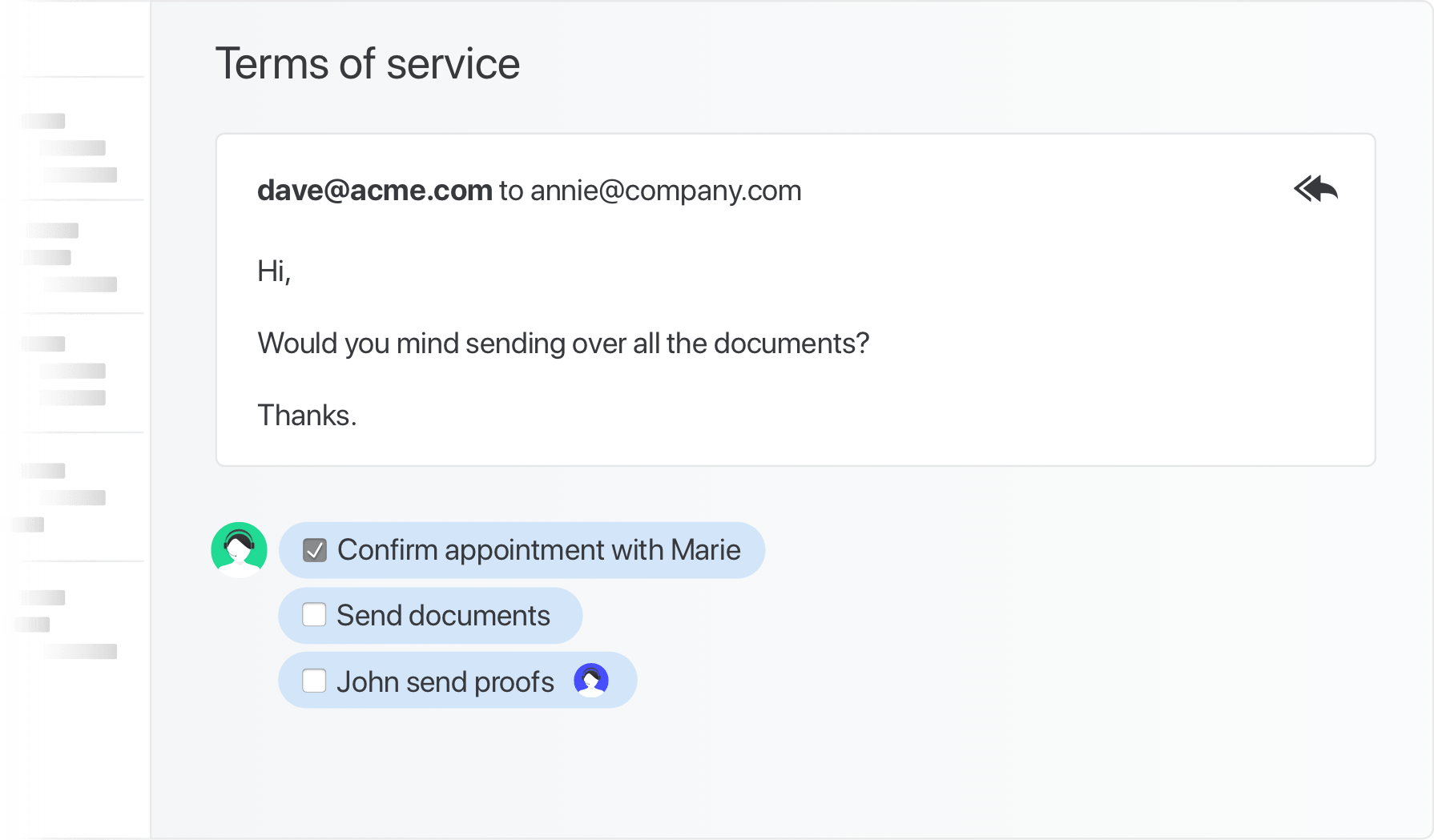 Shared calendars: With Missive Calendar, you can quickly reply and schedule meetings, and video calls, get reminders about upcoming activities, and more. As with all Missive features, Calendar was conceived with teamwork in mind. Sharing events or entire calendar accounts is easy!
Rules: With Missive, you can create sets of rules that automate actions; these can save time and spare support employees from doing repetitive tasks. For example, all refund-related emails can be automatically assigned to the Finance team or a specific employee.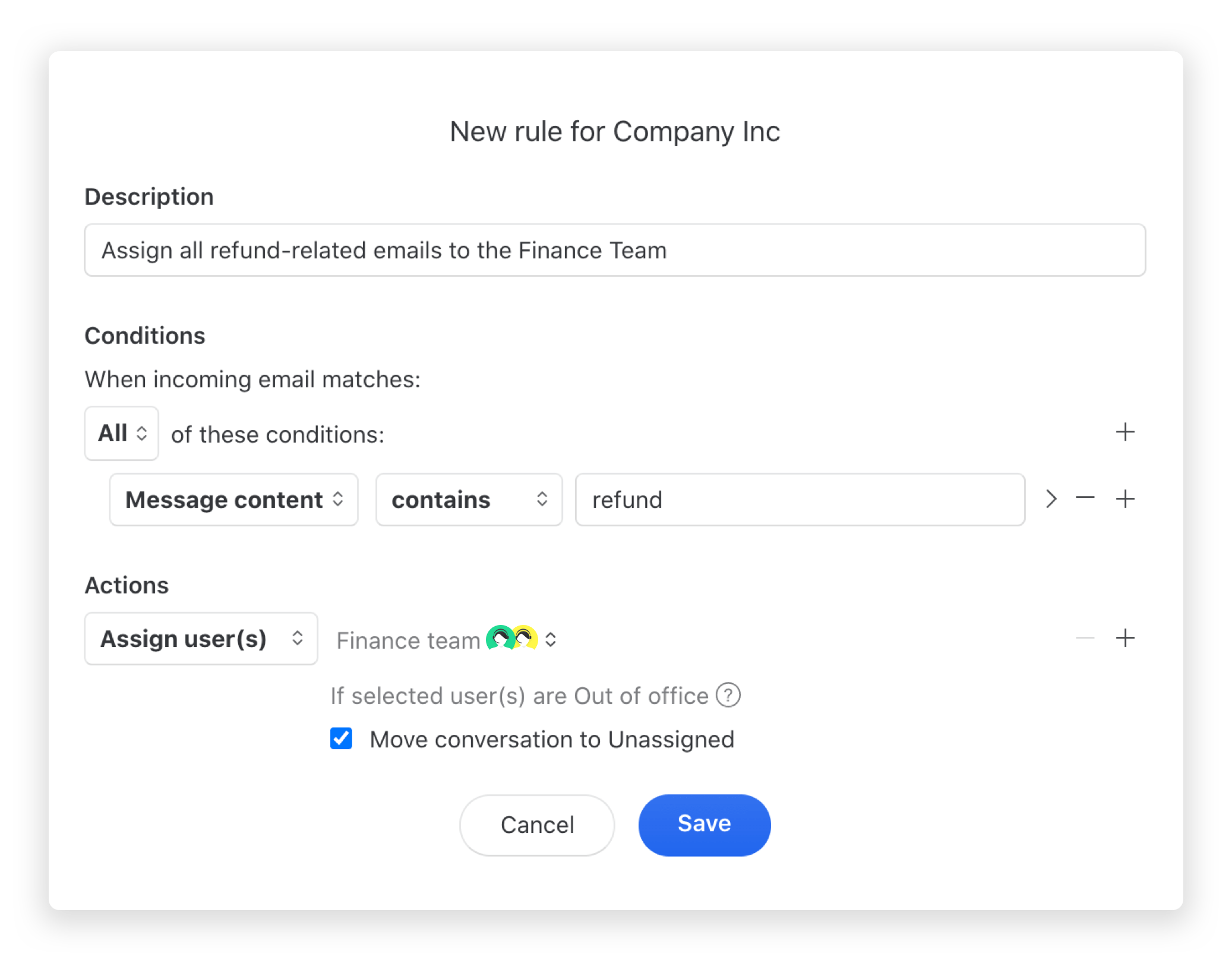 Canned responses: They will let you write and reply to emails faster with pre-written snippets. Templates are especially useful when you end up replying to the same questions over and over again.
Price: Free for up to 2 shared accounts. Starting at $15/month for more.
Recommended for small teams that need a basic shared inbox solution in Gmail.
Google Collaborative Inbox is a good option for small teams that want to use Gmail for shared inbox management. It's a feature of Google Groups for Business that enables members of a group to manage conversations with each other. Collaborative Inbox gives users basic functionalities like assigning a person to a conversation and marking conversations as resolved.
While more powerful than the next solution on the list, Outlook, it is not nearly as powerful as Missive or other solutions on the list.
Price: Free for Google Workspace users
Recommended for small teams that need a basic shared inbox solution in Outlook.
Outlook shared mailbox is a good option for small teams already using Outlook as their email client. It offers basic shared inbox functionalities like shared access to company mailboxes and user permissions. It works by creating a shared email folder in which you can invite members.
However, Outlook shared inbox comes with some drawbacks. For instance, it only works with Microsoft 365 emails. In addition, it isn't built for scale since Microsoft doesn't recommend it for shared inboxes with more than 25 people due to risks of failure.
Price: Free for Exchange Online service users.
Recommended for enterprise businesses with a big budget.
Front offers a shared inbox to manage shared aliases like support@acme.com. Similar to Missive, you can also manage SMS, social media, and live chat on their platform.
It also offers features such as internal comments and more advanced functionalities like CRM and analytics on its highest-tier plan.
Price: Staring at $38/month on a yearly contract.
Recommended for teams that want a simple platform to manage social media messages.
Helpwise is a shared inbox similar to Missive and Front. It offers a way to collaborate on a shared mailbox with a focus on shared accounts like SMS, social media, and live chat.
Functionalities like assigning a person to a conversation, tagging, and chatting with your coworkers are also offered.
Price: Free for 1 shared account. Starting at $15/month for more.
Recommended for teams that want to share an inbox, live chat, and knowledge base in one tool.
Help Scout is a platform that offers a shared inbox, live chat, and a knowledge base. With their shared inbox feature, you can manage shared emails, assign people to a conversation, chat with teammates, and tag conversations.
Price: Starting at $25/month.
Recommended for teams that want to use Gmail to manage shared mailboxes.
Hiver is a Chrome extension that enables you to collaborate and manage your shared inbox in Gmail. It offers the standard shared inbox functionalities such as assigning people to a conversation and tagging emails and comments privately in a discussion. Hiver also comes with features like task automation and analytics.
However, you'll need to be a Gmail user to take advantage of Hiver.
Price: Starting at $19/month.
Recommended for teams that want to use Gmail and want project management features all in one place.
Gmailius is a Gmail add-on that brings shared inboxes directly to the Gmail platform. It comes with features like chats with your coworkers in an email thread, adding labels, and assigning team members to an email.
Gmailius also offer Kanban-style board for project management directly in Gmail.
Price: Start at $15/month
Recommended for teams that want an all-in-one marketing tool.
Helpmonks offers shared inboxes for team emails with functionalities like assigning a person to an email, tagging conversations, and private notes that you can send to your coworkers. You also have the option to host their solution on your own server.
They also offer a marketing platform that includes a CRM, an email marketing platform, and a live chat.
Price: Starting at $29/month.
Recommended for teams that already use HubSpot and need more basic shared inboxes.
HubSpot offers a shared inbox tool as a part of its CRM solution. You can connect team mailboxes, Facebook Messenger, live chat, and even use their chatbot builder to a shared inbox where team members can manage, view, and reply to messages.
Price: Free with HubSpot branding. Starting at $50/month without.
How to Manage a Shared Inbox?
Using a shared inbox that centralizes all your emails in one tool is a great way to manage incoming communications and be more efficient as a team. To fully benefit from a team inbox, it's important to handle it with care. Here are some tips to help you manage your shared inbox and make the most of it:
Define roles and responsibilities: Take advantage of assignments to assign emails to specific team members. This way, everyone knows who's responsible for what, and you have accountability in the team.

Increase collaboration: Shared inbox software allows you to add labels, comments, and sometimes chat within email conversations. Using these features will encourage collaboration and help team members work more efficiently.

Create guidelines: Having well-established guidelines on how to manage the shared inbox workflow will help everyone on the team. From procedures on how to assign different types of emails to setting response time standards, and implementing a categorization system using labels, you can save time and improve everyone's productivity. You should also ensure messages are prioritized based on their importance or urgency.

Use canned responses: A shared inbox enables multiple team members to collaborate on emails, but it also means that maintaining consistency in replies can be challenging. Using canned responses for frequently asked questions will help your team save time and ensure accurate and consistent responses across the board.

Set up rules: Rules are a great way to automate some actions like labeling emails, assigning them to a team member, or automatically replying to them. Using rules can take your team's productivity to the next level and make sure that your workflow is respected.

Keep updating and improving your workflow: As time goes on and your team starts experimenting with a shared inbox, keep updating and optimizing your workflow to fit your team's needs. There is no one-size-fits-all way to manage a shared inbox.
Switching to a Shared Inbox Tool for More Productivity
At Missive, we are advocates for all things that help teams to share and collaborate more effectively. A shared inbox is a great way to have all your team emails in one place, making them easier to find, manage, and respond to.
In the end, it's up to you to decide if a shared inbox software is the right tool for your team and if so, which of the top shared inboxes is the best fit.
Interested in learning more about how Missive can help your business? Attend one of our webinars.