Shared Inbox - How Businesses Collaborate Around Email
Wouldn't it be wonderful to let coworkers access an inbox without it being a hassle? Or even better, to share an inbox, maintain accountability, and collaborate as a team?
Many growing companies ask these questions every day.
When a business is small, it's easy to get by with a couple of Gmail or Outlook email addresses. When the request volume becomes unmanageable for one person, it's time to stop using an email client not designed for this type of collaborative work and start looking for a shared inbox tool.
What is a shared inbox?
A shared inbox is an inbox that can be accessed by multiple coworkers at the same time. Each user maintains a personal account, but they all can send and read messages from a particular shared mailbox.
For example, John (john@acme.com) and Lucy (lucy@acme.com) can both receive and send messages from the shared address help@acme.com.
Why should I set up shared inboxes?
There are many reasons, but here are some key ones:
Quickly scale the number of requests you can receive not by creating new points of contact but by distributing a centralized email account (help@acme) to multiple coworkers.
Maintain ownership of who answers what from the centralized email account.
Stop responding twice to the same email. This often happens with distribution lists that forward emails to different accounts.
Follow proper security protocols. Sharing passwords is a terrible security practice.
How does a shared inbox work?
The general process among shared inbox tools is roughly the same: You select an email address, share it and now multiple users can access the catch-all email account. But the real power behind shared inboxes lies in the ability to distribute and categorize email among a team properly. This is the added value that differentiates shared inbox software.
With Missive, any email address can be made a shared account. Here's how it works:
Select an email service provider
Enter the credentials for the email in question
Select to share this address
Choose how you want to share messages:
Team inbox: Shared inbox for collaboration and assignment between team members.
Inbox: Messages appear in Inbox. No assignment flow.
All incoming messages will be shared in the predefined mailbox.
How do I manage a shared inbox?
In Missive, we have a concept called Team Inbox. It is a shared inbox made for collaboration and assignment between team members. It is useful for teams who want a "triage" step that will clean up messages for all coworkers at once. It offers two roles:
Active members receive notifications for new messages. They see conversations listed in the Team Inboxes mailbox in addition to the team inbox.

Observers do not receive notifications and see conversations listed in the team inbox only. This is perfect for managers who want to monitor the work being done but don't want to be flooded with notifications.
By adding this layer of roles, you can easily manage a shared inbox right from the start.
This makes it easier to know who is working on what, it adds transparency and accountability to all employees.
Using Missive as a shared inbox tool
Missive is much more than a simple shared inbox medium, it's a team inbox and chat app that empowers teams to collaborate not only around email but other channels of communication like SMS, WhatsApp, Twitter, Messenger, and live chat.
Missive can be used in a variety of scenarios in all areas of a business.
In addition to the shared inbox experience, you will also get access to these great features:
Internal chat
Communicate with coworkers inside emails, this proves effective when you need help with a difficult question or need to verify some information. Simply @mention a colleague and start a conversation, all without leaving the email in question.
Live drafting
It lets you collaborate on crafting an email with one or multiple coworkers, live. This feature also enables everyone to see who's working on a particular case in real-time. So no more double replies to customer emails.
Tasks and assignments
Some issues cannot be resolved immediately, so you can create tasks or to-do lists inside emails to keep track of what needs to be done. These tasks can also be assigned to other coworkers. Collaboration at its finest.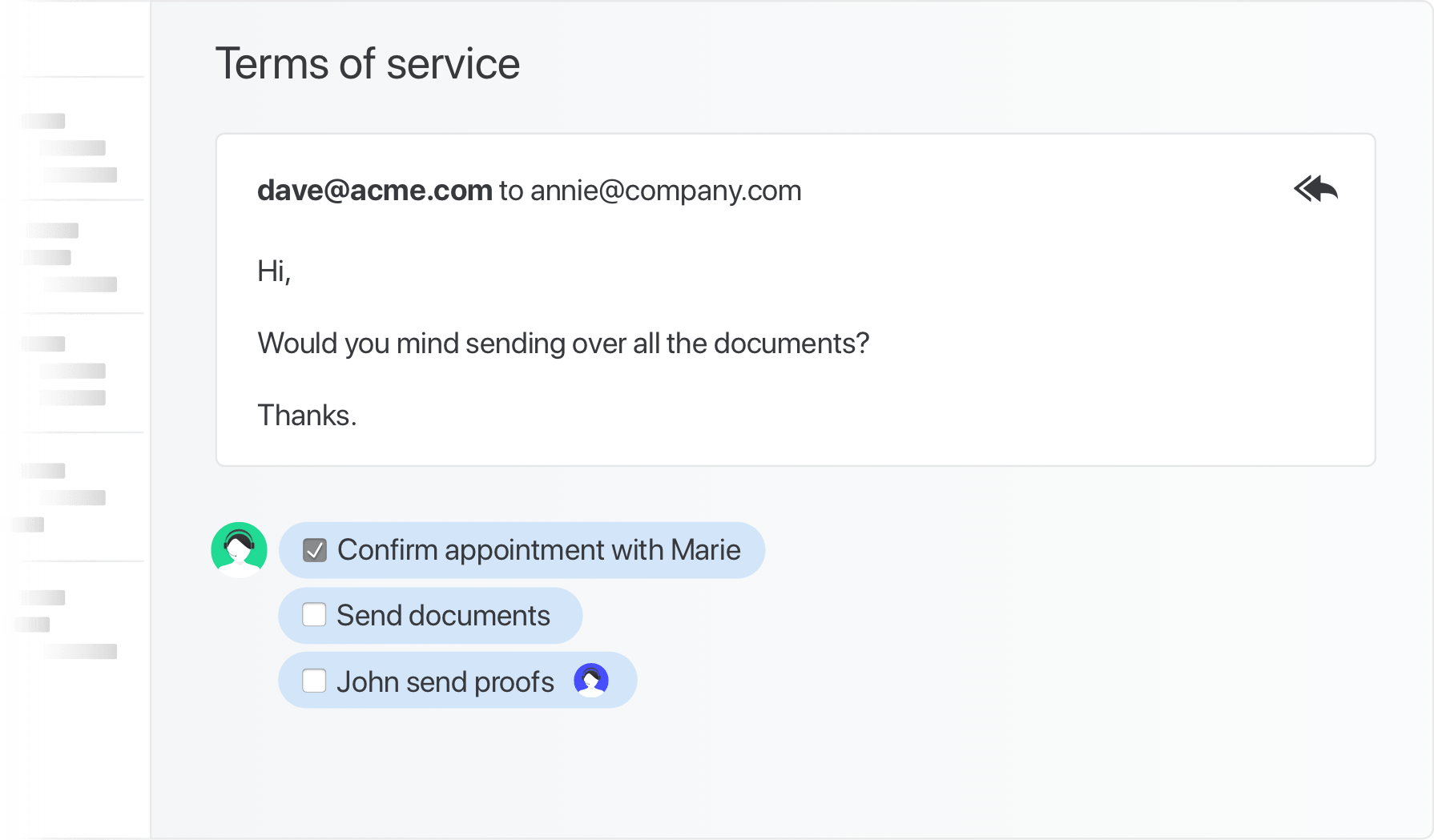 Shared calendars
With Missive Calendar, you can quickly reply and schedule meetings, video calls, get reminders about upcoming activities and more. As with all Missive features, Calendar was conceived with teamwork in mind. Sharing events or entire calendar accounts is easy!
Rules
With Missive, you can create sets of rules that automate actions; these can save time and spare support employees from doing repetitive tasks.
For example, all refund related emails can be automatically assigned to the Finance team or a specific employee.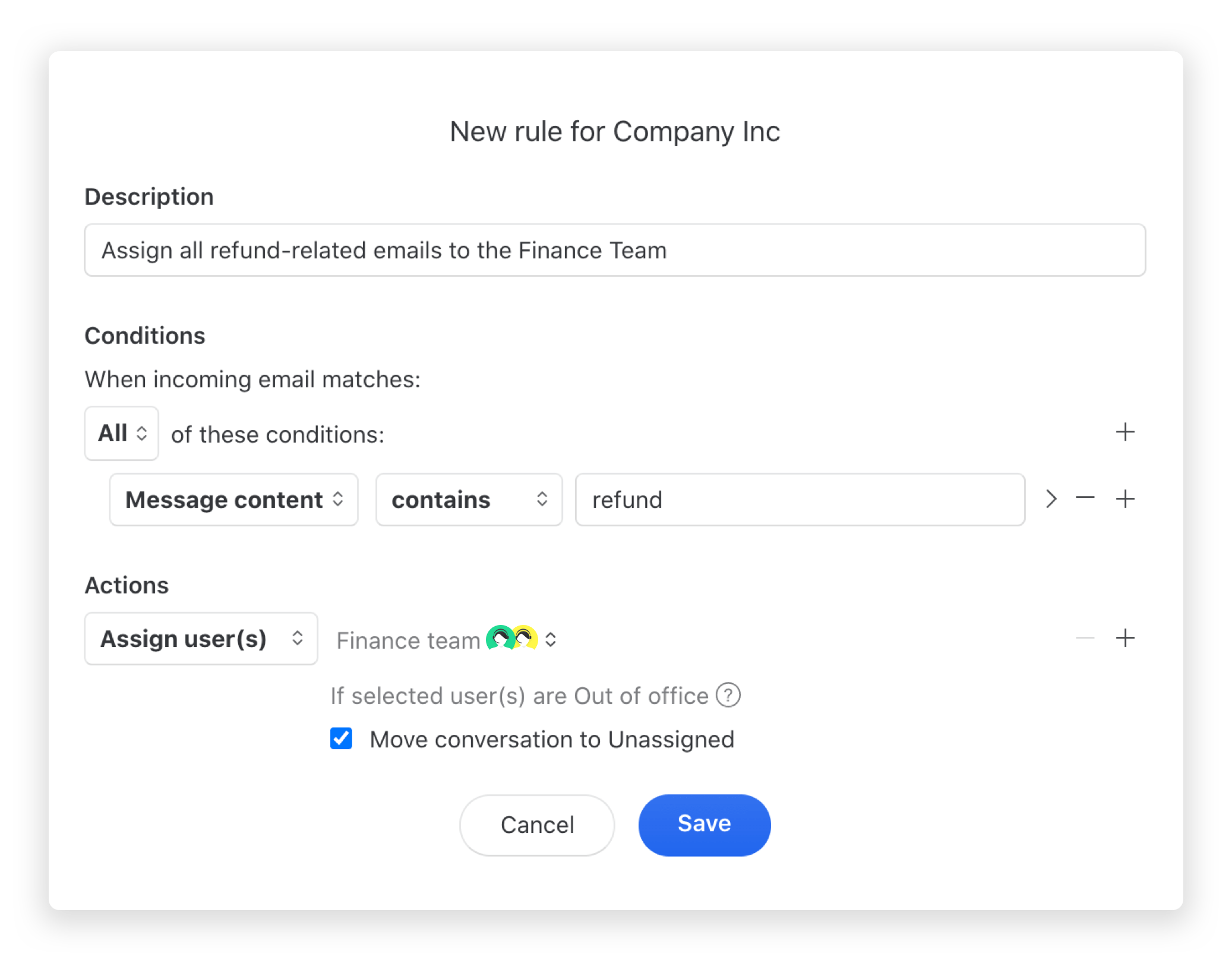 Canned responses
They will let you write and reply to emails faster with pre-written snippets. Responses are especially useful when you end up replying to the same questions over and over again.
Missive's team inbox features will help your team collaborate seamlessly and augment productivity.