Managing a Sales Team.
Your organization is growing, so is your sales team.

Isolated sales representatives working on their silos (emails) can be a massive waste of resources. Reps need to collaborate amongst them and other business units to increase productivity and hit sales targets.
Missive can help you with that; it brings a swift and collaborative email experience that will transform your sales process, and ultimately your business.
We will be covering the three most popular sales team structures and how you can set up Missive to achieve maximal efficiency in no time.
1. The Island.
It is the most basic structure. It encompasses a sales manager and two or more sales representatives underneath them.
👨‍💻
Sales Rep A
👩‍💻
Sales Rep B
👨‍💻
Sales Rep C
👩‍💻
Sales Rep D
👨‍💻
Sales Rep E
The reps do everything from getting, qualifying, and closing leads.
Let's say you have five sales reps under your management. In Missive, you can create Team Inboxes to monitor all work in one central interface.
A Team Inbox is a shared inbox made for collaboration and assignment between teammates. There can be Active members and Observers; the distinction is explained below.
Let's say you enable the Team Inbox flow for the five reps accounts repA@ repB@ repC@, etc.
The active member (the sales representative) can now see incoming messages in the Team Inbox on the left sidebar. Observers (you, Observer/Sales manager) won't get notified of new messages, but you can manage, monitor, and control the Team Inbox of each rep, individually.
In the event of getting a lead directly in your inbox, you can easily assign it to any of your reps.
In any case, you can always chat inside conversations; this might be to help a rep with a particular problem or discuss anything related to the lead.
This structure creates a very competitive environment among reps, and is simple to manage.
2. The Assembly Line
Just like an assembly line, the work and responsibilities are distributed among specialized teams, in the context of sales, the teams are:
Lead Generation. They create leads.
Sales Development Representatives. They qualify leads.
Account Executives. They close deals.
Customer Success. They keep customers happy.
👨‍💻👩‍💻
Lead Gen.
👩‍💻👨‍💻👩‍💻
Sales dev reps
👨‍💻👨‍💻👨‍💻👨‍💻
Account execs
👩‍💻👩‍💻
Cust. Success
Similar to The Island, the setup in Missive will be most efficient when using the Team Inbox flow.
In this structure, you can create four Team Inboxes, one for every specialized team. Inside each unit, you can add multiple Active members to engage with leads and customers actively, and you, the Observer/Sales manager, to oversee.
Passing the baton between teams is as simple as manually assigning a conversation to a different team.
Lead Generation
→
Sales Development Reps
→
Account Execs
→
Customer Success
Missive can also automatically assign messages to a team based on a variable. For example, all sales@ emails should be assigned to the sales development representatives (SDRs), no need for the lead generation team to engage with this, since this is already a prospect.
Similar to the first sales structure, both a manager and sales reps of the same team can chat inside emails, making the communication much more efficient than chatting in other apps, forwarding emails, or the like.
The Assembly Line structure makes the overall sales process more efficient; it also helps you cleary spot potential bottlenecks.
3. The Pod
This last structure is a mashup between the Island and the Assembly line. Each pod is a team composed of specialized salespeople: lead generators, sales development reps, account execs and support agents. Each pod is responsible for the entire sales process, from harvesting leads, closing them, and ensuring customer success.
👨‍💻👩‍💻👩‍💻👩‍💻
Pod A
👩‍💻👨‍💻👩‍💻👨‍💻
Pod B
👨‍💻👨‍💻👨‍💻👨‍💻
Pod C
👩‍💻👩‍💻👩‍💻👩‍💻
Pod D
In Missive, once again, the Team Inbox flow is the way to go. You can create one Team Inbox per pod and add specialized Active members to it. You, as an Observer, can inspect the work done from above.
Since Missive was conceived as a collaboration-first tool, each pod member can easily communicate with one another via the internal chat.
Passing the torch within the pod's sales journey is a simple as setting up shared pod-specific labels.
Or by merely assigning the conversation manually to another member, as we've seen before.
Inbound leads coming from marketing efforts in diverse channels such as phone calls, SMS, social media can be assigned to a pod or team member by a sales manager.
Pods do compete against other pods, but each one works as a unit, all members striving for the same result, unlike the Assembly Line teams or The Island reps.
Company-wide collaboration
With Missive you can collaborate with other business units, such as marketing, engineering, or accounting. This fosters a high degree of efficiency and transparency, where teams can work and communicate as a team, and not as independent entities.
As an example, let's suppose one sales rep doesn't know how to answer a very technical question regarding the product. They can simply @mention the Engineering Team and have an answer in seconds.
Need even more efficiency?
You can add a custom integration. With it, you will be able to bridge the gap between team inboxes and your business data. The integration will let you take over a part of the user interface with your business logic.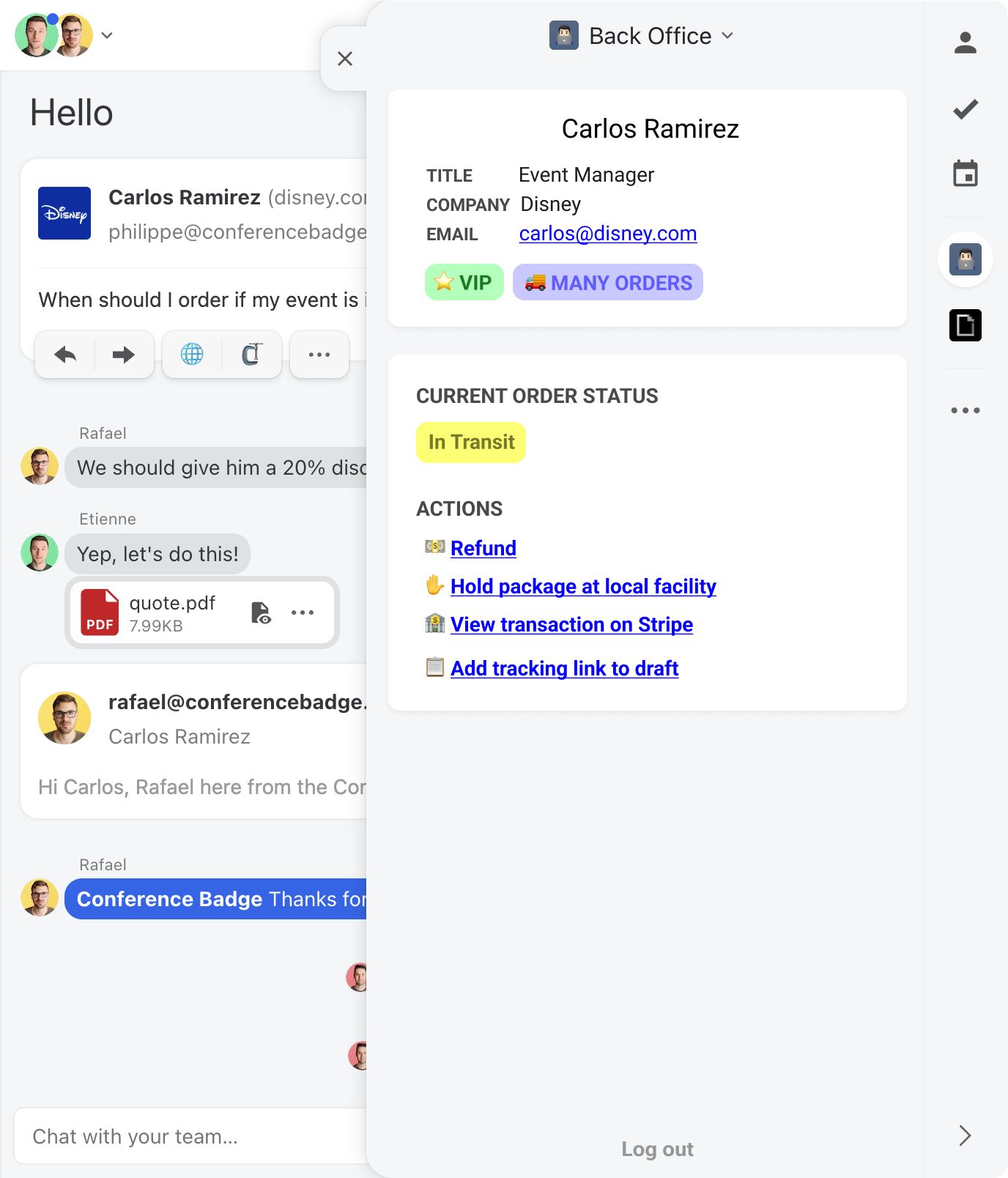 To create an integration, you only need simple and accessible web technologies: HTML, JavaScript, and CSS.
Like all our integrations, it will work on the mobile and desktop apps and web version of Missive.
Missive also offers a maintained integration with Pipedrive, which is a sales management tool designed to help small sales teams manage intricate or lengthy sales processes.
The integration will let you see your contacts, deals, activities, and notes right in the context of your inbox. You can also create and edit all of them from Missive. All your changes will be synced between the two apps.