Distribution List vs Shared Mailbox
Should I use (or still use) a distribution list or a shared mailbox? This question is quite common during the live demos we do to showcase Missive. And although some say that it depends on your business needs, I say most businesses should opt for a shared mailbox. Let me explain.
Let's start with understanding what they are and how they differ.
What is a Distribution List?
A distribution list (known as Google Groups in Google and Contact Groups in Outlook) is a method used to send emails to multiple people at the same time. It's great for sending out information, but not for collaborating seamlessly or coordinating a discussion.
Companies have been using distribution lists mostly as a hack. They want multiple people to receive emails sent to a particular email address, for example, a support team getting emails from info@company.com.
The original email is replicated and sent to all the members of the list. That doesn't sound bad. But what about replies? This is where it all goes south. You have no way of knowing who has answered which emails, or what they responded to. This leads to doubled responses, sending conflicting information, or simply not answering some messages at all.
This is where the second layer of hacking comes along. Businesses start developing intricate labeling systems to keep track of who's working on what.
During my demos, I've heard about these labeling chaos situations countless times. Those systems work at first, but you cannot scale much with them.
Simply put, distribution lists were not designed to be used in a collaborative or team setting.
What is a Shared Mailbox?
A shared mailbox is a mailbox that multiple team members can access simultaneously. Each member maintains a personal account, but they all can send and read messages from a particular email address.
For example, Amy (amy@acme.com) and Lucy (lucy@acme.com) can receive and send messages from the shared address help@acme.com. They can reply using their personal accounts or use the shared address.
Contrary to distribution lists, most shared mailboxes offer collaborative features. For example:
Ability to know who sent which email from a shared address
Ability to assign messages to specific team members
Ability to send canned responses or templates
A shared mailbox solves all the pain points presented by distribution lists.
You promote accountability in the team.
You stop sending conflicting information to customers.
You add a notch of professionalism to your business belt by not responding twice or, even worse, not responding at all.
So, distribution list or shared mailbox?
If your goal is to collaborate in a team setting, 10 out of 10 times go for the shared mailbox option. On the other hand, if your only goal is to broadcast information and you're not expecting replies, go for the distribution list.
And yes, you can find very affordable ways to create distribution lists, whereas shared mailbox solutions are a little more expensive. There's a reason for this; one was made with collaboration in mind, the other is mostly a message forwarder.
Which Shared Mailbox tool should I use?
As always, there's plenty of software solutions out there (google shared inbox). BUT if you're a small or medium business looking for a fair-priced, clean UI and robust solution. You should give Misive a try (don't just take my word)
Missive is much more than a simple shared inbox medium; it's a team inbox and chat app that empowers teams to collaborate not only around email but other channels of communication like SMS, WhatsApp, Twitter, Messenger, and live chat.
Missive can be used in various scenarios in all areas of a business.
In addition to the shared inbox experience, you will also get access to these great features:
Team Inboxes
Team inboxes are shared inboxes made for collaboration and assignment between team members. It is useful for teams who want a "triage" step that will clean up messages for all coworkers at once. It offers two roles:
Active members: receive notifications for new messages. They see conversations listed in the Team Inboxes mailbox in addition to the team inbox.
Observers: do not receive notifications and see conversations listed in the team inbox only. This is perfect for managers who want to monitor the work being done but don't want to be flooded with notifications.
Internal chat
Communicate with coworkers inside emails, this proves effective when you need help with a difficult question or need to verify some information. Simply @mention a colleague and start a conversation, all without leaving the email in question.
Live drafting
It lets you collaborate on crafting an email with one or multiple coworkers live. This feature also enables everyone to see who's working on a particular case in real-time. So no more double replies to customer emails.
Tasks and assignments
Some issues cannot be resolved immediately, so you can create tasks or to-do lists inside emails to keep track of what needs to be done. These tasks can also be assigned to other coworkers. Collaboration at its finest.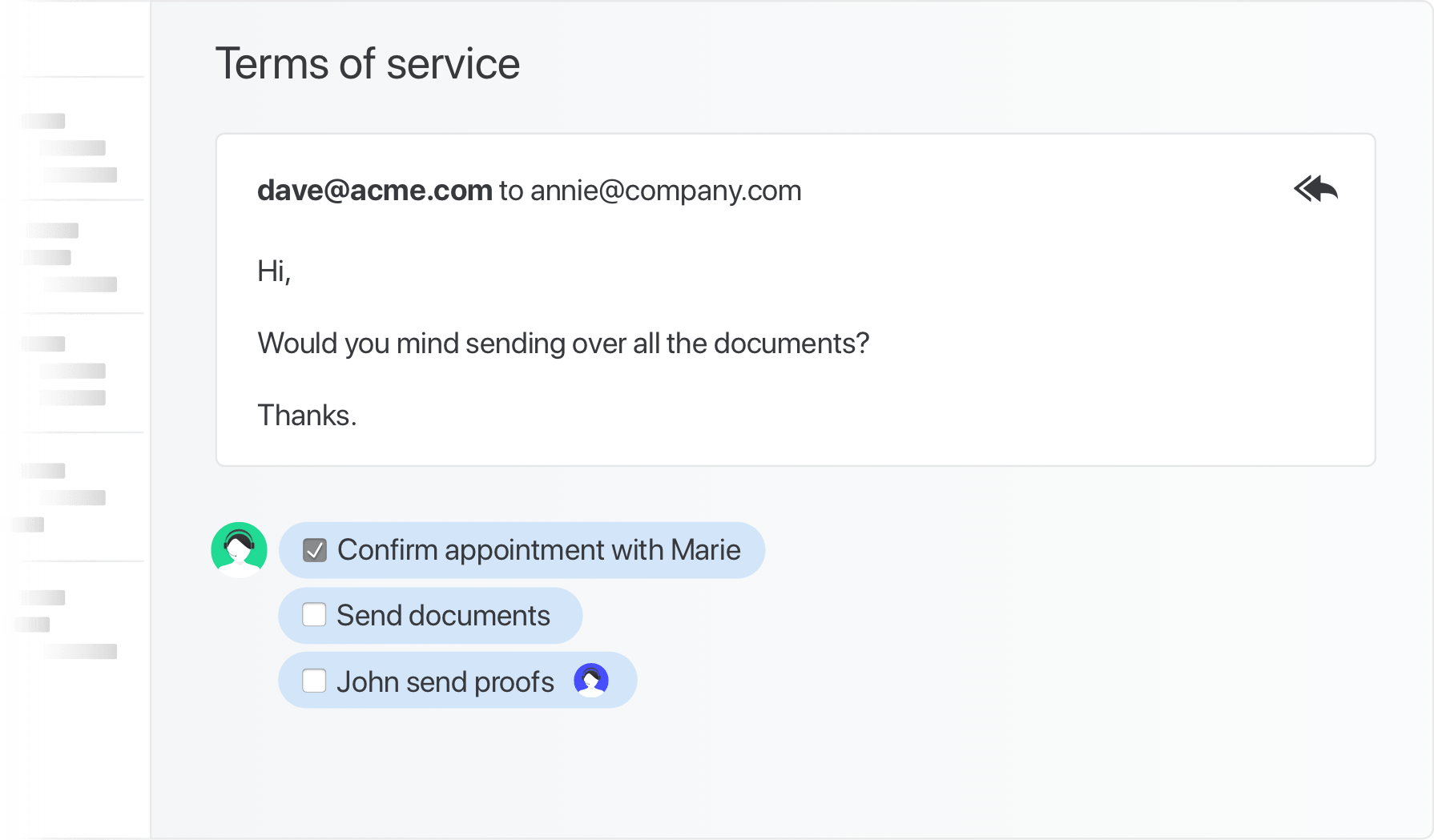 Shared calendars
With Missive Calendar, you can quickly reply and schedule meetings, video calls, get reminders about upcoming activities and more. As with all Missive features, Calendar was conceived with teamwork in mind. Sharing events or entire calendar accounts is easy!
Rules
With Missive, you can create rules that automate actions; these can save time and spare support employees from doing repetitive tasks.
For example, all refund-related emails can be automatically assigned to the Finance team or a specific employee or trigger service level agreement alerts.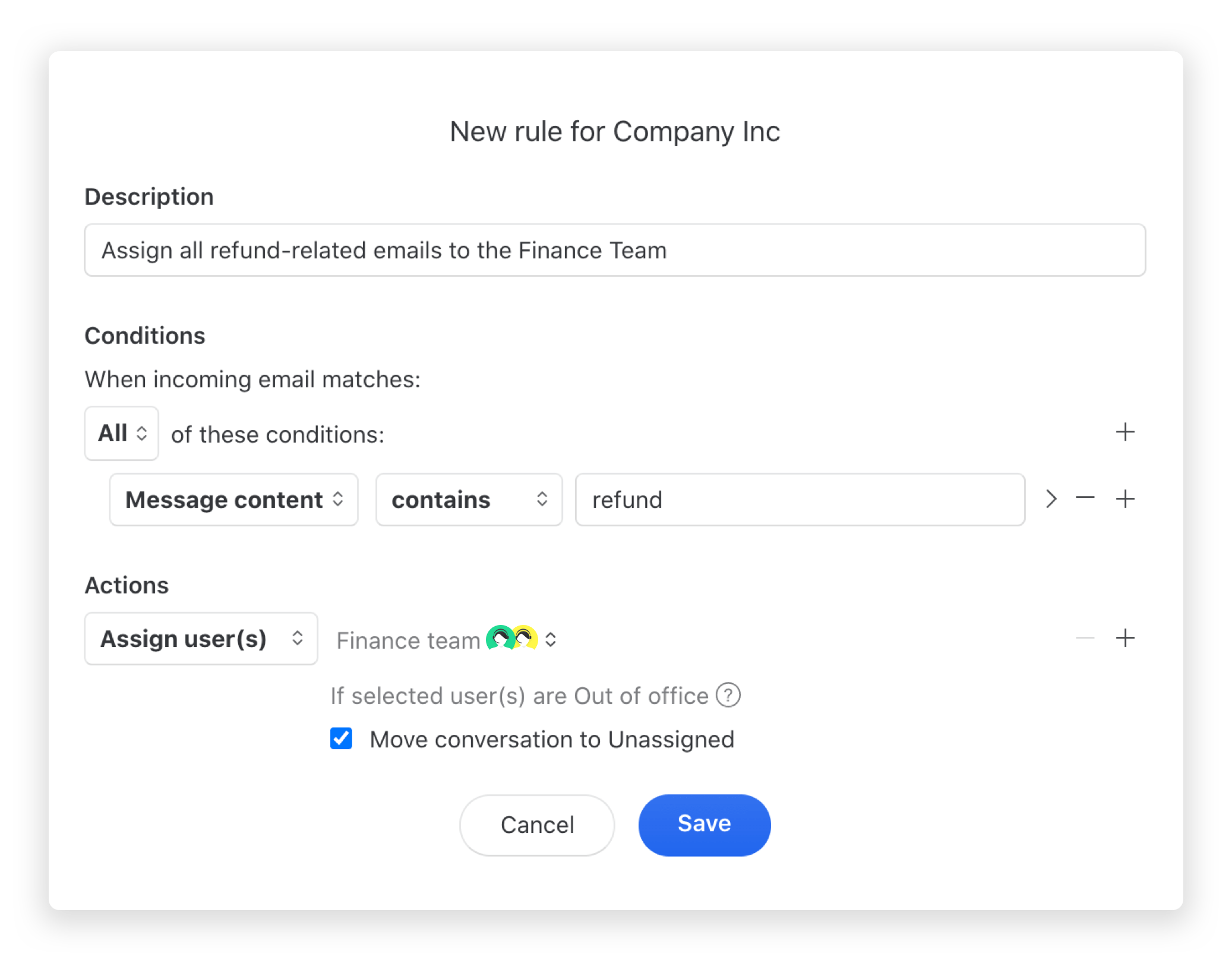 Canned responses
They will let you write and reply to emails faster with pre-written snippets. Responses are especially useful when you end up replying to the same questions over and over again.
Missive's shared mailbox features will help your team collaborate seamlessly and augment productivity.