What is Asana?
Project management from your email client? It's possible.
Asana is a project management tool that has exploded in popularity in the last few years. It can help people of all industries better manage projects using different visualizations, including Kanban-style boards, calendar view, Gant charts, etc.
Asana can also help your team reduce the number of meetings because it lets you clearly define task owners and allows a high-degree scoping. And although Asana can also reduce the number of emails you get, you simply can't get rid of them all. Email is by far the most used communications medium in the professional world. Customers, clients, prospects, employees, etc., they all use email.
Email is actually the simplest way to communicate externally with clients. There's no learning curve to beat or onboarding to account for. You simply send email.
So there should be a way to easily add tasks to projects in Asana directly from your email, right? Without the hassle of shifting between apps and trying to match tasks with specific conversations.
Thanks to Missive's integration with Asana, you can add tasks to workspaces and projects from your email client with just a couple of clicks.
Sounds good, but what is Missive?
Missive is a team inbox and chat tool that helps businesses stay on top of all their communication channels and projects in a single app. All while enabling collaboration between coworkers. Missive offers an integration with Asana that helps you bridge the gap between emails and project management!
The integration gives you access to all your projects, tags, custom fields, and teammates. You will be able to assign tasks to teammates and define due dates. Say goodbye to switching between apps to add tasks to your workspaces.
A customer sent an email with a change request to the project? Easy, click on New Task in Missive, and the whole team will see the new task and can begin to work immediately.
Do you need to discuss a task in real-time? No problem, you can do that too!
How do you set up Asana in Missive?
Step 1
Create a free Asana account.
Step 2
Open Missive and go to Settings > Integrations > Add integration > Asana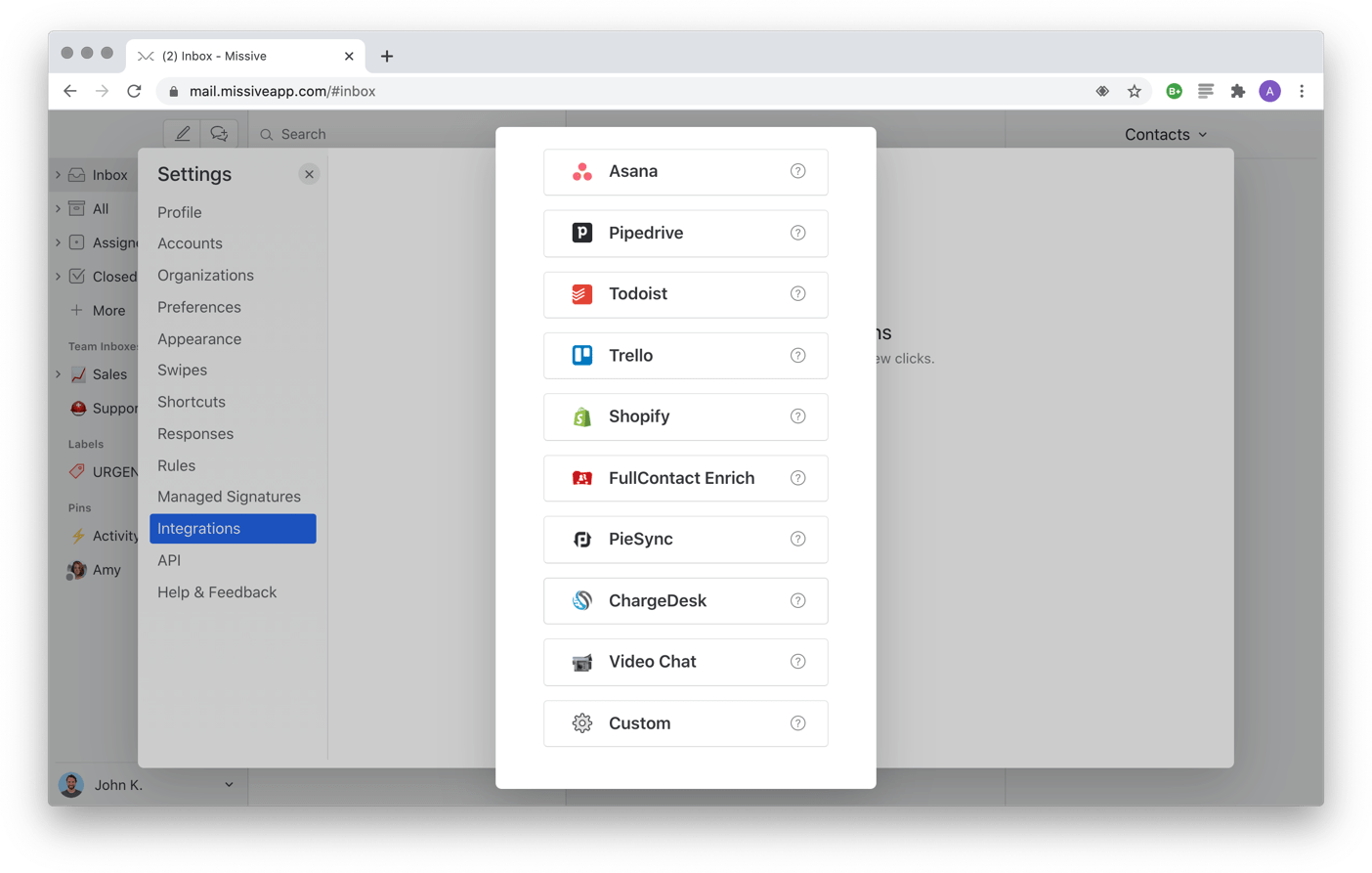 A pop-up will open that will ask for your Asana account and permission to access it.
Share the integration with your team if needed.
Step 3
You're ready to start creating and managing Asana tasks directly from Missive! Click on the New task button in the integrations panel.
Enter the task's information and click on Create:
Will changes reflect in Asana?
Yes! Everything you create or edit in Missive will be visible and available in app.asana.com in real-time.