How to Set Up Facebook Messenger for Business?
People prefer businesses they can communicate with through messaging.
Facebook Messenger is one of the biggest online messaging platforms in the world. It has over 2 billion monthly active users globally and is one of the most downloaded apps as well, with over 2 million monthly downloads.
For most companies, being able to connect with leads, customers or followers on social media is crucial, especially in omnipresent platforms like Facebook Messenger.
In this post we're going to explore how your business can harness the power of Facebook Messenger to connect to customers throughout the sales funnel.
The golden rule
Facebook says "We know people expect businesses to respond quickly, and businesses who respond to users' messages faster see better business outcomes." And they enforce this in a few ways.
The most important thing to remember when using this channel of communication is to respond fast.
There's actually a 24-hour response window, once passed you can no longer reply to the customer. You have to wait for them to contact you again or pay to send a Sponsored Message. This applies to third-party apps that connect Messenger.
Facebook also displays how fast you reply to messages. There's a coveted "very responsive to messages" badge, which people like because it is perceived as sign of attentiveness and superior customer support. We'll talk about how to get this badge a bit later in this post.
Setting up Facebook Messenger for Business
It's a simple process. You need to have a Facebook Page. To create a Page you need a personal Facebook account. Both are free, and most people already have a personal account.
Enabling Facebook Messenger in your Page
The option to receive messages privately is on by default. If for some reason it isn't, you need to visit your Page's General Settings and find Messages. Click on Edit and make sure the "Allow people to contact my page privately by showing the Message button" checkbox is selected.
Encourage customers to reach out to you
You can achieve this by letting people know you're open to receiving messages. You can:
Share your Messenger link: You can create a unique Messenger link for your page by adding m.me/ in front of your Page's username. Share your link anywhere, for instance: your website, app, flyer, SMS, etc.

You can find your Page's username below your Page's name. For example, our link is m.me/missiveapp.

Add Send Message button: This is an excellent way to drive people who visit your Page to get in touch with your company.

To add a Send Message button, click + Add a Button below your Page's cover photo.

Add Send Message Button to posts: Whenever you post something on Facebook, you can choose to add the message button.

Add Customer Chat plugin to your website: Facebook offers a webchat that can easily be installed in your site.

To enable it, go to Page Settings > Messaging > Add Messenger to your website. You can read more about it here.
Managing messages from Facebook Messenger
There are a couple of ways to do this. You can use the basic Page Inbox system Facebook offers or opt for a collaborative inbox tool like Missive, designed to manage customer inquiries by a team.
Messenger's Page Inbox
It's a good solution for low message volumes and businesses that use Messenger as their only communication channel.
It offers basic assigning features, labels and notes. But once your company starts growing, adding new team members and having people contacting you through email, SMS, etc, it's better to look for another solution to centralize comms and distribute the work among employees.
Missive: Collaborative team inbox tool
Missive is a team inbox and chat app that helps businesses stay on top of all their communication channels in a single app. All while enabling collaboration between coworkers.
In Missive you can reply to customer inquiries coming from emails, SMS, Messenger, WhatsApp in a centralized app.
One of the best features is the ability to collaborate inside messages. For example, if a customer sends a Facebook message, and you don't know how to respond, you can @mention another team and instantly give them access and ask for help.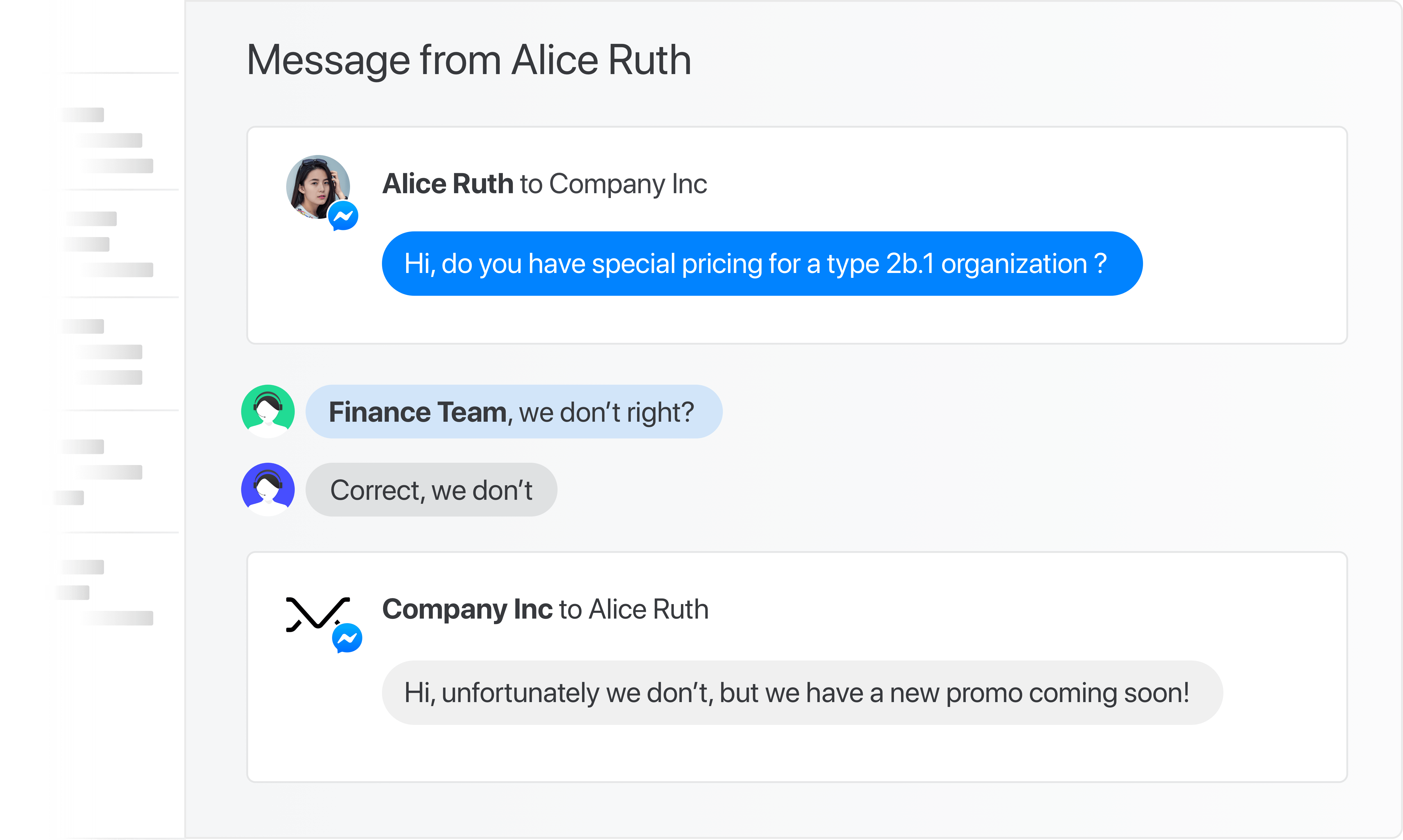 You can also create team inboxes and assign certain messages to specialized teams. Maybe a customer has a sales question. Then you can assign it to the Sales Team manually or through automated rules.
Teams can't go back to Facebook's Page Inbox system once they use Missive!
Adding Facebook Messenger to Missive
It will take you 5 minutes or less. Just follow these quick steps:
Go to Accounts > Add Account
Select Messenger Business
Login to Facebook as a user who manages the Page
Back on Missive, click the Facebook account you just added
Click Import on the Business Page(s) you want to manage in Missive
Share the account with the relevant team or people
That's it; you're ready to start replying to Messenger inquiries from Missive!
The importance of responsiveness
Timing matters, as I mentioned at the beginning of this post. People are always looking for quick results, they expect the businesses they message to respond fast and accurately.
Very Responsive to Messages badge
You can get the "Very responsive to messages" badge in your Facebook Page. This will let people know that you consistently respond quickly to messages.
People contact more Pages that have this badge.
The badge will show automatically when you have:
A response rate of 90% or more
A response time of less than 15 minutes.
Get your badge faster with Missive!
With Missive you can create alerts that trigger when a message has been sitting in your inbox for a determined period of time.
You can notify a team when a Facebook message is getting close to that 15 minutes window.
Here's how to do that:
Go to Rules > Create a rule > Incoming messages > Messenger
Automated responses
Using the rules feature, you can create a whole array of impressive automated flows to win the Messenger game. Here are a few ideas:
Greet your customers instantly after they contact you
Auto-send support responses based on keywords
Auto-assign refund inquiries to your accountant
Send an out-of-office message during off-hours
Auto-label urgent messages
You can explore more ideas here.
If you think Missive could be a good fit to your business, don't hesitate to contact us with questions and be sure to check out all our amazing features!