How to Use WhatsApp for Customer Support?
UpdateWe now support Message Templates to send messages outside of the allowed 24 hours window. Learn how to use them in this guide.
Go where your customers are. By adapting to your customers' preferred channels of communication you reduce the first point of friction they might encounter while trying to reach you.
With over 2 billion active users, WhatsApp is the biggest messaging app in the world. With a userbase of this magnitude, it's likely that some of your customers use WhatsApp on a daily basis. This channel of support is particularly effective when targeting a mobile-first audience.
People have been using WhatsApp to communicate with customers for years. The problem was scalability. You could only link one phone number to one device. For companies receiving dozens or hundreds of customer requests per day, implementing WhatsApp was impossible.
If your small business customer service only receive a few requests per day, and you have no dedicated team to handle support, then using WhatsApp Web will most likely be good enough.
Otherwise, a WhatsApp shared inbox is probably the way to go. Missive lets you connect a phone number to a team inbox where multiple people can answer queries from numerous customers at the same time, from any device and from a single phone number.
Not only that, but you can also:
Assign messages to specialized teams or coworkers
Nowadays, around 40% of all purchases online are made on mobile devices. Let's suppose you have an eCommerce store, and a customer has a problem with their order, so they contact you using their phone.
In Missive, the message can arrive at a Team Inbox. From there, you or any coworker can assign themselves to the case and follow up promptly.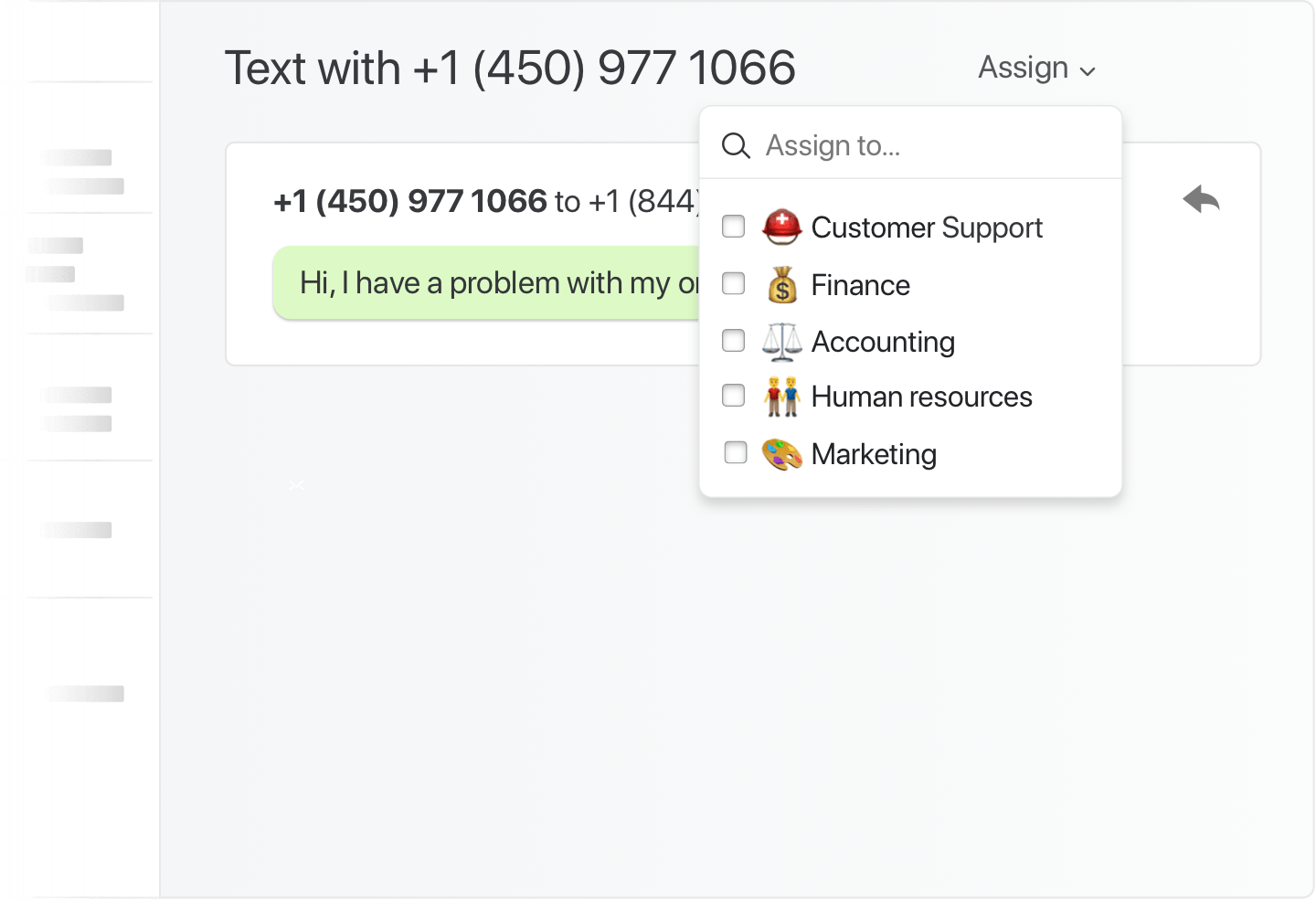 Maybe something goes wrong, and the customer asks for a refund, but you don't have the clearance to handle reimbursements, then you simply assign the case to a colleague in the finance department.
All is done quietly, behind the scenes. The customer never knows she's been transferred, and she gets the refund done quickly and smoothly.
Chat with colleagues inside a customer's conversation
Let's suppose you're onboarding a new coworker, and they are starting to take cases on their own gradually. They will inevitably have questions for some situations that come out of the norm.
Instead of them having to tap you on the shoulder, copy/paste the customer's inquiry on Slack, or any other way, they can @mention you inside the WhatsApp message and ask for help.
Once again, the customer gets a seamless support experience, and you don't lose time switching apps or moving around the office.
Use canned responses to reply to common questions faster
It is inevitable. In any business, there are always some questions that come through every day, multiple times per day. Even if all the information is on the website, and you have multiple FAQs about it.
Going back to the eCommerce scenario, people often ask about turnaround times or delivery dates. In cases like this, you may want to create a canned response with all details regarding shipping and turnaround times.
Whenever someone asks about their delivery date, just insert the response and continue working on something else within seconds.
Pro tipUse the shortcut: Shift + Command + O to quickly open the responses popup
Create automated rules to relieve employees from repetitive tasks
Missive rules are potent sets of conditions that can be applied to incoming and outgoing messages, and also to specific actions.
For example, all incoming WhatsApp messages that contain the word "urgent" can be automatically labeled with a red label and assigned to a specific team member.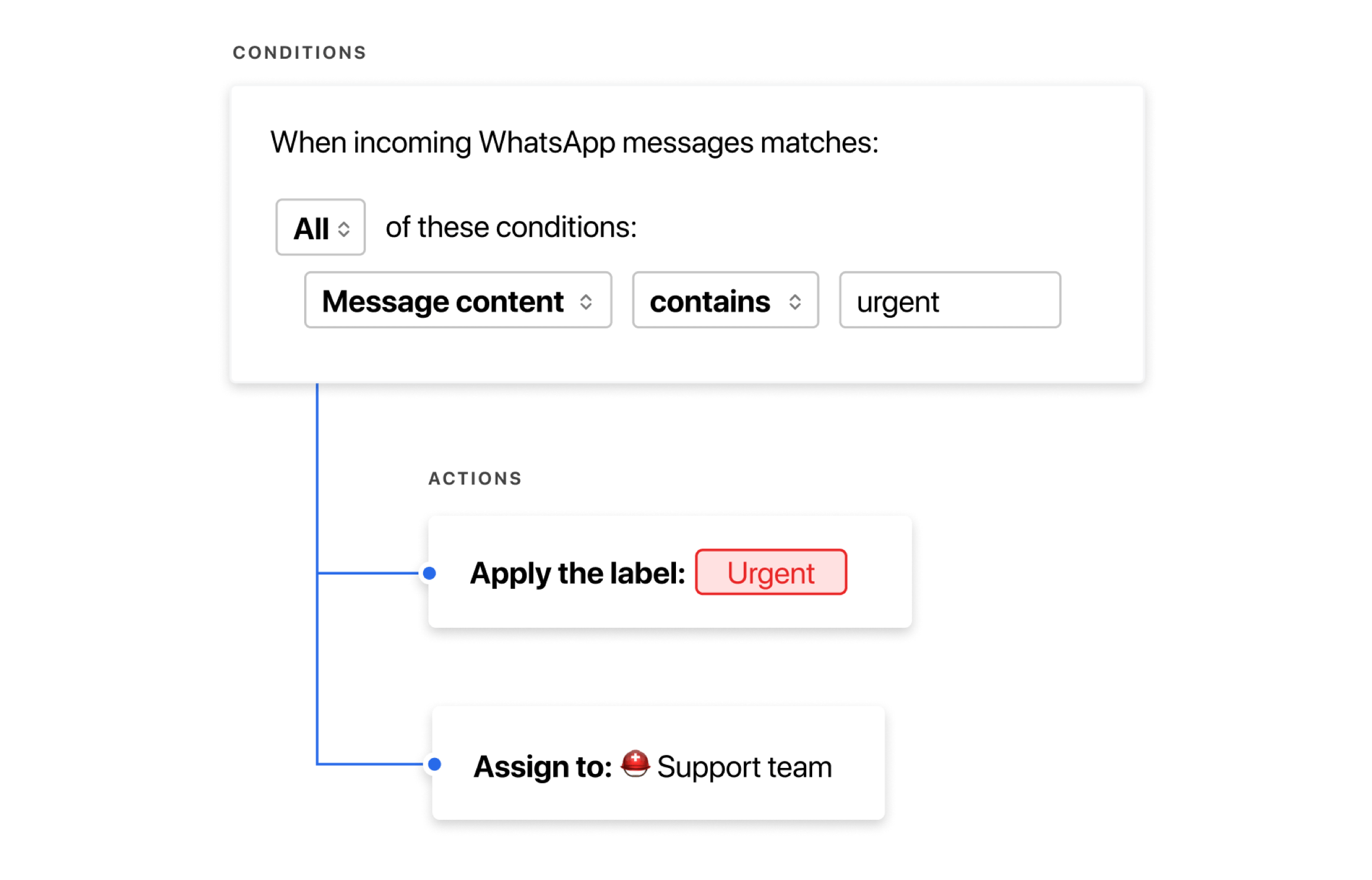 An additional rule can also be made so that if a message remains unanswered for an hour, an alert is sent to a manager.
This is a great way to keep the right level of service in the company.
Go where your customers are
Centralize all your communication channels into a single app.
Missive not only lets you collaborate around WhatsApp messages, but you can also tap into other channels, including email, Facebook Messenger, Instagram, SMS, and website live chat. All in a single interface.
Follow this step-by-step guide to set up Whatsapp with Missive.