What is Pipedrive?
Managing leads and deals from an Excel sheet might work for a short period of time, but it's mostly a hack. What your company needs, no matter the size, is a CRM.
A CRM is a Customer Relationship Management tool, usually in the form of an app that allows companies to properly manage interactions with potential and current customers. Companies of all sizes, including small ones, benefit from integrating a CRM into their tool stack.
Options abound online. But we believe Pipedrive is one of the best out there. It's not just a CRM, it helps you, among other things:
Manage leads and deals
Track communications
Automate tasks
Generate insights and reports
How to manage leads and deals from my inbox?
In one word: Missive.
Missive is a team inbox and chat app that helps businesses stay on top of all their communication channels and projects in a single app. All while enabling collaboration between coworkers. Missive offers a Pipedrive integration that helps you bridge the gap between emails and your sales funnel!
Missive offers a great integration with Pipedrive that lets you see your contacts, deals, activities and notes right in the context of your Inbox! You can also create and edit them directly from Missive.
The integration will also let you quickly send received emails to your Pipedrive account with the Forward to Pipedrive action available on each email.
Do you need to discuss a deal in real-time? No problem, you can do that too using the chat feature in Missive!
How do you set up Pipedrive in Missive?
Step 1
Create a free Pipedrive account.
They offer multiple sign up options, like Gmail or LinkedIn sign in for example, or you can do it with an email and password.
Step 2
Open Missive and go to Settings > Integrations > Add integration > Pipedrive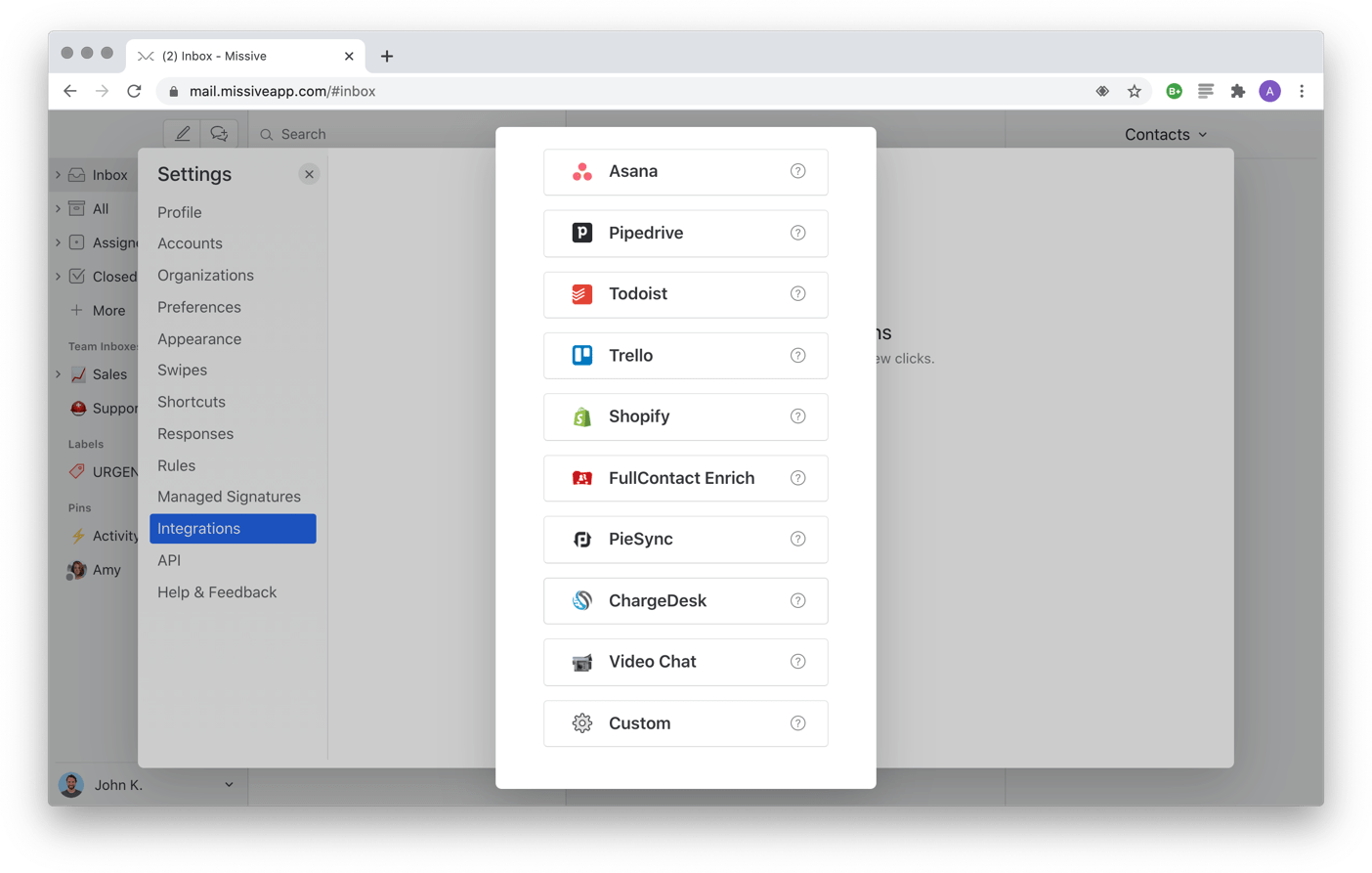 A pop-up will open that will ask for your Pipedrive account and permission to access it.
Share the integration with your team if needed.
Step 3
You're ready to start adding contacts, deals, activities and notes from Missive!
Will changes reflect in Pipedrive?
Absolutely! Everything you create or edit in Missive will be visible and available in pipedrive.com in real-time.