What is Trello?
Sometimes a to-do list is not enough to accomplish your objectives.
More often than not, you need a more structured approach. This is where tools like Trello are of great help. Trello is a web-based app that lets you create cards with lists in a Kanban-style to manage projects.
Kanban is a method of organizing work. It's a visualization format in which cards (digital or not) are spread over a board. Each card contains a task or action. Cards are distributed in different lists in categories of progress: To-do, doing, and done. Boards can be customized to hold different degrees of progress granularization.
Trello uses the kanban lean methodology to help people plan and execute projects of all sorts via their application. Trello boards are very popular. Some companies, organizations and communities leave them public for everyone to watch, like the super popular videogame Project JoJo Trello or this company's roadmap.
Nice! You said something about managing Trello from my email?
Short story long, yes, you can with Missive.
Missive is a team inbox and chat app that helps businesses stay on top of all their communication channels and projects in a single app. All while enabling collaboration between coworkers. Missive offers a Trello integration that helps you bridge the gap between emails and projects!
The integration gives you access to all your boards, lists, labels, cards, and teammates. You will be able to add cards, apply labels, move cards to lists, add teammates, and define due dates. Say good buy to switching between apps to add tasks to your project.
A customer sent an email with a change request to the project? Easy, click on New Card on Missive, and the whole team will see the new task and begin to work immediately.
Do you need to discuss a card in real-time? No problem, you can do that too!
How do you set up Trello in Missive?
Step 1
Create a free Trello account.
They offer multiple sign up options, like Gmail sign in for example, or you can do it with an email and password. Once that's done, you will need to create your first project or board, then add a few cards and you're done!
Step 2
Open Missive and go to Settings > Integrations > Add integration > Trello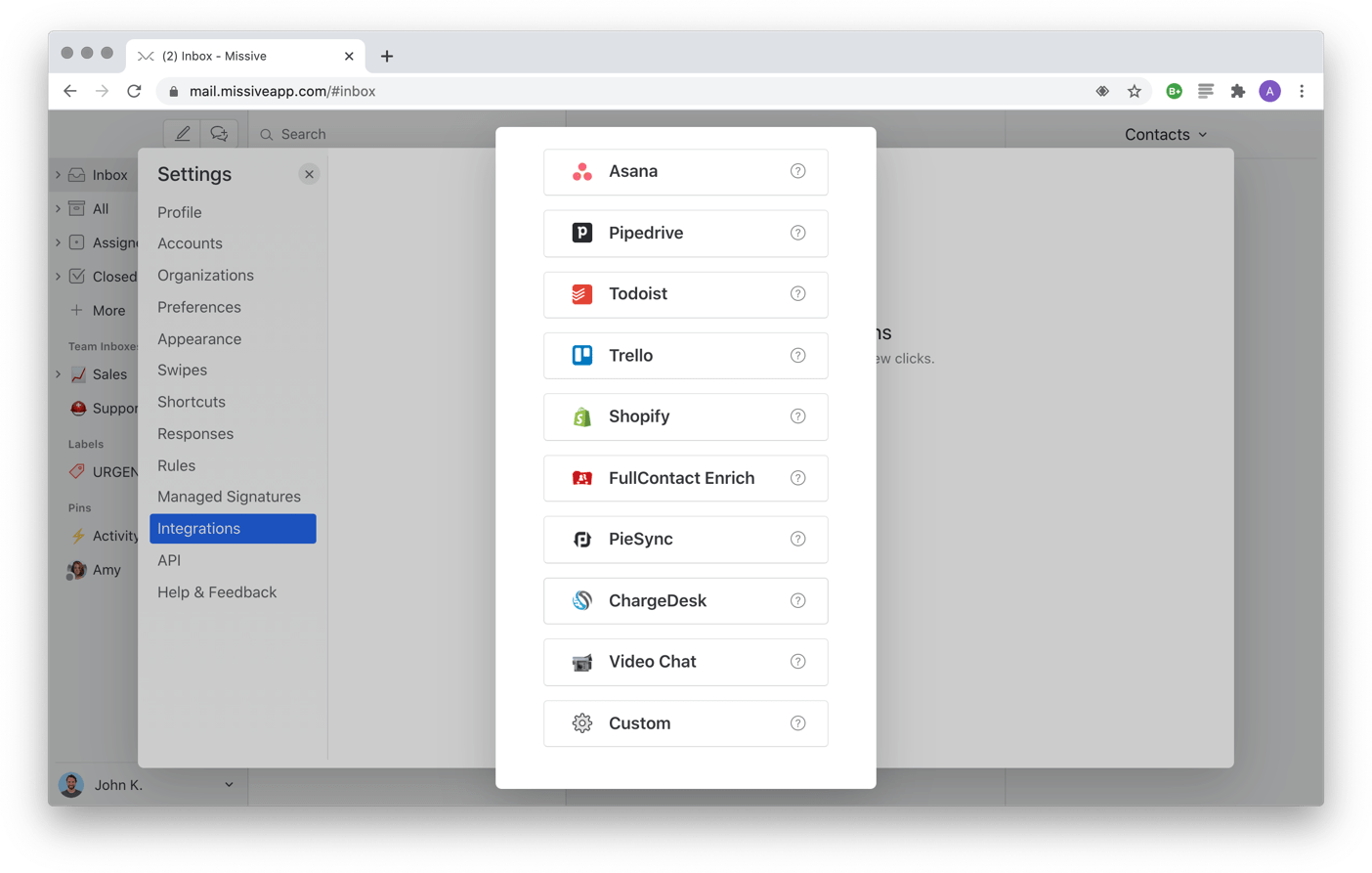 A pop-up will open that will ask for your Trello account and permission to access it.
Share the integration with your team if needed.
Step 3
You're ready to start creating and managing cards from Missive! Click on the "New Card" button in the integrations panel.
Enter the card's information and click on Create:
Will changes reflect in Trello?
Yes! Everything you create or edit in Missive will be visible and available in trello.com in real-time.