ClickUp Email vs. Missive
Since the 90s, "business communication" and "email" have been nearly synonymous. Email is where communication happens, whether it's emailing a client request, ticketing for IT support, or onboarding a new employee.
Yet, if we're being honest, most of us still think our email inbox is where productivity goes to die. There has to be a better way, doesn't there?
Enter: Missive and ClickUp's Email ClickApp.
These platforms allow you to take your inbox from a "me" space to a "we" space. And, yes, both of these tools will allow you to explore their email features for the unbeatable price of free.
Yet, if we look under the surface and examine the features and missions of each of these companies, they couldn't be more different. On the one hand, Missive is a full-featured email client with multi-channel integrations. On the other hand, ClickUp is a work management platform that can send and receive emails, sort of.
So, if we were to compare Missive vs. ClickUp Email, which is better?
As a ClickUp expert and a Missive power user, I want to take you through the day-to-day features that will matter most for your email productivity so you can decide for yourself.
Email Organization & Delegation
Tasks vs. Conversations
It is essential to understand how differently emails are organized in ClickUp Email vs. Missive to start our journey.
Conversations are the core of Missive's user interface. Scrolling along your left sidebar will feel instantly familiar for anyone who's used Outlook or Gmail in the past, making the Missive learning curve effortless.
Of course, Missive has more superpowers than your average email client – but we'll talk about that later.
Meanwhile, Tasks are at the center of ClickUp's email feature. ClickUp users go directly inside a Task's Activity panel to compose an email. If your email receives a reply, you'll see it alongside other updates inside ClickUp Notifications.
However, if no one replies to your ClickUp email, you'll have to search back through all your ClickUp Tasks to find the email you sent. (Speaking from experience here – it's not a pleasant process.)
Oh! And just as a reminder before we dive deeper: We're talking today about ClickUp's email from ClickUp feature, also called the Email ClickApp, where you can send emails to and from ClickUp. This ClickApp is distinct from ClickUp's one-way email to ClickUp feature, which only turns emails into one-off Tasks.
Creating Categories to Organize Emails
Have you ever been in your inbox and thought, "Oh! I've answered this type of request before, haven't I?"...and then found yourself scrambling through your Sent emails to find that precious example you forgot to save? If so, you know precisely why inbox organization can make or break email productivity.
Missive helps you organize your inbox through Labels, Team Inboxes, and My Inbox.
Labels are like tags you can apply to any conversation to file them away for safekeeping. For example, when the snazzy folks over at Missive invited me to write this post, I added the Label "Potential Sponsorship/Collab" to the email so we could easily find this conversation later!
Team Inbox(es) sort all conversations into a virtual "pile" for relevant team members. For example, we have an inbox for Customer Experience (CX) where we'll automatically put all of our customer requests.

When an email is manually or automatically placed in this Inbox, the whole Customer Experience team can see the communication and get to work. Every department can see communication relevant to them without anyone forwarding emails back and forth!
Finally, My Inbox allows you to manage all conversations that you personally need to take action on.
ClickUp's email feature, in contrast, doesn't have its own organizational structure. There is no centralized email inbox in ClickUp (although they're considering it). The Task you send the email from is where your ClickUp-originated email will always live.
ClickUp's task-based structure makes it impossible to see an overview of all emails.
Merging Emails & Conversations
Last month, we received an email from a client and that client's assistant regarding the same request: updating a password. Two separate emails hit our inbox within an hour.
If we were emailing in ClickUp, we would have been stuck! In ClickUp, email conversations (and their replies) cannot be moved, merged, labeled, or reorganized. They're stuck exactly where they were first sent (or received).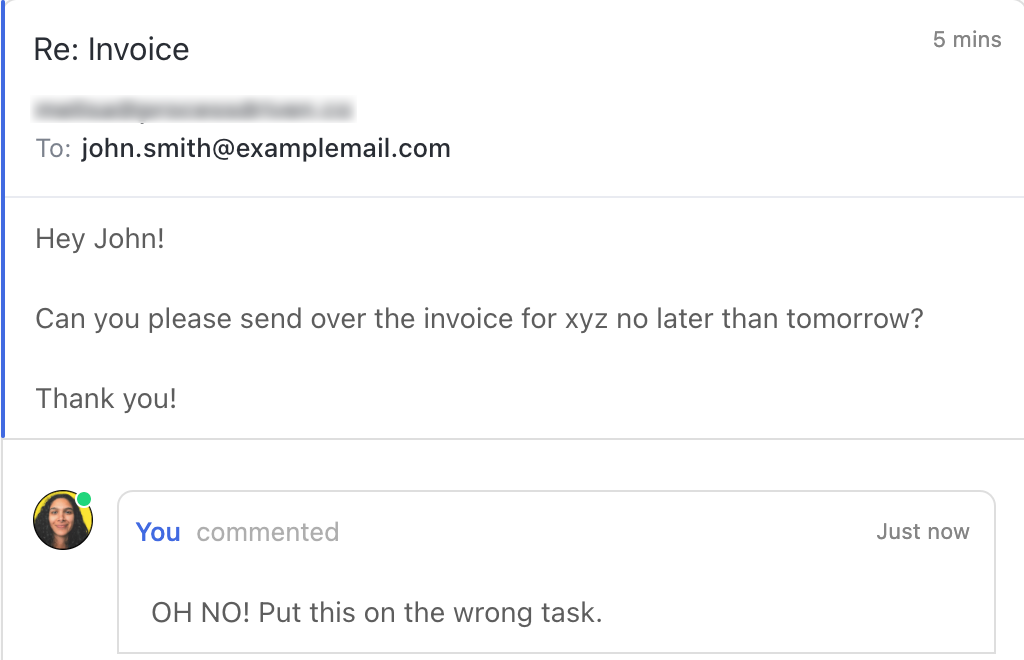 In Missive, we could easily select both emails and click "Merge Conversations." Magically, the two emails became one Conversation that could be tackled by one Customer Support rep comprehensively.
If your inbox gets as messy as ours does, you'll probably find the ability to Merge Conversations to be one point for Missive!
Separating Tasks from Emails
Emails often include a mix of information and Tasks. Productive teams know the value in breaking this information apart so no action item is forgotten.
In Missive, you can create a Task inside any Conversation (manually or automatically through a Rule) by selecting the Task icon when commenting. Tasks create little checkboxes inside a Conversation that you can easily assign to one or multiple people.
In ClickUp… well, Tasks are their specialty!
To create Tasks from emails in ClickUp, you'd select "Assign" on any message. This creates an Assigned Comment.
ClickUp Assigned Comments also include more formatting and a Remind Me feature. Because they're integrated directly into your regular Task List, it's a great way to ensure no Task is left behind!
Templating Your Emails
Creating Templates of Emails
Email templates are invaluable tools for inbox efficiency. Luckily, both ClickUp and Missive include email template features.
In ClickUp, Email Templates are housed within the "magic wand" icon inside any email composition area as long as you're on ClickUp's Business Plan or higher.
Once inside, ClickUp greets you with a robust lineup of formatting options including headers, banners, and embedded content.
In Missive, email templates are called Responses. (I suspect this, in part, is because Missive can handle far more than just emails – more on this later!) Managing Missive's Responses happens inside the Settings menu.
Once open, you can create a new template as effortlessly as writing any standard email, including text formatting and adding images. The whole experience is slick and included on Missive's free plan.
The only downside to both of these tools is that neither software allows you to create templated messages written in HTML (yet).
Add Dynamic Variables to Emails
No one likes templated emails that feel like templates. That's where dynamic variables come in. Dynamic variables allow you to personalize parts of a message based on sender or recipient data.
For example, if we had a dynamic variable for "Recipient's First Name," instead of an email saying, "Hi [first name]!" it might say, "Hi Layla!"
If we didn't know the recipient's name, we might have a fallback value of "there" so, if we didn't know a first name, we'd say "Hi there!" to cover all our bases.
In ClickUp, dynamic variables are only available for emails sent via a ClickUp Automation. (You cannot set any dynamic variables in standard ClickUp email templates.)
When triggered, ClickUp Automations will pull data from the Trigger Task and use that to send an email automatically.
To work, every Task sending emails must have data filled in through all relevant Custom Fields of a specific data type. Usually, this requires a lot of data entry, but it's crucial.
ClickUp's email variables do not allow for fallback variables, so if any Fields are blank when the automation is triggered…your email might look a little bizarre!

In the example screenshot above, we forgot to fill out the Due Date so our sentence reads "Please complete the example task by ." instead of "Please complete the example task by January 1, 2025." Oops!
Missive takes a much more flexible approach to dynamic variables. Variables in Missive are available for both automated and manual emails.
When creating a new Custom Variable, creators can decide whether to populate this data automatically or manually. Even though Missive variables cannot yet be formatted (all Missive variables are currently strings), these options provide ample space to explain the meaning behind each variable.
Variables, in my opinion, are one of Missives most underrated features.
Editing & Updating Email Templates
Okay, so we've built some stellar email templates. How do we keep them all up-to-date? This is where a solid email template management center can make all the difference.
Editing Responses in Missive is straightforward. When you select Insert Response (or are just browsing Responses), locate the Response's ellipses menu and select Edit. You can alter anything about the Response in seconds. Your edits are immediately saved, and your template just got that much better!
ClickUp's email templates, as we've alluded to before, are a bit trickier to manage. Email templates are not part of ClickUp's template center and, instead, can only be found by selecting the "magic wand" icon that appears near any email composition area.
Once inside this manager, you can select the pencil to edit any template. Just don't forget to click Save!
Consistently Branding Email Signatures
First impressions matter, and that's true for email, too. Both Missive and ClickUp's Email ClickApp spoil us with the ability to create on-brand email signatures for all users by utilizing either text or HTML formatting.
In Missive, we can define our signatures per email address or set an Organization-wide Managed Signature for our team.
Like Responses, our Missive signatures can also include dynamic variables, such as automatically pulling in the user's profile image.
The ability to set signatures for the entire Organization makes it effortless for new team members to start with the right look – making employee onboarding that much easier!
In ClickUp, we can also set up Signatures and insert them either automatically or per email, as long as you're on the Business plan or higher. Like email templates, ClickUp doesn't include this feature on Free or Unlimited plans.
Unlike Missive, ClickUp doesn't allow for a Workspace-wide signature setting. Users must customize signatures for each email address used.
Automating & Delegating Your Email Inbox
Send Emails Automatically
Templating email is nice but automating email sounds better, doesn't it? Fortunately for us, both Missive and ClickUp's email ClickApp include email automation!
ClickUp automates emails through Tasks. To automatically send an email, the action must be triggered by behavior that is an eligible ClickUp automation trigger.
The most popular triggers include:
When Task is Created…
When Due Date Arrives…
When Custom Field Changes…
ClickUp automations will send an email once conditions are satisfied only once a trigger event happens – either automatically or manually. For this reason, ClickUp's email automation tends to work best in structured workflows that are very task-centric and don't have a lot of variation.
Missive, as a platform dedicated primarily to email-based features, has built considerably more power into their automation options!
Missive emails can be sent automatically by defining Rules (only available on Missive's Productive plan or higher). When all (or any) of the Rule Conditions are met, the automated actions defined on the rule are triggered.
My favorite triggers are:
If it's after 5PM on a weekday…
If a Conversation has been Closed…
If a Conversation has been sitting unanswered for 24 hours…
But really, this is just the basics. You can create complex conditions by nesting them in sub-groups, and so far, I haven't run into any scenario I've been unable to build into a Rule.
Oh! And I should mention that Missive also allows you to manually schedule emails to be sent at a later time if you want automation with a personal touch.
Assigning Emails
So far, we've talked a lot about the benefits of having a collaborative inbox system. Now for a reality check… if an email is just sitting in a team inbox, everyone is responsible for it, right? Wrong. When everyone is responsible, no one is.
Whether we're managing emails or bringing utensils to the company holiday party, it's crucial to clarify who's in charge of what.
In Missive, Assigning is at the heart of email delegation. You can manually assign emails to coworkers or Teams by selecting name(s) in the drop-down menu.
If you prefer a more automated approach, you can also have Missive automatically assign emails based on capacity by enabling Round-Robin assignment or by customizing those handy Rules we mentioned earlier.
In ClickUp, emails are treated just like any other Task Activity. You can assign an email to an individual by hovering over a received email and selecting the Assign option.
There's no way to assign emails inside ClickUp automatically. It's a manual process… so project managers beware!
Alias Email Addresses
Of course, it's a lot easier to delegate and assign emails if the recipient expects that. If an email was sent to alex@, but we reply to emails from the email address melisa@… that'd be pretty weird for the recipient, wouldn't it?
That's why alias email address support should be a deciding factor when selecting your email management software.
Common alias email addresses include:
support@
hello@
info@
billing@
These "general" emails can redirect emails to one or many recipients at the same domain. It sets the expectation that it's being shared with a department or team and not necessarily with just one individual. Typically, email aliases can be created for free. They do not require you to set up (and pay for!) another email account with your email provider.
In Missive, you can connect any email alias directly to Missive and even allow others to send or receive emails from that alias.
ClickUp, on the other hand, doesn't allow you to connect alias email addresses to ClickUp at all. You can only integrate and share access to IMAP, Google, or Outlook email accounts. Plus, you're limited to only two email accounts per ClickUp Workspace if you're on a Business plan or higher. At the time of writing, each additional account will add the cost of $2 USD per account per month. Yikes!
Other Productivity-Boosting Features to Watch
Email Tracking & Reporting
Does your email communication improve conversions or increase customer satisfaction? To know, we need to pay attention to our data.
At its core, ClickUp remains a task management system. That's where they started and that's still their zone of genius. Reporting on email interaction is not yet possible through any of ClickUp's reporting-centric Dashboard Widgets.
Missive comes with integrated analytics and comprehensive reporting features.
Communicating Beyond Emails
Although email remains the number one way to communicate in business, it's hard to ignore how influential channels like Instagram DMs, Facebook Messenger, and WhatsApp can be!
With ClickUp, communication is limited to three formats:
Email
ClickUp Comments (only for users with access to your ClickUp Workspace)
ClickUp Forms (allowing users to submit data for one-way communication)
ClickUp does not integrate with any popular communication platforms. This makes sense considering ClickUp isn't, at its core, designed for external communication – it's focused primarily on internal communication.
Meanwhile, Missive has built out a robust suite of integrations so you can seamlessly connect with others across:
Email
Missive Comments (with other Users in your Missive Organization)
Instagram
Facebook
WhatsApp
SMS
Missive Live Chat
If you'd like to meet your audience where they are – whether on Instagram or a Facebook Message – Missive has you covered.
Email on Mobile Apps
If you're on the go, the last thing anyone wants to do is whip out their entire laptop just to send one email. To effectively manage email, mobile apps are a must.
In ClickUp, there's no way to send personal emails from ClickUp on the mobile app. Period. You'll need to have a backup email client on standby to shoot off any quick messages if you're not on your main device.
Fortunately, Missive can fill the gap. Missive has a slick mobile app for both Android and iOS. While it's just as fast and orderly as the "main" app, Missive's mobile version also makes it easier to use thumb-friendly swiping features to save time (and space) on a small screen. Swiping right never felt so productive.
ClickUp Email vs. Missive – Why Not Both?
When you're comparing Missive vs. ClickUp email, at first, there are plenty of similarities:
Both have solid core functionality to organize your communication.
Both let you easily assign emails to collaborators.
Both allow you to automate email in their own way.
But, when we dig deeper, it's hard to deny that Missive is the better choice for inbox collaboration. When we consider the mission of each company, it makes perfect sense!
ClickUp's mission is to build a best-in-class work management tool. ClickUp's email features? They're not the top priority. Meanwhile, Missive is determined to create a best-in-class email client, and it shows.
Despite that, it might feel impossible to choose which software you need to add to your tech stack. So… don't. (I didn't!)
I'm a ClickUp specialist, but I continue to use both Missive and ClickUp side-by-side for our company. I'm a huge fan of Missive (and writing this article) because Missive is the best software for organizing, collaborating, and managing emails I've ever experienced.
At the same time, I'm obsessed with ClickUp because of its strengths outside of email, especially its task management features.
Thanks to Missive's easy-to-use ClickUp integration and the ability to embed our ClickUp Doc SOPs directly into the Missive sidebar, we continue to use both tools side-by-side.
Missive vs. ClickUp? For my company, it's Missive AND ClickUp.
What about you?