Improving Your Team Email Productivity with Missive
I know email management is a huge thing to change at a company level. From the label freak to the [inbox-zero master](/blog/inbox-zero), everyone has their personal habits.
This is why I think it's important to go over default productivity features you get when starting to use Missive with your team. Here are three ways you can get everyone to start managing emails more efficiently:
1. Add organization addresses to automatically share conversations
By default, Missive lets you share email conversations with your coworkers by mentioning them through comments. However if some teammates regularly receive common emails, conversation sharing can be automated.
Let's say you have a company-wide email address like info@company.com or company@gmail.com. You can add this address to your Organization addresses (located in your Organization preferences) to automatically create shared conversations between people receiving messages sent to this address.
For example, Patrick and Max use their own pat@company.com and max@company.com email accounts, in which they both receive emails sent to team@company.com. They can add this team@company.com address to their organization addresses to automatically share those conversations.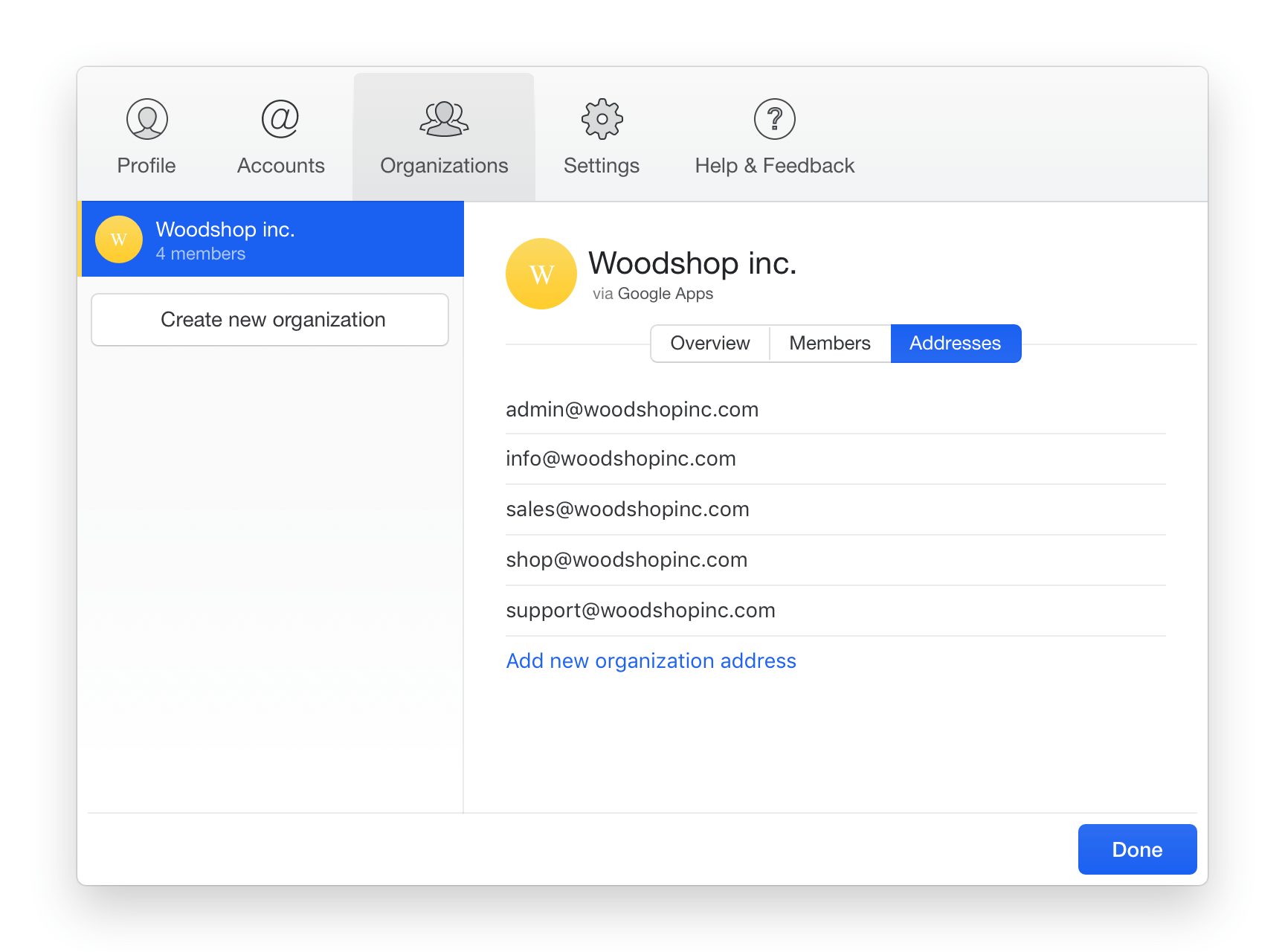 It can be especially useful for general information addresses (info@company.com), support addresses (help@company.com) or sub-team addresses (dev@company.com).
2. Use the conversation sharing overview to your advantage
The conversation sharing overview shows you who has also received this email in your team. It's the starting point to your decision making process:
Know who didn't see the email yet with the unseen pins
By immediately knowing who saw each email, you can better decide what action is required: start a reply, mention concerned people or archive it. What was in the past asked on your Slack channel or in person, is now answered instantly.
Start archiving and deleting emails
This may be the best way to improve your decision-making speed. It will take a bit more time getting used to this inbox-zero related methodology for people who don't usually archive or delete each email, but the productivity gain is huge.
Consider that Archiving is like saying "I saw the email and will not act any further on it".
Use the Starred button to assign emails to yourself
As opposed to Archive, using the Starred button will let your team know that you'll be acting on this conversation.
Clarify everything with comments
With a simple comment you can make sure your team knows clearly what's the status with every conversation: "Done", "Payed", "Talked on the phone", etc.
3. Compose emails collaboratively to ask for reviews and advices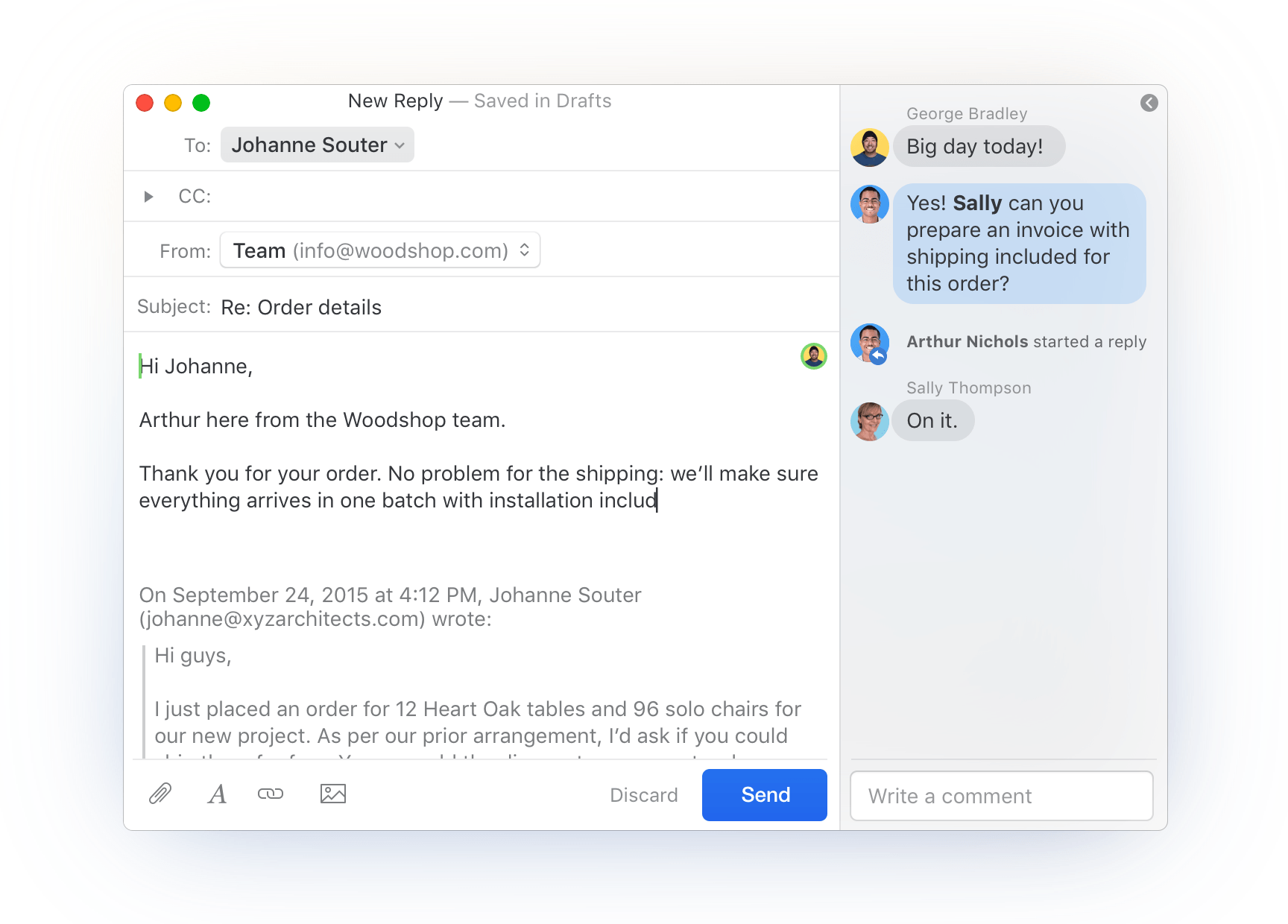 If you are a big fan of Google Docs too, you may have already used it to compose an important email and get feedback from your team. Well, it turns out that we added collaborative editing right in your Missive draft composer so you can quickly share a new email or reply with your team.
Ask for a review before sending an important email
It works like this: start a new message and compose your draft, then mention someone specific (@Name) or your whole team (@Company) in the comment box to ask for a review and collaborate immediately.
Share attachments with your team
Anyone from your team who has access to your draft can add an attachment. So let's say you need a specific invoice to be created from your accounting colleague, you can compose the email and let them handle the rest (invoice generation and attaching process).
Start a reply to let your team know you're on the case
For new replies your new draft will appear in the conversation, available to your teammates. This is a great way to be proactive and notify your team that you're already answering.
Collaborate in real-time or asynchronously
The beauty of all those collaborative email writing examples is that you can choose to do it in real time or ask for asynchronous actions. For example, I sometimes create a reply to a customer question and ask the team to "Review and send at will @Missive". This way I'm making sure my reply will be read by the Missive team before going out and I can continue working on something else.
⁂
With almost no effort from your team, using Missive will boost everyone's email productivity. By breaking the silos you'll nurture a much healthier company communication process and reduce the many frictions a standard email setup brings.
If you want to try Missive during the private beta, make sure to request your invite.
Happy collaborating!
Let us know via Twitter what you would like to see added to Missive that could improve your company's email management, and if you liked this post please share it using the links below.