Using SMS for Customer Service?
People like texting, that's a fact.
Being able to offer customer service via SMS (short message service) or texts opens up a fresh and dynamic way to reach customers but also for them to reach you better.
According to Gigaom, SMS are opened around 98% of the time! This number is astonishing, especially when we know emails are at best opened 22% of the time.
Why should I use SMS as a communication channel?
Let me give you three reasons why you should add SMS to your omnichannel customer support arsenal:
1. They are affordable
Unlike phone calls, where one agent can only take one call at a time, with SMS a single agent can be working multiple cases at any given time. The actual cost of SMS is also lower than a traditional phone call.
2. They're not frowned upon
People are tired of intrusive marketing calls or having to wait for ages before they are transferred to the "right" area of the company.
With SMS, customers respond when and if they want. Also, if they contact your company, their expectations will be lower in terms of replying speed. This gives companies a little room to breathe and handle cases with more care and diligence.
Additionally, people seem to see SMS as a more relaxed and approachable way to contact and get contacted by companies.
3. They're very popular
Literally, billions of people use SMS every day. There's no special tool, software to download or process to master. You just need a mobile phone and some credit in it. I don't believe there's another communication channel with entry-barriers as low as SMS.
Ok, but how do multiple agents reply from a single number?
This is where we come in to help. We offer a great integration with Twilio SMS that lets you send and receive text messages from your future collaborative email client, Missive. You read that right. Your team can collaborate and respond to SMS and emails from a single app, without stepping into each other's toes. Not only that, but you can also add WhatsApp, Facebook Messenger, Instagram and more!
Missive is a team inbox and chat app that helps businesses stay on top of all their communication channels in a single app. All while enabling collaboration between coworkers.
One of the best features is the ability to collaborate inside SMS. For example, if a customer sends a message, and you don't know how to respond, you can @mention another team and instantly give them access and ask for help.
You can also create team inboxes and assign certain SMS to specialized teams. Maybe a customer has a sales question. Then you can assign it to the Sales Team manually or through automated rules.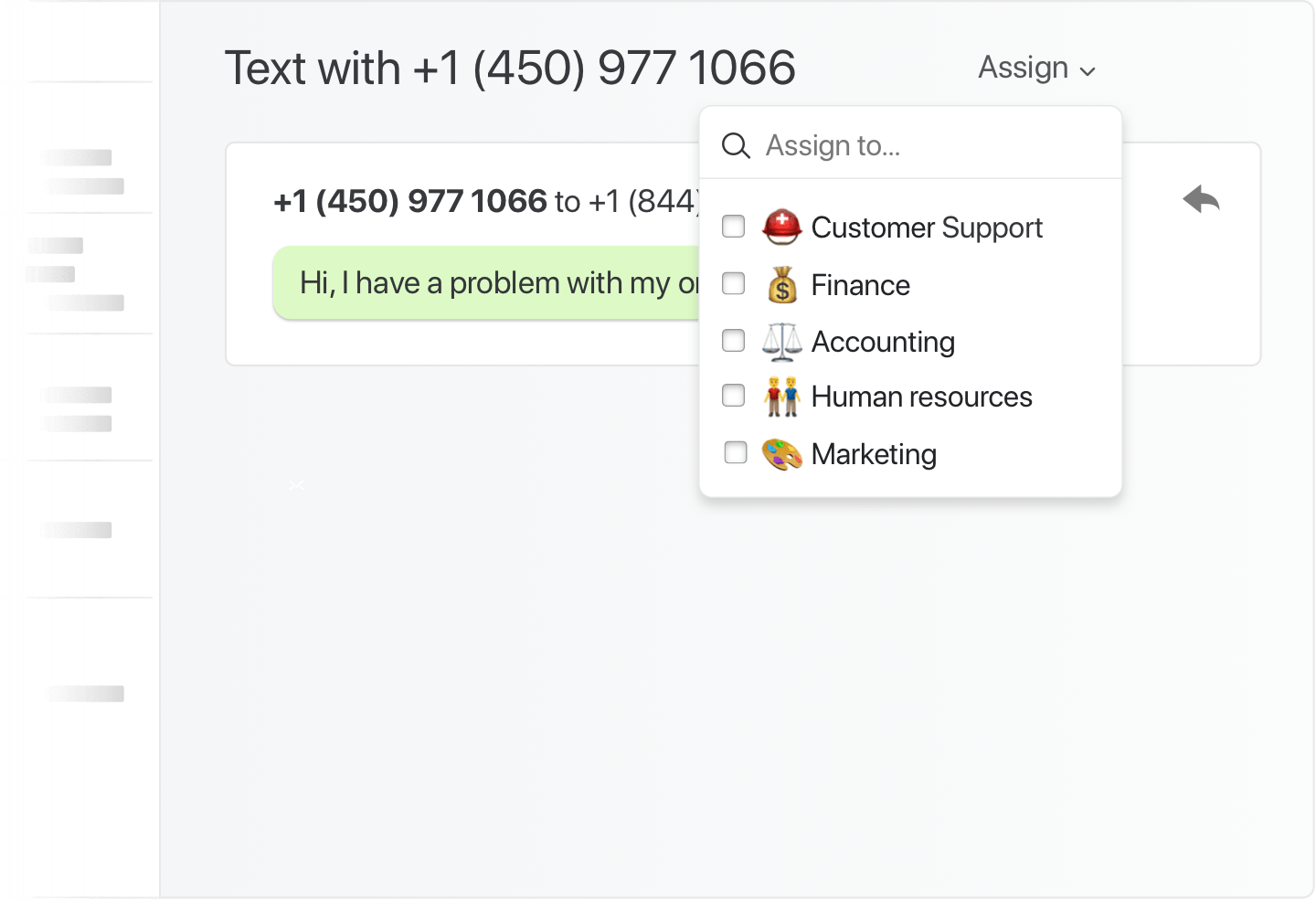 And you know how there's are always some questions that come through every day, multiple times per day...? With Missive's canned responses, you can quickly respond to popular SMS questions in seconds!
Pro tipUse the shortcut: Shift + Command + O to quickly open the responses popup
Nice! How do I set up Twilio SMS?
Step 1
Create a free Twilio account and buy a Twilio phone number.
Twilio's Console site allows users to quickly search for and provision phone numbers for your company. You can filter phone numbers based on location, phone number type, capabilities, and more from their Console.
Here's an in-depth guide of the phone number purchasing process. Or, if you prefer, you can also do a third-party phone number porting to Twilio.
You will be able to consult your number(s) in the Phone Numbers option under the Super Network category, which can be accessed by clicking on the sidebar's 3-dotted button.
Step 2
In the Twilio console, go to your dashboard and copy these two critical numbers: the Account SID and the Auth Token.
Step 3
Open Missive and go to Accounts > Add Account > SMS
Select whether this SMS account will be shared with a team, like the support team or if it will be a personal one.
Enter the Account SID, the Auth Token, and your Twilio Phone Number.
Step 4
Start collaborating around SMS with Missive! See how your customer satisfaction ratings go through the charts!