Email Management Tips for Lawyers: How to Waste Less Time in 2022
Ask any lawyer, and they're likely to have a similar stress point: their email inbox.
Email is a convenient and quick way to communicate, but without a system in place, law firm staff can struggle to keep up with all the incoming requests, questions, and comments.
Email management software, or the system used to receive, send, and organize email messages, is a must for a law firm of any size. But all approaches to email management are not created equal.
Introduction to Email Management
Email management is not as simple as hitting inbox zero or clearing your inbox of the most urgent messages. It's about developing systems and tools to handle incoming and outgoing emails.
While Gmail or Outlook might be the tool you use to receive and send messages, email management is about all the ways you and your entire firm manage email.
For law firms, following email management best practices should be a collective approach using the right strategies for your whole team to easily receive, prioritize, delegate, communicate about, and respond to email messages efficiently.
Why Is Email Management Important for Law Firms?
Lawyers who don't have a great system in place for managing their inboxes face several challenges. Here are some of the most common complaints from attorneys:
Their inbox is cluttered, and it's hard to sort information to work on projects.
They're constantly buried in "putting out fires," responding to the most pressing or the most recent messages.
Their email "system" is a series of endless back-and-forth forwarded messages.
Staff members struggle to stay on the same page with what's expected of them.
Previous software they've tried was overwhelming, so most staff members gave up in a day or two.
Their team doesn't know who's handling what, so multiple people work on the same email or, worse, no one takes the initiative to respond.
"There was a major time tax in our firm spent on forwarding emails" says Steve Rice, founder and lead attorney of Steve Rice Law, when asked about how his firm handled email before using a dedicated email management tool.
"We worked mostly in Google Calendar, Clio, and Gmail, but it was really difficult to have access to each other's lives. If people haven't been copied on things or someone's out of office, that's a problem" says Ryan Hamilton of Sherwood Family Law.
Law firms that put a robust email management system in place have a way to control inbox chaos, avoid email overload make sure that important emails are addressed promptly, and keep all staff members on the same page.
Benefits of Email Management for Law Firms
When your email system works well, it's a beautiful thing. With the right tool and training in place, some possible benefits include:
Clear organization
Prompt replies for clients and other stakeholders
Happier staff and less overwhelm
Confidence about meeting deadlines for your cases
A cleaner inbox for you and everyone else on the team
CORPLaw founder Kristen Corpion says, "Before, we were not able to cross-collaborate as a remote team on emails without having to forward them back and forth."
Lawyer Derek Martin of Driver Defense Team echoes that need for collaboration. "Prior to using Missive, everyone just used their individual email addresses. That just doesn't work if someone goes on vacation or takes a day off, especially for our inbound sales team or core client relations. Even a day can make a big difference."
With other essential elements of your law firm, you use tools like case management or practice management software, client intake workflows, or document management systems to keep things streamlined. Email management adds to that tech stack and allows you to sort and handle all the communications and documents coming in and out of your law firm.
10 Tips for Better Email Management at Your Firm
Getting started with proper email management may seem like an uphill battle. The good news is that there are proven ways for attorneys to stay on top of their inboxes. These 10 tips will help your law firm waste less time.
1. Use the Right Email Management Tool
It all starts with the right tool. The wrong tool only frustrates legal professionals and their teams, meaning it won't be adopted.
Attorneys work in a collaborative setting. Even small firm owners and solo lawyers communicate daily with an assistant or paralegal. All lawyers deal with a high volume of emails each day from prospects, clients, other attorneys, and other sources that can quickly become a confusing mess.
Start with what you're using now: does your current tool have the collaboration and organization features you need?
Pro tip Outlook and Gmail don't cut it for modern law firms. Too many law firms have developed bulky "systems" while trying to make Outlook or Gmail work, but they don't perform consistently well for the complex needs of attorneys.
"I was using Outlook before, and although I don't have a huge team, I have a lot of email addresses. It was really cumbersome to track replies" says lawyer Shawn Stone of Stone Law Group.
"I was concerned about some of the limitations with Gmail. Forwarding emails was a tax on our firm, and it was hard not to be able to discuss things before sending emails" adds attorney Steve Rice.
That's where Missive comes in. Missive is a tool that allows your team to receive and manage email consistently. If better collaboration and organization are your top priorities for email, Missive is the perfect tool for making your inbox easier to manage.
In my view, I think we are a better firm because of what we have available to us with Missive. Steve Rice, Steve Rice Law
2. Use a Shared Inbox
When your whole team works from the same place, it's easy for anyone to jump in on a pending matter.
Knowing when other people are working on emails is helpful, too. Managing email with Missive has saved lawyer Kristen Corpion a lot of time while also building a better workplace for her staff.
It's much easier to cross-collaborate as a remote team. We can have multiple team members weighing in and editing emails together, which is great. Being able to see when other team members are online or are looking at the same time you are, you feel more connected. Kristen Corpion, CORPLaw
For attorney Shawn Stone, the cumbersome shared inboxes on Outlook weren't cutting it. He says, "The beauty I found in Missive is I can have shared mailboxes. I can see if someone's already responded, I can assign someone else to the email, and I can make comments."
Leaving comments was a quick way for Shawn to say, "Hey team, here's how we'll handle this" a lesson that gets taught once. From there, team members know how to manage repeat situations consistently.
Adding Missive to his firm's tech stack gave Shawn great confidence that every client was getting the best experience no matter whom they interacted with on his team.
Missive is a great tool to ensure that the team is on the same page concerning communication with our clients and to help ensure that we don't have communication slipping through the cracks. It's been an invaluable tool for my office. Shawn Stone, Stone Law Group
3. Use Rules, Filters, and Labels to Organize Your Inbox
Rules, filters, and labels all create powerful email shortcuts.
Many lawyers using Microsoft's Outlook or Gmail will recognize rules, filters, and labels. These are ways of sorting your inbox by characteristics like client name, subject line, and body text. At a basic level, these work fine in Outlook and Gmail.
But inside a supercharged email client like Missive, you'll find these popular options while simultaneously taking advantage of many other powerful features.
Email rules automate actions when certain things are triggered by a message received or sent. Use a range of conditions to determine if/then scenarios. Filters and labels help you choose the best way to sort data in your inbox. In Missive, you can even use shared labels for the whole organization.
Email rules are easily changed as needed. If a priority email on an upcoming case should be pushed to the top of your inbox only for a short period, you can adjust your rules for client emails.
4. Schedule Times to Read and Reply to Email
The average person checks their email about 15 times daily. That's counterproductive. Most lawyers barely get through all their unread messages only to discover that the messages they sent are already generating new responses in the inbox.
Instead of keeping your email open constantly and letting the anxiety build up as your number of unread messages grows, set aside specific times to read and reply to emails. Start three times per day and close your inbox in between.
When you add advanced tools like rules, filters, and labels, you'll discover this is more focused and less stressful overall.
5. Triage and Prioritize Emails
Here's a simple but winning approach to prioritizing your emails: sort them as "Do Now," "Do Later," and "Delegate." Then, teach your team how to triage their inboxes so you don't get buried in unread emails.
With Missive, you can delegate and assign messages to someone on the team. Likewise, emails coming to your main firm account can be directed by other staff to you, at which point they'll show up at the top of your inbox.
Following this process helps team members get feedback before a message is sent and gives the owner manageable oversight of the email process.
Being able to get insight into the messaging is helpful. With Missive, I can see the quality and timeliness of replies. Derek Martin, Driver Defense Team
6. Don't Use Email for Internal Communication
Attorneys often receive emails that require consensus-building or input from other lawyers at the firm. Getting these insights forces most lawyers to forward these messages to their coworkers and hope everyone remembers to hit reply all so that the conversation stays on track.
Emailing your team is time-consuming. It's easy for vital context to get lost in a sea of out-of-sync cc'd and forwarded messages.
Keep email for external communication and look for a tool that allows you and your team to reference email in internal conversations.
One option is to use Slack, but jumping between apps to talk about work email can cause as much friction and context switching as forwarding emails.
A better option is to use Missive for internal conversations about email by using built-in chat features.
Within Missive, you can comment on individual emails and tag team members. If you need input from colleagues, just leave a comment tagging them. The email chain is then shared with them, automatically landing in their inbox so they can reply in the comments.
You can also open a chat room within Missive to discuss things in real-time. Missive's room feature is perfect for one-on-one or team communication.
7. Practice Inbox Zero
The Inbox Zero method is a productivity practice aimed at keeping your email inbox empty or nearly empty at all times.
This approach keeps your inbox from getting out of control. When your inbox reaches high numbers of unread messages, it's much easier for something to slip through the cracks.
Here are a few pro tips to get started with inbox zero right away:
Archive old emails so they don't even show up in your inbox
Open and file emails only in your email-checking sessions
During an email check, delete or archive things you don't need first
Set up labels for emails you want to read but don't need sitting in your primary inbox (like law school alumni newsletters or organizational updates from your bar association)
8. Unsubscribe from Distracting Email
No matter how long you've been in practice, one thing is for sure: too many people have access to you through your inbox. Over time, as you get on newsletter lists, you're giving your time and attention away.
As your interests change or you want to remain more focused at work, an easy way to do this is to ruthlessly evaluate all the newsletter lists you're on and hit that unsubscribe button.
9. Disable Email Notifications from Social Media
Nobody needs every notification from social media. The goal of these notifications is to get you to stop what you're doing and open up the social media app or website instead. Don't give them that power.
Unless you get leads via social media messages, shut the notifications down.
If you are getting law firm leads through social media like Facebook Messenger, route them through Missive instead. Missive offers social media and SMS connections so you'll get the most important data you need without being on social media or your phone all the time.
10. Use Canned Responses and Email Templates
Many of the emails that lawyers and their staff send throughout the work day provide the same information to different clients. Repeatedly writing out these boilerplate messages is a waste of time.
If you're using Gmail or Outlook, you may already be using templates to save some time on email follow-ups. But with Missive, you can take canned responses to the next level with searchable shared templates and variables.
Once you've created a response in Missive, you can choose to keep it private or share it across the team. All team members instantly get the latest version if you have to update one of the shared templates.
All canned responses are searchable within the app so anyone on your team can find the right response with just a few keystrokes. Here's an example of how different queries all pull up the same email template in Missive:
You can even speed up the time it takes to send a canned response by using response variables to insert information like the recipient's name automatically.
What Lawyers Should Look for in an Email Management Tool
You can't practice law without communicating clearly and promptly with your clients. That calls for an email management tool with features designed to help you keep organized and save time.
No matter the size of your firm or your practice area, here are some key features to look for in your email management software.
Collaboration
Sending out an email might require some behind-the-scenes conversations. Missive makes it all possible with first-class collaboration features, including live collaboration on drafts.
The beauty I found in Missive is that I have the shared mailboxes, and I can see if someone has responded easily. I can also make comments to my team to give them direction on how to respond, meaning they can handle similar issues like that in the future. I describe Missive as collaborative email. Shawn Stone, Stone Law Group

We use Missive like our central communication platform. We do check-ins and social threads to stay connected as a team. There was not another platform that allowed us to have that social dynamic. This is our team collaboration tool that also allows us to email. Kristen Corpion, CORPLaw
Delegation
As a lawyer, you'll always end up with more email messages that you can or want to reply to. Seek out a tool where you can assign a message to someone else with just a few clicks.
As Ryan Hamilton points out, attorneys have too many emails. "We need to build out a foundation now so that it's streamlined from the beginning. The size of our law firm now won't be the size in two or three years. Our staff utilizing the team folders and the legal assistants filter out everything from thousands of emails to the ten the lawyer needs to see that day make our attorney's lives a lot easier."
Ease of Use
What's the point of getting new software that comes with all the bells and whistles if every person on your team can't get behind using it? User experience is vital.
The right solution for email management should make it simple for everyone to learn the tool quickly.
The best news about Missive is that it's loved by law firm staff across the board. Just ask lawyer Derek Martin.
Everybody in our firm picked up Missive quickly. I onboarded four new hires to the platform in a month with nearly no training because of the intuitive UI/UX. Derek Martin, Driver Defense Team
The tool is simple and easy to get used to, and your team will love the improved communication and time savings they'll experience.
Automation
Features like rules and email templates save time by helping keep your inbox organized, ensure that important emails get a fast response, and create consistent messaging from all staff members.
As a lawyer, look for a tool to easily automate your team's workflow as much as possible. That way, you can focus on what's important—like getting new cases—instead of worrying about emails falling through the cracks.
Better Email for Modern Law Firms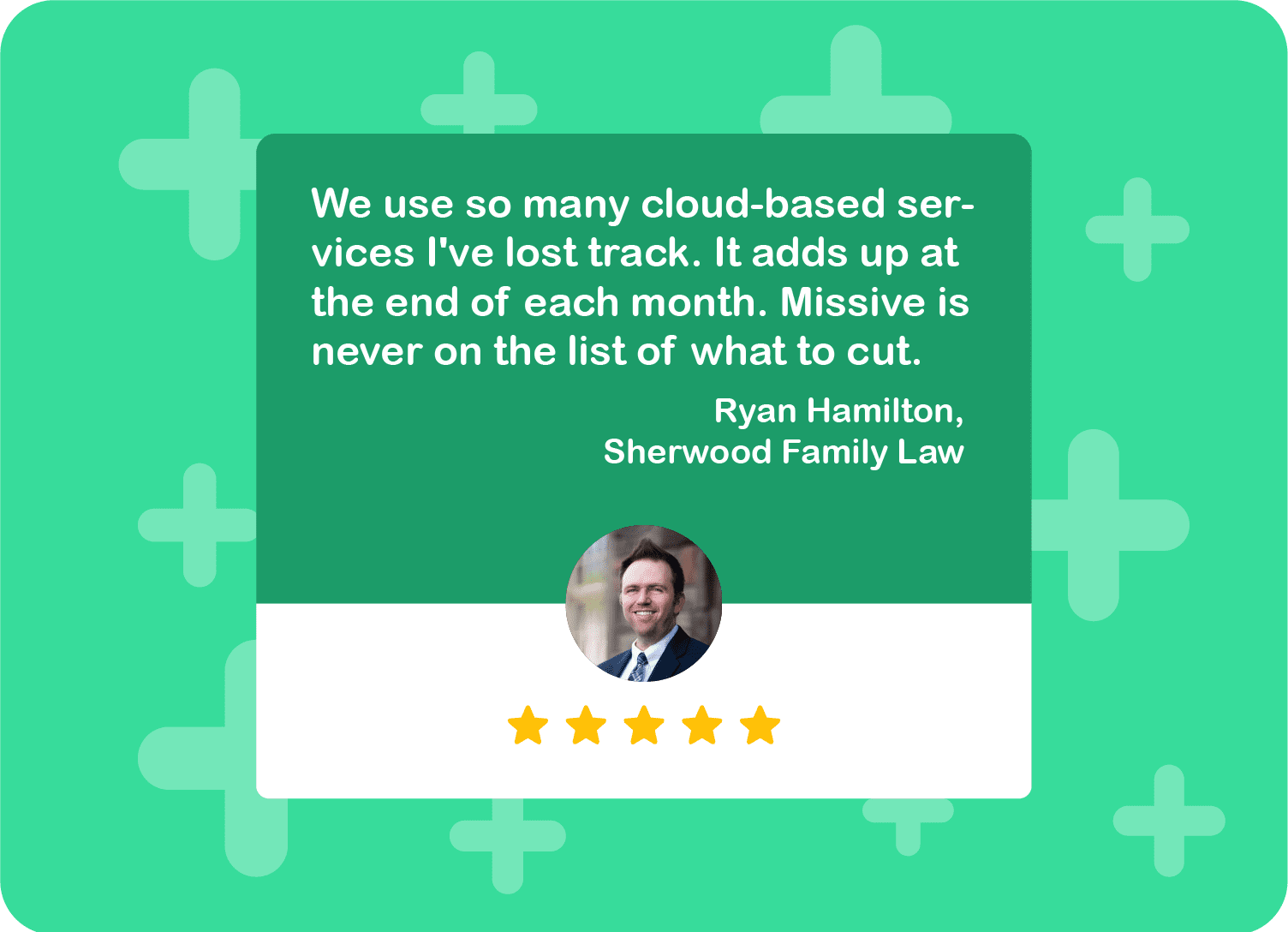 Let email work in your favor with the right system. Empower your team to take the lead on a message or assign things back to you when necessary. Happily reach inbox zero. It's all possible with the right system.
If you're going to invest the time and money into a permanent email app for your law firm, stick with the one that provides the best overall value and experience.
We use so many cloud-based services I've lost track. It adds up at the end of each month. Missive is never on the list of what to cut. It's really changed the way we're able to help our clients by being synchronized across the board Ryan Hamilton, Sherwood Family Law
Ready to take Missive for a spin in your law firm? Sign up today and give it a try for yourself.