The Best AI Email Assistants to Master Your Inbox
In today's never stopping business world, managing your email inbox can be an overwhelming task. With so many emails to read, respond to, and organize, it can be difficult to keep up and attain inbox zero. However, with the growing popularity of AI and tools like ChatGPT, managing your inbox has never been easier.
Using an AI email assistant tool brings many benefits. They can save you time and energy by automating repetitive tasks, such as crafting responses and correcting grammar and spelling errors.
In this article, we will explore the best AI email assistants available to help you write and reply to your emails more efficiently.
What are AI Email Assistants?
AI email assistants are tools that use artificial intelligence to help you manage your emails. They are built to analyze and generate emails for you according to your instructions (commands or prompts) or the context from previous messages.
AI email assistants use natural language processing (NLP) and machine learning (ML) algorithms to understand the context and intent of your prompt to craft an email tailored to your need. Language models are trained with tons of data to make sure they are able to understand a wide variety of topics.
Some tools we'll explore below can also understand the messages you receive and the sentiment behind them, and craft responses that are customized to your recipient according to your specific instructions.
Why You Should Use an AI Email Assistant?
Using an AI email assistant lets you unlock the full potential of your email communication and take your productivity to the next level.
While canned responses are helpful in eliminating the tedious task of typing out the same responses over and over again, an AI email writer truly comes in handy when you need personalized emails.
AI email assistant lets you communicate effectively and efficiently while spending less time managing your inbox.
But that's not all. An AI email writer will also help you avoid common mistakes such as grammar and spelling errors, making sure that the messages you send are mistake-free and professional.
Another important advantage of using AI for your business emails is that it can help your team communication, by providing a consistent and professional tone throughout all of your emails, no matter who's sending the email. It can be especially useful for your team to provide better customer service.
With all that in mind, here is our curated list of the best AI assistant you can use to write better emails in less time.
The Best AI Email Assistants to make you more efficient in your inbox
Imagine having a virtual assistant to who you can delegate email responses, freeing up your time for more important tasks. An AI that understands the context of your emails and provides accurate responses, saving you the time of crafting the perfect response.
The AI email assistants we'll explore are meant to help you write and (sometimes) reply to emails more efficiently.
Let's dive into the best AI email assistants.
Missive is a team email and collaboration tool that allows you to manage your inbox and shared business mailboxes, collaborate on emails, and assign tasks all in one place. It's available on the web, Mac, Windows, Android, iOS, and iPadOS. It supports all email providers like Gmail and Outlook, as well as SMS, WhatsApp, social media, and more.
With the OpenAI integration, you can quickly create and reply to emails, fix grammar and spelling errors, translate messages, and even customize the AI to your specific needs using your own prompts. Because the integration is fully integrated into Missive, it is intuitive, and agnostic of the platform you're using.
Plus, since Missive is a collaborative tool meant for businesses, you can save and share your custom prompts with your team in Missive.
One of the key features of this integration is the ability to let the OpenAI model use your canned response to generate replies for you. This way, your support team could use the integration to instantly reply to customer requests with the best answer according to your company information.
For example, your customer support team could generate accurate replies to any request using AI. The same method can be used by the sale team or any other department.
Plus, Missive lets you select between the ChatGPT 3.5 and ChatGPT 4 version to have faster responses or better and more accurate generated replies with the latter.
Best of all the OpenAI integration works on all platforms, so you can quickly reply or send emails using AI even when you're on the go. Another advantage over the competitors is that it supports almost all languages.
Price
Missive offers multiple pricing tiers, including a free plan. However in order to use the OpenAI integration you need to subscribe to at least the Productive plan at $18/month. A free 30-day trial is available.
You will also need to have an OpenAI account and pay per usage. However, the cost is minimal compared to the fixed plan offered by other solutions. From our test, a month of use costs less than a fancy coffee.
Flowrite is an AI-powered email writer tool that can help you be more productive in your inbox. The tool utilizes NLP and ML to understand the context and intent of your emails, allowing it to craft messages accordingly.
Flowrite offers a selection of predefined templates to create emails ranging from sales to customer support, passing by HR. The tool integrates with popular email clients such as Gmail, Outlook, Yahoo, and iCloud Mail via a Chrome extension.
However, there are some limitations to consider when using Flowrite. The email client integration only works on Chrome, so you will need to use the standalone web app if you are not using Chrome or if your email client is not supported. And since it acts as an add-on to your email client on the web, we found that it isn't always intuitive to use. Additionally, Flowrite only works on desktops and only works in English.
Price
$16.20 /month (€15 /month) with a 30-day free trial.
Copy.ai is an AI-powered writing tool that assists you in writing more efficiently and effectively. It can generate many types of content such as emails, social media posts, and more. The tool offers a pre-defined selection of prompts for generating new content. Additionally, it can improve writing quality by providing suggestions for grammar, style, and tone.
However, it is limited in its capabilities for email writing since it only offers a handful of templates, such as "cancellation emails", "catchy email subject lines", "confirmation emails", "follow-up emails", "thank you notes", and "welcome emails". Another downside of this tool is that it cannot understand messages and generate replies to them.
Also, you may be required to switch between the Copy.ai app and your email client since their Chrome extension worked alternatively in our tests.
Price
Free: Up to 2,000 words per month.
Pro: $49 /mo for unlimited words.
Compose.ai is an AI-powered email writing tool that utilizes OpenAI and GPT-3 to help you write better and more personalized emails. It is available for free, with additional advanced features available through a subscription.
A great feature of the tool compares to the other one on the list is autocomplete which can help you complete sentences faster. It acts similarly to the feature Google offers in their online document editor and in Gmail.
However, it should be noted that the integration pop-up box can be hit or miss, and support may not be uniform across all apps. Customization options are also limited, and the text-expanding feature did not work well. The quick reply feature also had mixed results in our testing.
Price
Free
There's also a subscription offered for more advanced features. However, we couldn't find the details.
Rytr is an AI-powered writing tool that can be used for a wide range of content creation, including website copywriting, marketing sales copy, and full blog posts. However, the feature that is the most interesting for us allows you to write emails. They also offer a Chrome extension that makes the process even more convenient when using an email client in your browser like Missive, Gmail, or Outlook.
From our test, we saw that Rytr supports and works in more apps than Compose.ai. It also offers a free version that generates content of relatively good quality.
One of the downsides is that their email writer tool is quite simple as you can only create new emails by selecting the language, the tone, and the key points you want to cover. Rytr also cannot be customized and doesn't work with a long selection to paraphrase. Additionally, it cannot understand messages and create replies automatically. To be able to do that, you will need to provide it with all the information from the previous messages. It's important to note that their Chrome extension is still in beta.
Price
Free: Up to 10,000 characters per month.
Saver plan: $9 /month for 100,000 characters per month and custom use case.
Unlimited plan: $29 /month for unlimited characters per month and custom use case.
Warmer.ai is an AI-powered email personalization tool that uses natural language processing and machine learning to help you write more effective and personalized outreach emails.
It is built specifically for sales emails, as it automatically analyzes the business or person to which you want to pitch and crafts a personalized email for them.
Their goal is to help you increase open rates and conversions by personalizing subject lines and email content based on the recipient's profile and your goals. It can help you understand your email audience better and segment them based on different characteristics.
However, the drawbacks of the tool is that it can only be used to create outreach emails and the pricing may be too high for some users.
Price
Starter: $59 /month for 150 credits per month.
Basic: $97 /month for 325 credits per month.
Plus: $279 /month for 1,500 credits per month.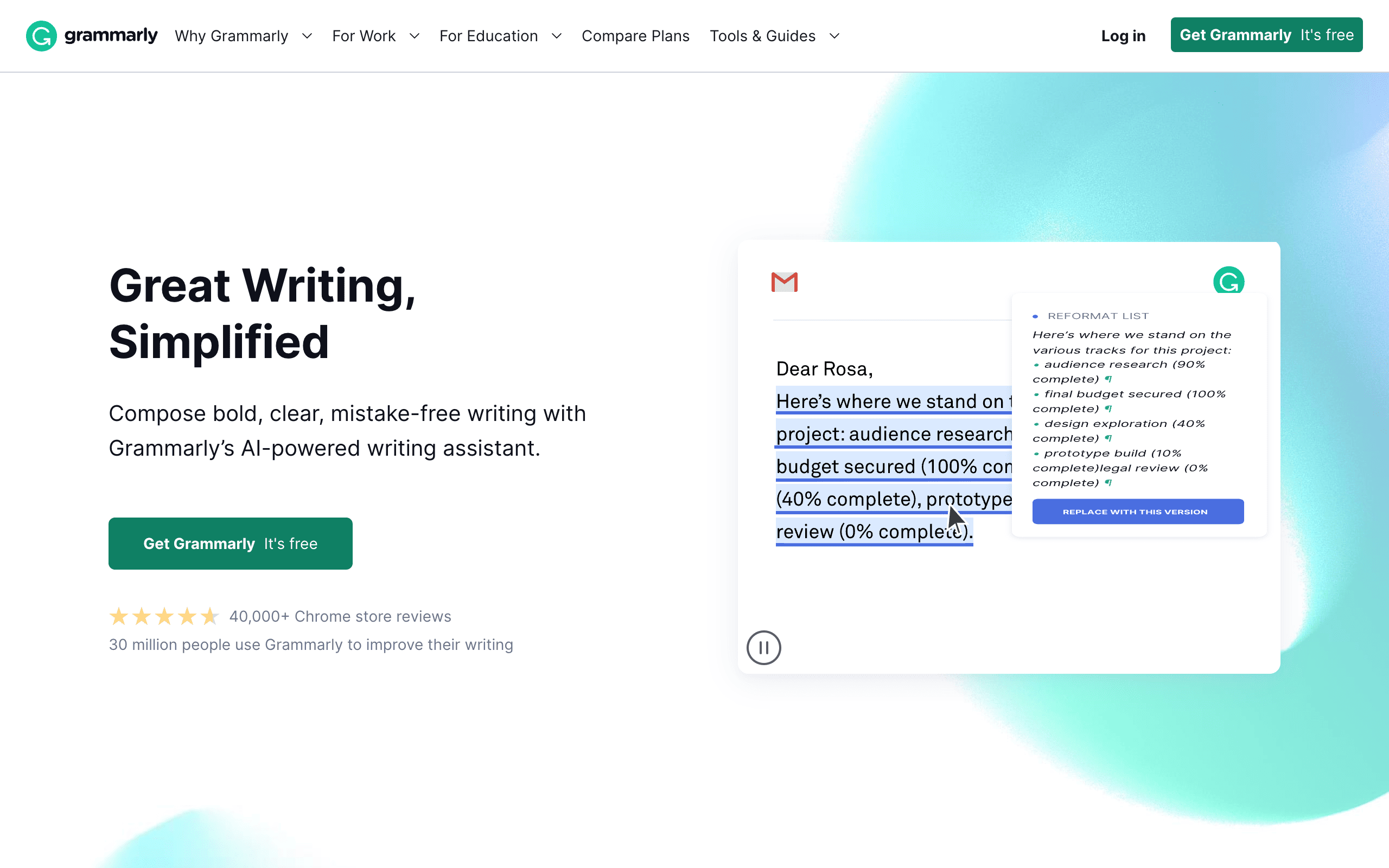 The last one on the list is not an AI assistant that can write emails, and reply for you like the others on the list. However, it comes in really handy when you need to improve your writing quality.
Grammarly is an AI-powered writing tool that uses natural language processing and machine learning to provide suggestions for grammar, spelling, punctuation errors, style, and tone when you're writing emails or any other type of document.
It also offers suggestions for vocabulary and can help you to avoid common mistakes. Grammarly can be used as a browser extension on most major browsers, and via their desktop and mobile app. It is also integrated into Missive to help you write better messages.
It can be used for your personal and professional emails. They also offer a feature to help you improve the readability of your writing with their subscription.
However, it's important to note that only English is supported.
Price
Free: Grammar, spelling, punctuation, conciseness, and tone detection.
Premium: $30 /month for everything in free, full-sentence rewrites, word choice tone suggestions, and citations.
Business: $75 /month for 3 users with everything in Premium, style guides, snippets, and brand tones.
Honorable Mentions
Jasper.ai is an AI-powered content creation platform. While they offer an extension that can be used in Gmail to create emails using their AI. It is primarily built for longer-form content creation like blog posts, making it an expensive tool if only used for emails.
You is an AI search engine, and while its primary focus is to provide you with the best result for your research, they do offer a basic email writer. It's not the most elaborate tool but offers an easy and free option for people who rarely need help from an AI tool. You'll also need to switch back and forth between their web app and your email client.
How to choose the right tool for you?
Choosing the right AI tool for your emails can be a daunting task, but luckily all the tools on the list offer a free trial or a freemium version which lets you try them and find the one that fits you the most.
It's important to consider the specific features and capabilities that you need. Making a list of the features that are most important to you before exploring each option can help you when evaluating each option.
Additionally, it's also important to consider the cost of the tool and whether it fits within your budget. Most tools offer a fixed plan no matter your usage. As attractive as this might be, from our experience, the fees are often a lot more expensive than paying by usage like you would with the OpenAI integration in Missive.
Another factor to consider is the level of integration with your email client. From our test most tool that works via an extension work only with Chrome and doesn't integrate well with email clients other than Gmail.
Conclusion
AI email assistants are a powerful tool for streamlining communication and increasing productivity by helping you generate emails, create replies, translate, and fix your grammar and spelling mistakes.
Some tools like the OpenAI integration in Missive also let you customize your prompts so the AI response can be even more personalized.
Using an AI email writer is a great way to help manage emails, but I suggest you follow our best strategies to overcome email overload to help you and start using a great email management software to avoid a cluttered inbox.
---
FAQ
Is there an AI that helps write emails for free?
The best way to get started with an AI to help you write emails for free is by using the free version of ChatGPT on your browser. However, you'll need to create your own prompts and copy/paste emails and the generated reply between your email client and OpenAI conversational AI UI.
What is the AI that helps you write emails?
At the moment, most AI email assistants are using OpenAI and more specifically ChatGPT as their AI model to help you write emails.
Can AI write an email for me?
Yes, artificial intelligence can write emails for you. However, you should always double-check the generated response to make sure it answers your needs and that all the information is factual.